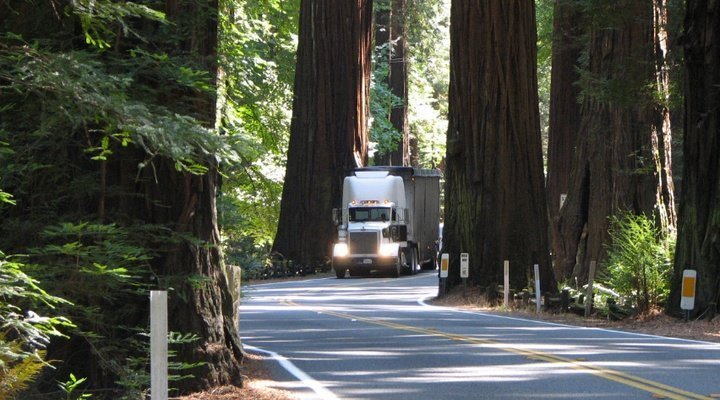 ###
A federal judge on Monday granted summary judgement in favor of Caltrans, dealing a significant blow to environmental interests in their 11-year legal battle over a proposed road-widening project along Hwy. 101 through scenic Richardson Grove.
The ruling doesn't mean that Caltrans is now cleared to proceed with the project. In a separate lawsuit filed in Humboldt County Superior Court, the judge issued a writ of mandate blocking the project until the agency recirculates the supplemental environmental documents from a 2017 project revision for public review.
Yes, the legal web is tangled. At one point in today's ruling, Alsup makes weary reference to the "ever-growing mountain of documents" in the administrative record, which he says "has ballooned to 57 volumes amounting to just under 18,000 pages."

A cursory recap: The case concerns a proposed Caltrans project that would widen a curvy, 1.1-mile stretch of highway through Richardson Grove, allowing it to accommodate extra-long (if industry-standard) semi trucks known as "STAA heavies." (The acronym refers to the Surface Transportation Assistance Act of 1982, which authorized such extra-big rigs.)
Caltrans officials have long described the project as a "minor" realignment that would not harm any old growth redwoods, much less cut any of them down. But plaintiffs, including the Environmental Protection Information Center (EPIC), the Center for Biological Diversity and Californians for Alternatives to Toxics, argued that the state's environmental review was insufficient and that excavation activities could impact the roots and health of the majestic redwoods.
Caltrans revised the project several times in response to public feedback, but the environmental groups still had objections, and in 2017 they challenged the agency's environmental assessment (EA) and its Finding of No Significant Impact (FONSI).
Onward, the legal battle did stretch.
In today's ruling, which you can read in full here, Alsup finds that any remaining claims that the plaintiffs may have had under the National Environmental Policy Act (NEPA) were foreclosed in a prior appellate court decision.
Strike one.
The plaintiffs had also argued that Caltrans violated section 4(f) of the U.S. Department of Transportation Act, which prohibits projects requiring land in any public park, recreation area, wildlife and waterfowl refuge or historic site unless there's no "feasible and prudent alternative" and unless every effort has been made to minimize harm.
Alsup found that the plaintiff's claim on these grounds lacked merit, noting, "We must keep in mind that this project is not a brand new highway through pristine parkland. It is an improvement to an existing highway already long laid through a parkland."
Strike two.
Lastly, the plaintiffs argued that Caltrans had run afoul of the Wild and Scenic Rivers Act. Alsup shrugs this claim off in a perfunctory manner, noting, "Plaintiffs have not briefed their Wild and Scenic Rivers Act Claim in their renewed motion for summary judgment. Plaintiffs have abandoned this claim and it is therefore dismissed."
Strike three.
Reached for comment, EPIC Executive Director Tom Wheeler said he was still reading through the decision and not yet ready to make a public statement.
###
DOCUMENT: Order Granting Summary Judgment
###
PREVIOUSLY: