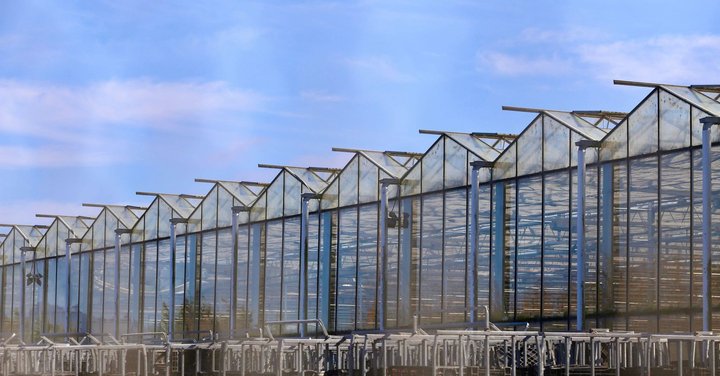 ###
After more than 50 years growing irises, tulips and lilies in the fertile farmland of the Arcata Bottoms, the owners of Sun Valley Floral Farms are preparing to leap headlong into the commercial cannabis industry with the construction of a 23-acre hoop house operation that would rank among the largest legal weed grows in North America.
The plans laid out in a 95-page initial study, published in December, call for 193 temperature-controlled hoop house-style greenhouses spread over 1 million square feet (22.96 acres), plus office/administration buildings, a propagation facility, stormwater detention basins, a new wastewater treatment system and a 66-space asphalt/concrete parking lot.
The industrial-scale operation is slated for the former site of the Simpson Lumber Mill, a 38.2-acre plot of land (currently two parcels) between 27th Street and Foster Avenue, directly south of Sun Valley's existing flower farm facilities.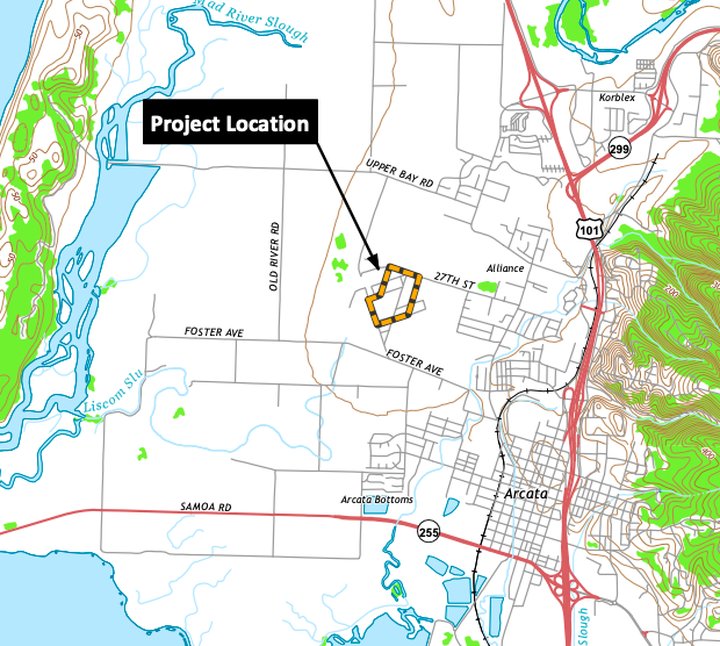 In an interview with the Outpost on Monday, Sun Valley CEO and President Lane DeVries said the domestic cut flower business has been hammered in recent years by steadily rising expenses, including California's successive increases to the minimum-wage, the elimination of an overtime pay exemption for agricultural workers and rising health insurance costs.
"The flower business is in a tough spot," DeVries said, noting that 80 percent of the flowers sold in the United States are imported from countries such as Colombia, Ecuador and Costa Rica. "In most cases our customers are unwilling to accept cost increases. To the contrary, due to the Walmart and Amazon effect, we now operate in a business environment where customers expect price reductions."
Sun Valley was also hit hard by the COVID-19 pandemic, which brought the industry to a virtual standstill just as the company was gearing up for the 2020 Easter holiday. "We lost millions and millions and millions of flowers, just blooming away in our greenhouses due to shelter-in-place orders," DeVries said.
These challenges represent an existential threat to Sun Valley as it currently exists, and DeVries said transitioning to cannabis may be necessary for the company's survival.
"It would allow our company to continue operations and continue the employment of 450 employees," he said. "The wellbeing of them and their families is depending on the approval of this project."
The project applicant is technically a separate corporation, Arcata Land Company, LLC, though, like Sun Valley, it's led by DeVries, and in our conversation he lumped the two interests together.
He also revealed that while the public has just started to become aware of these plans for an industrial-scale cannabis farm — a Facebook post from Saturday generated close to 400 comments and more than 150 shares — the companies have been laying the groundwork for years. A traffic impact study, cultural resources investigation, wetland delineation and other studies have all been completed, and on a parcel adjacent to the planned grow site, Arcata Land Company already has a licensed and permitted processing, manufacturing and distribution facility.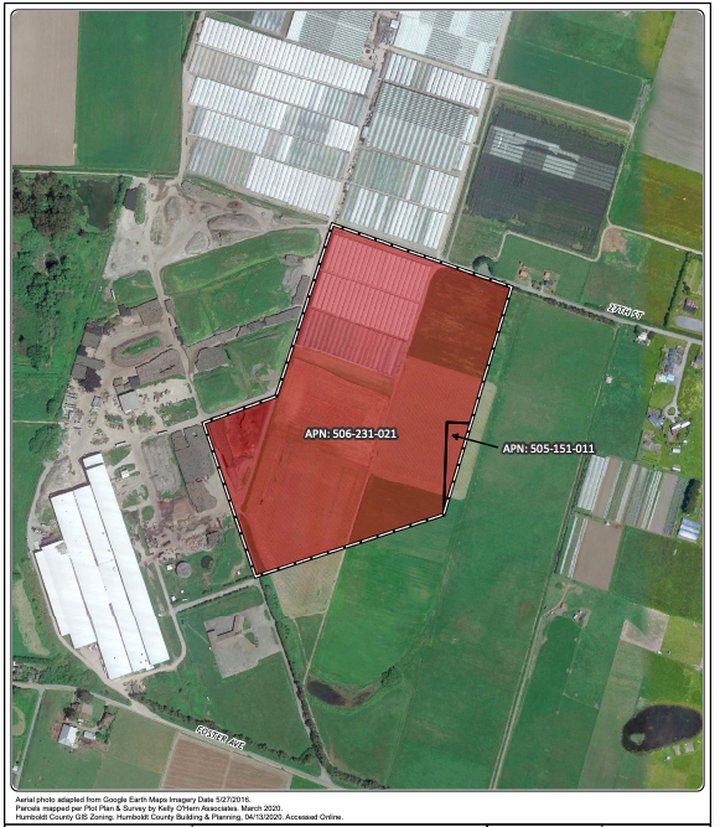 Arcata Land Company is seeking a permit for the grow operation, about three-quarters of which (17.2 acres) would be light-deprivation greenhouses with the remaining one-quarter (5.7 acres) operated as mixed-light. The company also needs permits (or agricultural exemptions) for construction, grading, the wastewater treatment system and three natural gas boilers to provide temperature control within the hoop structures.
The land here is outside the Coastal Zone and zoned Heavy Industrial, which means there are no size limits for a cannabis cultivation operation, per the county's Commercial Medical Marijuana Land Use Ordinance. A little over six acres of existing hoop structures would be converted from flowers to cannabis. The rest will need to be built. The project is expected to require an estimated 52 acre-feet of water per year, with irrigation supplied by an on-site groundwater well that generates 1.8 acre-feet (576,000 gallons) per day, according to the initial study.
Once this operation is up and running, which DeVries said could happen within the year if all goes to plan, it's expected to require up to 116 full-time equivalent employees. That's 76 more than the 40 workers employed at the existing greenhouses on the property.
"[Sun Valley's] local employment base is an integral part of the North Coast economy," DeVries said. "We want to continue operations. We want to stay in Humboldt County. We want to grow and be here for many more years to come."
But if the reactions to Saturday's Facebook post are any indication, this project is likely to face significant public resistance when it comes before the Humboldt County Planning Commission on March 18. While a number of people expressed support for the potential benefits to the local economy, others appear gobsmacked by the sheer size of the proposal and say they're concerned about environmental impacts including the smell, traffic, groundwater, biological resources and more.
James Cotton and his wife Kim Puckett, who put up the Facebook post, live about 800 feet from the project, and he's angry that the county didn't do more outreach to neighbors. He's spoken to a couple who were notified that the county had prepared a draft mitigated negative declaration (MND), a document that states all environmental impacts of the project can be reduced to insignificant levels. (This is a less-extensive level of review than what's required with a full Environmental Impact Report, or EIR.)
But other neighbors, like himself and his wife, were not notified — even though some live closer to the project than those who were, he said.
"There doesn't seem to be any rhyme or reason to it. … Three other people on this cul-de-sac did not receive a notice." Cotton said he believes the county conducted inadequate consultation of stakeholders, which could be grounds for a lawsuit.
He spent several days reading through the 95-page initial study, plus the 1,300-plus pages of supporting documents in the draft MND, making notes about where he believes the report falls short. Among his concerns are potential reductions to agricultural land, impacts to surrounding groundwater wells, the adequacy of bird surveys, visual blight and — not least of all — the odor.
"My wife, daughter and neighbor are asthmatic and triggered by the smell of cannabis," he wrote in one of his notes on the draft MND.

Other neighbors are similarly concerned. An email chain forwarded to the Outpost includes messages from several Arcata residents to Third District Supervisor Mike Wilson.
"Can you please explain what the health and safety risks of an operation of this magnitude would mean so near to our homes; to schools, the church; to gardens and orchards; to two Community Supported Agriculture food producers; and to the parks and recreation areas in this area?" asks Carol McFarland.
Puckett writes, "This has the potential to severely impact our quality of life and to negatively affect the value of our home, our largest financial asset. There are numerous problems with the study that need to be addressed before this goes any further."
Greg King, executive director of the Siskiyou Land Conservancy, writes, "This project would completely change the character of not just the immediate area of Sun Valley, but the entire west side of Arcata, from 11th to 27th Streets, and the rural ag communities of the Arcata Bottoms." He adds that the Humboldt County Planning and Building Department "apparently hasn't met a gigantic, world-changing industrial cannabis grow it doesn't like."
Some of the outrage concerns the 30-day deadline to comment on the draft MND, which is set to expire Friday. (Comments can be sent to the Humboldt County Planning and Building Department at 3015 H St. Eureka, CA, 95501 or Senior Planner Rodney Yandell at ryandell@co.humboldt.ca.us.)
But Humboldt County Planning & Building Director John Ford told the Outpost on Wednesday that the public still has plenty of opportunity to comment. As noted above, the project is expected to come before the Planning Commission on March 18.
"People are free to submit comments up to the day of the meeting," Ford said, though he added that If they want their comments to be attached to the staff report for that meeting, they should probably submit them by March 10.

Ford sounded a bit surprised by the amount of public interest in this project. "This one's bringing people out," he said. Regarding the level of public notice his department conducted, Ford said state law and county policy require them to notify everyone who lives within 300 feet of a proposed project.
"We typically go 450 to 500 feet just to be generous and make sure we're not excluding folks," he said, but he acknowledged that the buffer may seem small considering the size of the parcels in question here.
DeVries, for his part, said, "We are confident that we can address any concerns from neighbors in the community, and we have a proven track record as a good operator in Humboldt County."
Odor from the plants will be controlled using fans that direct airflow through the hoop structures to a carbon filtration unit, according to the initial study. "In the event that carbon filtration is inadequate," the report says, "odor neutralizers such as Ecosorb, which is a water-based product that contains a proprietary blend of natural plant oils and bio-based surfactants that effectively adsorb to odor molecules, neutralizing their smell, may be utilized."
"We are confident odor will not be an issue," DeVries said.

He also insisted that local growers shouldn't be intimidated by the massive size of this proposed operation. (People on Facebook noted that it would rank in the top 10 largest commercial greenhouse grows in North America, according to one industry website.)
"It's not necessarily our intent to be competitive with other Humboldt County operations," DeVries said. "A better way to look at this — this project helps Humboldt stay relevant in the California cannabis market." Large-scale cannabis farms are being developed in other counties, threatening to displace Humboldt from its role as the preeminent cultivation region, he said.

"We're not looking at competing with local growers; we're actually looking at ways to cooperate with local growers. … We anticipate leasing with commercial cannabis operators, and we look forward to sharing our operational excellence at scale," DeVries said.
With the level of public interest this project is already generating, it's safe to expect an influx of public comments for next months Planning Commission hearing. If the commission approves the project, stakeholders will have 10 business days in which to appeal the decision to the Board of Supervisors, which would have final say on approval.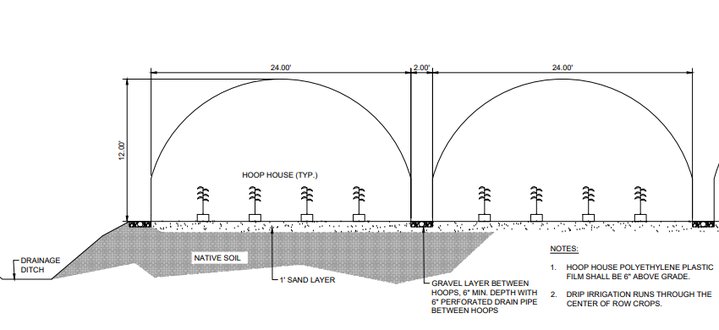 ###
DOCUMENT: Initial Study and Draft Mitigated Negative Declaration [really big pdf]