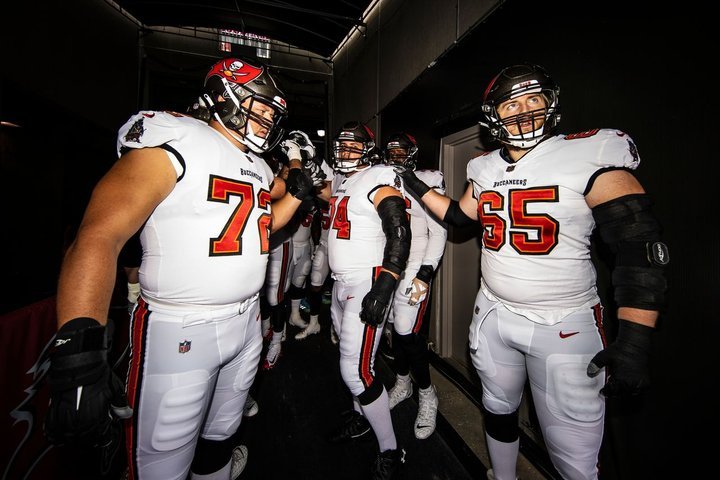 UPDATE, Monday:
The Buccaneers defeated the Kansas City Chiefs 31-9 yesterday, making Alex Cappa Humboldt State's second Super Bowl champion.
The Humboldt Crabs shared this photo of Cappa holding the Vince Lombardi trophy with his wife Emily last night after the game.
###
Despite an ankle injury that will keep him out of Super Bowl 55, former Lumberjack lineman Alex Cappa will still earn a Super Bowl ring if the Tampa Bay Buccaneers defeat the Kansas City Chiefs today.

The win would make Alex Cappa HSU's second Super Bowl champion. Before Cappa, there was Wendell Hayes — an undrafted running back out of Humboldt State who most notably went on to play fullback for the Kansas City Chiefs in the 1970s.
Hayes earned his ring in Super Bowl 4, where the Chiefs bested the Minnesota Vikings and their infamous "Purple People Eaters" defensive line by a score of 23-7. In the game, Hayes had one kick return for 18 yards, one reception for three yards and rushed the ball eight times for 31 yards.
Super Bowl 4.
Sadly, according to Wikipedia, Hayes passed away in December of 2019 at the age of 79.
During his 11-year career in the NFL, Hayes played in 133 games, rushed the ball 988 times for 3,758 yards and scored 28 rushing touchdowns. Hayes also totaled 1,461 receiving yards and seven touchdown receptions.
It's unclear if Cappa will be on the sidelines due to the NFL's COVID-19 protocol, but keep an eye out for him in today's big game.
Cappa was a notable part of the Bucs offense this year, serving as the teams's starting right guard before breaking his ankle in a playoff game one month ago.
Cappa, a third round pick in the 2018 NFL draft, has developed a reputation as a fan favorite and a humanitarian during his three years in the league. He led Pro Bowl fan voting among all NFC guards this season. In April of 2020, he helped feed the hungry and support local businesses during the pandemic by starting an NFL trend where players and coaches ordered food for homeless shelters.
If that wasn't enough, Cappa is also a member of the Bucs Social Justice Player Board. This season, he and other teammates donated money to former Florida death-row inmate Robert DuBoise, who was freed from prison with help from the Innocence Project in 2020 after serving 37 years behind bars for a crime he did not commit.

Watch Cappa in the NFL Network special about Du Boise's case embedded below. Go Bucs!