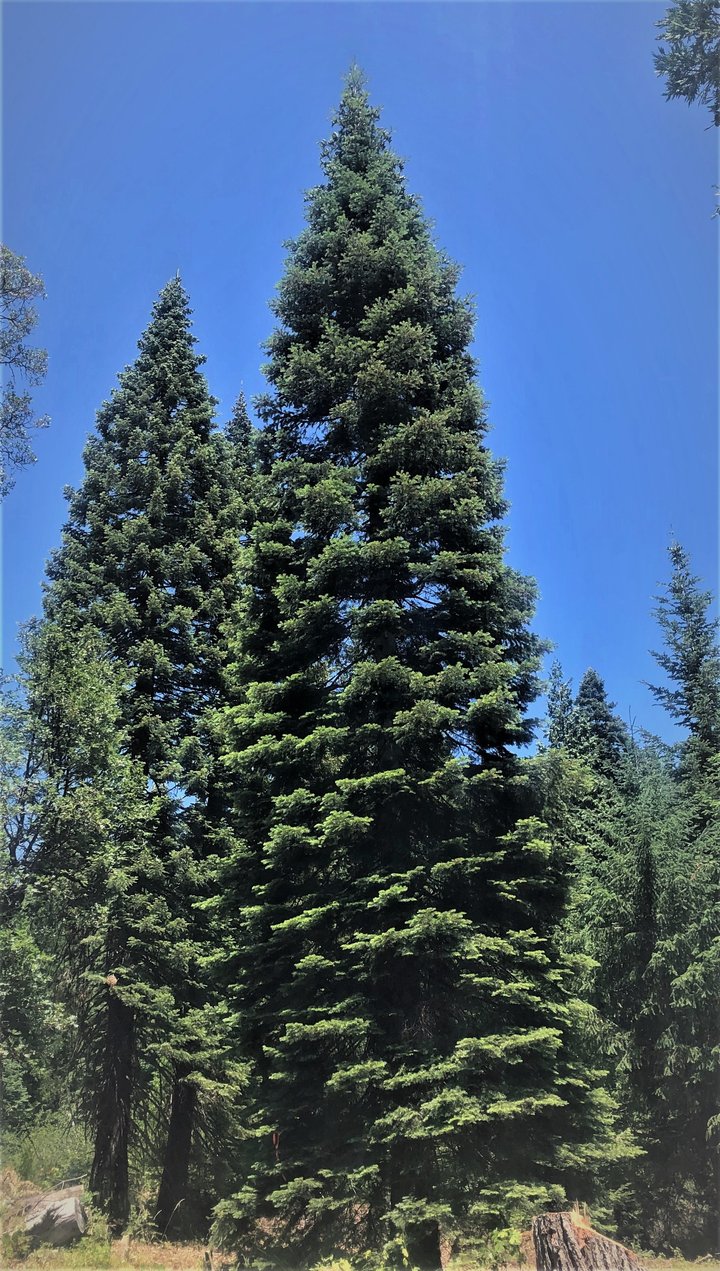 CORRECTION: DERP. Thank you to the reader who pointed out that we blew this by attributing the demand for tribute to the Biden administration. In point of fact, and as we should have gathered, this is a Congressional deal. The Outpost regrets the error. — Ed.
###
U.S. Forest Service press release:

EUREKA, Calif., July 21, 2021— After a multi-month search covering hundreds of square acres and thousands of feet in elevation, the 2021 U.S. Capitol Christmas Tree from the Six Rivers National Forest has been selected – "Sugar Bear."

Six candidate trees were identified and presented virtually to Architect of the Capitol staff, with each tree receiving unique nicknames connected to the state animal of California, the bear.

Taking top honors, "Sugar Bear," an 84-foot white fir located within the Mad River Ranger District, will grace the West Lawn of the U.S. Capitol this holiday season.

"Selecting a tree to adorn the West Lawn of the U.S. Capitol comes with a unique set of challenges in any given year, but especially with this being the second year the search and selection has been conducted virtually," said Jim Kaufmann, Director of Capitol Grounds and Arboretum at the Architect of the Capitol. "Thanks to drone footage, comprehensive photos, compelling narration, and detailed notes and measurements, we were able to select a majestic white fir that very well represents the Six Rivers National Forest and the great state of California."

The People's Tree will be harvested from the Mad River Ranger District, which was most recently impacted by the largest recorded wildfire in California history – the 2020 August Complex Fire. Nearly 160,000 acres, or a little over 50 percent of the total district, was destroyed and burned by fire associated with the August Complex last year.

"Given the recent challenges and hardships our community faced in 2020, we are honored the People's Tree will be harvested from our district," said Kristen Lark, district ranger for the Mad River Ranger District. "This tree signifies the fortitude and resilience of this community and we are excited to share in the joy and hope of this project as it makes its journey to Washington, D.C."

The tree will be harvested in late October before making its journey throughout the state of California and cross-country to Washington, D.C., arriving at the U.S. Capitol in late November.

The Architect of the Capitol's team will decorate the tree with thousands of handcrafted ornaments from the people of California. The tree will be lit in early December 2021 by the Speaker of the U.S. House of Representatives in as a time-honored tradition in its 51-year partnership with the U.S. Forest Service.

Non-profit project partner Choose Outdoors and a host of partners, sponsors, and volunteers are contributing funding and in-kind support of this project and its theme, "Six Rivers, Many Peoples, One Tree."

"We could not be more grateful for our shared partnerships and engaged community partners and look forward to representing them on a national stage with the representation of this beautiful, local white fir tree," said Ted O. McArthur, forest supervisor for the Six Rivers National Forest.

About the U.S. Capitol Christmas Tree

The U.S. Capitol Christmas Tree initiative is a 50-year tradition in which one of our 155 national forests provides a tree for the West Lawn of the U.S. Capitol for the holiday season. The project is made possible with support from partners including non-profit Choose Outdoors along with cash and in-kind contributions from companies large and small as well as volunteers locally and across America.

Partners supporting the 2021 journey include Kenworth Truck Company, System Transport, ABC Sacramento, Spireon, Inc., Hale Truck and Trailer, Visit California, PG&E, Federal Motor Carrier Safety Administration, Alaska Airlines, Coast Central Credit Union, Great West Casualty Company, Truckload Carriers Association, Meritor, Inc., Mountain F. Enterprises, Inc., Society of American Foresters, Green Diamond, Mendocino and Humboldt Redwood Company, Sierra Pacific Industries, BT Metals, LexisNexis VitalChek Network, Inc., Bergco, The Forest Foundation, National Press Club, Humboldt Craft Spirits, Humboldt Marketplace, Bass Pro Shops, Chicobag, and more.

We invite you to follow the #USCapitolChristmasTree2021 project through one of our accounts:

Facebook: USCapitolChristmasTree
Twitter: @USCapitolTree
Instagram: @USCapitolChristmasTree
#ManyPeoplesOneTree

To learn more about the history of the U.S. Capitol Christmas Tree, please visit https://www.aoc.gov/what-we-do/programs-ceremonies/capitol-christmas-tree. Follow along at www.uscapitolchristmastree.com.