Today is World Ocean Day, which would traditionally mean that thousands of California kids — including many of our Humboldt youths — would take field trips to the coast, participate in a beach cleanups and then form aerial designs conveying messages about protecting our ocean.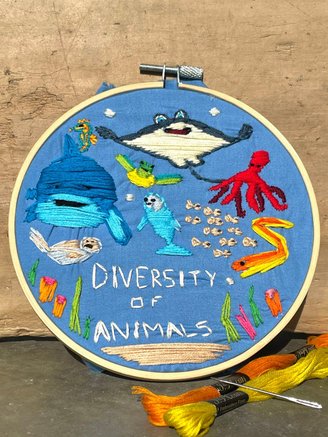 This year, in order to maintain proper social distancing, Kids Ocean Day has taken a different approach by holding an online art contest. The winners were announced this morning and one of our own local students, Liana S. — a Seventh-grader at McKinleyville Middle School — took second place, with a creative embroidery piece.
"I embroidered this to show the amazing diversity of ocean life that we need to appreciate, respect, and protect," Liana says of her work on the Kids Ocean Day website. "I included a shark, ray, octopus, seahorse, turtle, dolphin, eel, seal, and a school of fish. My favorite ocean animal is a dolphin."
All of the submissions were assembled into an online mosaic in the shape of the painting by first place winner (Tracy N. of Garden Grove.) You can view the a video of the mosaic animation and photos of the other winning entries below.