The next step in returning triple-murder suspect Mauricio Sanchez-Johnson from Utah to Humboldt County will be California Gov. Gavin Newsom agreeing to sign a warrant.
"California has told me they've made a request for a governor's warrant," attorney Brad Schofield, representing Sanchez-Johnson, told Third District Judge Dianna Gibson this afternoon. Sanchez-Johnson has been in jail in Tooele County, Utah, since Feb. 11, the day after he allegedly shot three people to death in a home on the Bear River Rancheria.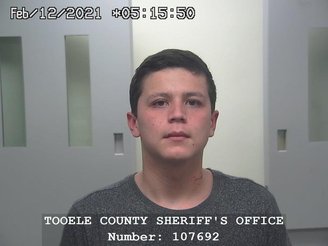 Sanchez-Johnson appeared briefly today before Gibson, who set his next hearing for April 6. He is fighting extradition to Humboldt County.
The 19-year-old Loleta man is accused of murdering Nikki Dion Metcalf, Margarett Lee Moon and Shelly Mae Autumn Moon after Metcalf discovered him in bed with 16-year-old Shelly Moon. Sanchez-Johnson told a witness he first shot Metcalf and Margarett Moon, both 40, before also killing Shelly so she couldn't be a witness.
Sanchez-Johnson was pulled over and arrested the next day while driving east on Interstate 80 in Utah. His passenger, 46-year-old Von Eric Keener, was also arrested but waived extradition and is in Humboldt County Correctional Facility.
Sanchez-Johnson's local attorney, Andrea Sullivan, had told District Attorney Maggie Fleming that Sanchez-Johnson would sign extradition papers if the capital charge against him was dismissed. Fleming refused.
In addition to murder and firearms allegations, Sanchez-Johnson faces the special-circumstance charge of having multiple victims, meaning if convicted he could face the death penalty or life in prison without possibility of parole.
All three victims were shot in the head, with Metcalf and Shelly Moon dying instantly and Margarett Moon dying shortly after. They were found by Margarett Moon's 13-year-old daughter. She and an 11-year-old boy were in the home when the shootings occurred.
###
PREVIOUSLY: