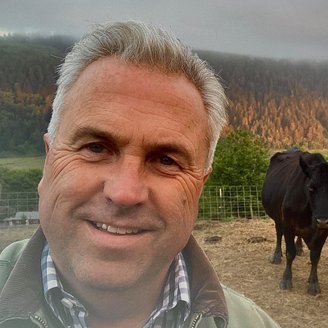 Larry O. Doss, broker/president of Ming Tree Realtors of Eureka and a current Harbor District commissioner, is considering a run for the Fifth District seat on the Humboldt County Board of Supervisors, potentially challenging first-term incumbent Steve Madrone.

"I've been exploring that," Doss said when reached by phone this afternoon. "I haven't done anything official yet."
He said he's held off on a campaign launch and official announcement because of recent events: "I kind of put the clutch in with the fires and everything."
While Doss has yet to file any campaign paperwork with the county Elections Office, his not-yet-a-campaign — "Larry Doss for 5th District Supervisor" — was a Silver Star sponsor of this year's Humboldt County Fair. Fair Board Director Association Administrative Assistant Mary Ann Renner told the Outpost that Silver Star sponsorships run $1,000.
Last week blogger John Chiv posted a couple of photos of Doss campaign materials at the fair, including a sign reading "Larry Doss for 5th Distric [sic] Supervisor" and shot of Doss gathered with supporters around a campaign banner.
On the Harbor District, Doss represents Division 1, which includes southern Eureka, Ferndale and much of the Eel River Valley. (The territory matches the county's First Supervisorial District, currently represented by Rex Bohn.) Doss's registered address is the Shiny 4D Ranch at the south end of Eureka. It's a working ranch producing beef, pork and eggs, according to Doss's Harbor Commissioner profile, and it's also available for film and TV productions looking to feature horse-drawn wagons and majestic draft horses.
"My official residence is in the First District right now," Doss acknowledged. So why is he considering a run in the Fifth? He explained that he and his wife also have a place in Orick that they've owned for 18 years. They regularly go back and forth, he said, and plan to downsize and officially move north soon. (Doss's Facebook page already lists his place of residence as Orick.)
"Lots of community members from the Fifth District, when they realized that's what we're doing, have talked me into continuing that passion for Humboldt so I can take it to that level as a supervisor," he said.
Asked why he'd like to serve on the Board of Supervisors, Doss said, "I'm to the point in my life where I can do some major give-backs to the community, and I've seen quite a bit of opportunity that can be spread across the whole county." He mentioned positive developments toward a "green" Humboldt Bay and said, "I think we can let that positive energy spread and see results start spilling across the whole county [to] benefit everybody."
When Doss was running for his harbor commissioner seat six years ago, he said he didn't approve of the District's acquisition of the former pulp mill site, now known as Redwood Marine Terminal II. Looking back, Doss said he now believes it was a good move. "It put the Harbor District in a tough financial spot for several years, but we've gotten out of it," he said.
That's largely due to businesses that have moved in at the Harbor District's invitation, he said.
"I think one of the jewels out there that we'll see for a long time to come is the Nordic Aquafarms project," he said, referring to the Norwegian company's land-based fish farm planned for the Samoa Peninsula. He said it will provide many green, living-wage jobs without competing with local fishermen. "What a beacon for the bay … ," Doss said. "When I first met with them a couple years ago I had to hold back my excitement for the bay."
He also spoke excitedly about the potential for offshore wind energy development locally, saying that while there will likely be pushback from some in the community, he considers the prospect "a huge, huge win for Humboldt Bay."
Regarding the recent news that coal interests in Wyoming and Montana are pursuing the NCRA right-of-way in an effort to rebuild the rail line and export coal out of Humboldt Bay, Doss said, "I don't have enough information to give a decision one way or another. I don't see the traditional coal trains we know from Kentucky or such ever rolling in Humboldt."
Six years ago, Doss said he wasn't a big believer in human-influenced global warming. Asked if his perspective has changed he said, "Yeah, but we also have to credit the Earth. The Earth has changed its climate and has never stopped changing. We're looking at a cycle now where we'll see sea-level rise. We've been putting a lot of effort into protecting our coasts."
Does that mean he now believes humans have an influence on the climate? "Everything has an influence on it," he said. "There's not any one. The part that really bothered me is we didn't ever in any of the models allow the Earth to have its own changes. That's what I learned in Earth 101. Everything has a cause and effect."
Earlier this year, Doss changed his party affiliation from Republican to "No party preference." Asked what prompted the change, Doss said, "I just think it's just gotten crazy. It doesn't matter what the party is; they're just nuts. I just don't really identify with any of 'em. I'm just really a middle-of-the-road person. It's disappointing as an American citizen to see where the parties have gone. I just don't want to be part of that."
Humboldt County supervisor elections are non-partisan.
Doss's current term on the Harbor District's Board of Commissioners runs through 2024. Larry Oetker, the Harbor District's executive director, said Doss asked about his eligibility to continue serving if he moves to Orick, and Oetker put him in touch with the district's legal counsel.
"It's my understanding that you have to live in the district that you represent and that if he moves to Orick he would not be eligible to serve [in the first district]," Oetker said.
California's primary election is scheduled for June 7. Thus far, Eureka City Councilmember Natalie Arroyo has announced that she'll run for the Fourth District seat on the board, potentially squaring off against incumbent Supervisor Virginia Bass. Bass hasn't publicly announced whether she plans to seek re-election.