If you happened to be looking at the sky during sunset on Thursday evening, you may have been one of the many lucky Humboldt residents to catch an incredible sight — a full rainbow with a backdrop of orange, pink and purple clouds. At moments you could even catch glimpses of a faint double rainbow. It was really something!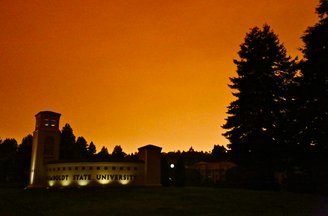 In addition to the almost overwhelming beauty of overlapping sky art, what made the event particularly special is that it landed on the one-year anniversary of what some refer to as "smokeageddon" — the strange day when smoke from multiple nearby wildfires enveloped our coastal skies, choking out the sun and casting an eerie orange light.
While the orange sky day signaled a particularly bad wildfire season and left many of us feeling uneasy, the orange-ish rainbow that graced our skies one year later seemed to give many a moment of hope, especially during a time where the rain is badly needed.