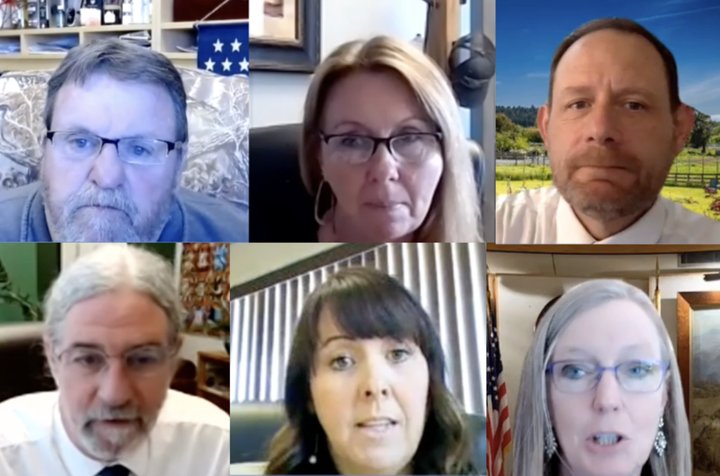 ###
We're now more than a year and a half into the pandemic — 18 months of meetings conducted via Zoom, of public commenters pressing 9 to chime in and of pledges of allegiance to pixelated U.S. flags.
However, Tuesday's gathering of the Humboldt County Board of Supervisors did not include one of the regular COVID updates from the county health officer, and so the day's deliberations largely focused on other matters. Weed featured prominently.
Let's get right to our rundown.
'The failing cannabis industry'
Prices for wholesale cannabis have cratered in recent months due primarily to massive overproduction in the state's regulated marketplace, leaving local growers facing "an extinction event." Add in crop-related challenges caused by wildfires and drought and, well, things are very bad in The Industry.
In an effort to alleviate at least a bit of the pain, county staff today proposed a few minor changes to Project Trellis, the county's cannabis industry support program, which is funded primarily through Measure S cultivation tax revenues.
The major proposed change called for an infusion of an extra $1 million into Project Trellis coffers, with $800,000 of it going toward emergency micro-grants for struggling cultivators with the remaining $200,000 earmarked for "an emergency short-term cannabis marketing program."
Scott Adair, the county's economic development director, told the board on Tuesday that in recent weeks his office has been inundated with "urgent or perhaps even desperate pleas for assistance."
Wholesale weed values have fallen so far, Adair said, that "the price per pound is now less than the cost to cultivate, process and distribute that product." (Five hundred dollars is an oft-cited figure for a pound of outdoor these days, with some growers saying they can't even get that much.)
Staff also proposed some changes to the county's Local Equity Program manual, changes designed to enhance and expand availability of the program's services.
As for the county's weed marketing efforts, staff and a marketing ad hoc committee have been trying to get a campaign off the ground for more than two years. In an update to the board today, Economic Development Specialist Peggy Murphy said the county is extending the window to submit marketing proposals because the latest request for submissions, issued in May, attracted just one proposal. (It came from the Humboldt County Growers Alliance, the same industry nonprofit that completed a market analysis last year. [CORRECTION: Technically, the proposal was submitted by the Humboldt Community Business Development Center (HCBCD) a tax-exempt charitable organization that's affiliated with, but legally distinct from, HCGA.])
After the staff presentation, First District Supervisor Rex Bohn said he's been getting calls from local growers who were awarded micro-grants or equity grants in last year's round of funding but have yet to receive the money.
Adair said those funds could be in jeopardy if the payments aren't issued to recipients by October 1, and he explained that the process is tied up in other county departments — yet another example of the procedural fiscal woes that have bedeviled the county in recent years.
Second District Supervisor Michelle Bushnell referred to "the failing cannabis industry" and asked about the criteria to qualify for grant money. Would taking a loss on your product be enough?
Adair said the program doesn't typically cover lost revenues but does support expenditures aimed at increasing revenues.
Bohn questioned what could be accomplished with a mere $200,000 to launch an advertising campaign and suggested that money be lumped in with the rest allocated to micro-grants. He also said that applicants for the full-fledged marketing contract should still be limited to local nonprofits, as the original RFP stated.
Fifth District Supervisor Steve Madrone agreed, saying, "I think a local nonprofit that's deeply steeped in our industry would be best, but I understand the desire to see some competitive proposals."
Madrone said the industry is so far back on its heels that he'd be open to throwing "a lot more than $800,000" at it in hopes of bolstering local growers until federal legalization comes through "in a couple years, hopefully."
During the public comment period, a couple of growers asked why the Planning Commission is still approving new cultivation permits when the market is so saturated with product.
Dylan Mattole, a cultivator from Honeydew, suggested that this new round of micro-grants be awarded to growers who applied for the last round but didn't get funded.

Both Bushnell and Madrone rejected the notion of placing a moratorium on cultivation permits.
"Who are we to say you don't have the opportunity to apply?" Bushnell asked rhetorically.
Madrone agreed, saying it wouldn't be right to cut off people who've spent their life savings getting prepared to join the industry. He made a motion to pass staff recommendations but double the micro-grant kitty to $1.6 million. However, after Interim County Administrative Officer Elishia Hayes explained that the extra money would have to come out of the county's general fund, nobody seconded Madrone's motion.
Taking another stab, Madrone made a motion to ditch the $200,000 marketing effort and add that sum to the $800,000 micro-grant pool, as Bohn had suggested. The motion also asked staff to come back at the next Board of Supervisors meeting, in two weeks, with a request for an additional staff member in the Economic Development division.
The motion passed unanimously.
Who's got the power?
Should the County Administrative Officer have the power to make and enforce personnel policies during emergencies?
As noted up top, we're now a year and a half into California's statewide, COVID-triggered state of emergency, and Hayes, the county's interim CAO, believes her role ought to include a bit more authority.
An item listed on the board's consent calendar asked the board to grant it to her, but Bushnell pulled the matter for discussion.
Called upon to explain the rationale for the proposal, Hayes argued that the measure would simply allow for more efficient and effective operations. As an example, she recalled the county's recent return to an employee mask mandate and said passing this resolution would allow her office to implement such policies directly. The board would still have the power to rescind such orders at any time, she said.
But not everyone liked the proposal. Sheriff William Honsal said he was uncomfortable with the enforcement part of the equation and asked, "Is this the amount of power we want to give one individual in an emergency?"
The wording of the resolution says the authority over emergency personnel policies would be delegated to the CAO "in consultation with the Director of Human Resources/Risk Management and County Counsel." Honsal said that while he appreciates Hayes, he's worried about some future scenario with a less reliable CAO. He argued that some authority over personnel policies and enforcement should be left to elected officials and department heads — or else the policies should have to be ratified by the board within a certain amount of time — say, a week.
Public Works Director Tom Mattson agreed, saying a hypothetical "bad CAO" could wind up wielding "an enormous amount of power."
Bohn sounded amused by the talk of some terrible future CAO and pointed out that the county could just as easily "elect a crazy sheriff sometime." He also said, in a revealing aside, that Hayes is "probably gonna be our CAO," indicating that the "interim" may soon fall from her title.
Hayes said she'd be happy to add the sheriff/emergency services director to the list of people with whom the CAO would confer on such decisions, if that would alleviate any of the angst.
Bushnell said she liked Honsal's suggestion of requiring that any new emergency personnel policy be ratified by the board within seven days. That provision was added to the resolution along with one requiring consultation with the emergency services director, as Honsal requested, and the board unanimously approved the measure.
Support facilities
One other cannabis-related matter came to the board today, this one a proposal to add some new draft amendments to the county's Commercial Cannabis Land Use Ordinance (CCLUO).
The suggestion that proved a bit contentious was a proposal to eliminate an existing 600-foot setback requirement for cannabis distribution, testing and research facilities. Planning and Building Director John Ford said this requirement is causing problems in rural areas by preventing these much-needed support facilities from finding suitable locations.
"We're proposing to remove that [setback requirement]," Ford said.
Third District Supervisor Mike Wilson said he wasn't comfortable removing it entirely and suggested simply reducing the buffer to 100 feet. Madrone backed this proposal.
But Bushnell pushed back. She said these support facilities are badly needed and speculated that even a 100-foot setback could prevent an applicant from setting up shop — say, if their chosen location happened to be within 100 feet of a church.
Madrone and Wilson held firm, saying a 100-foot setback is a reasonable compromise. Ford said no projects that have come before the county to date would have run afoul of that stipulation.
The board wound up approving the amendments unanimously, though Bohn hesitated before voting "yes," and Bushnell issued a warning to Madrone and Wilson. "If we see this [issue] in front of us again, I'm gonna say, 'I told you so,'" she said. "Both of you."