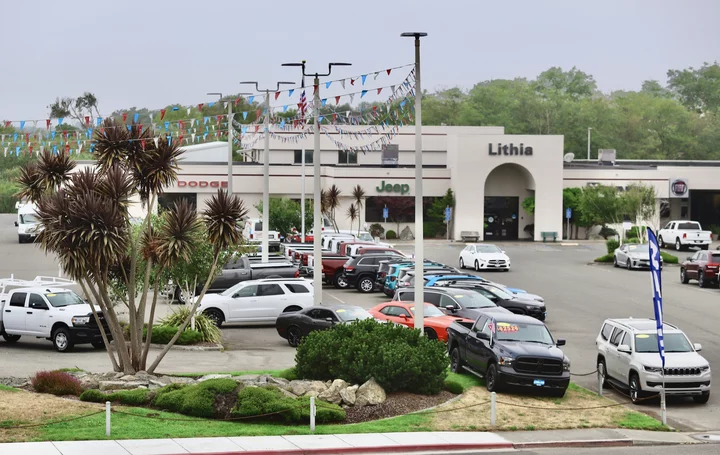 ###
After more than a century of selling cars and trucks in Eureka, the Harper family is expanding its already impressive line of vehicle brands with the purchase of one of the region's largest dealerships: the Lithia Chrysler, Dodge, Jeep, Ram, FIAT franchise on South Broadway in Eureka.
The Harpers, as most long-time locals can tell you, already own Harper Motors, a Ford, Lincoln and Kia dealership founded in 1912, as well as Mid-City Motor World, the Toyota and Honda dealership that shares the sprawling asphalt lot along Hwy. 101 north of downtown Eureka.
Trevor Harper, general manager of Harper Motors, said his family wasn't necessarily looking to expand its business, but someone from Lithia Motors made the first move.
"They called out of the blue a while ago and mentioned to us that the store was for sale, and that started the talks," Harper said in a phone interview.
While the Harpers are certainly a big fish in the small pond that is Humboldt County, Lithia is one of the largest new vehicle dealership groups in North America, boasting 277 dealerships in the U.S. and another 14 locations in Canada. The publicly traded company, which, improbably, is based in Medford, Ore., has actually been acquiring new dealerships as it climbs the Fortune 500 list. (It jumped 73 spots this year to land at No. 158 on the list of the country's biggest corporations.)
But the Eureka dealership, which Lithia purchased from Gary Barker in 2005, doesn't really fit with the company's current growth model, Harper said.
Lithia is one of a handful of companies "racing to dominate the fragmented auto dealership industry," as a recent CNBC story observed, and Harper said they're focused on volume sales. (A message seeking comment from Lithia was not returned by publication time, and Tim Call, the sales manager at Lithia's Eureka dealership, referred all questions to Harper.)
"If you have a location in a metropolitan or suburban area, you can sell 200 to 400 vehicles a month," Harper said. "It's probably more worth their while than places like Eureka, where they sell probably 20 to 40 a month."
Granted, Eureka is just a few hours from Medford, but access to the coast can be sketchy, given the frequent slides and construction work on Last Chance Grade. And when the auto delivery truck arrives, there's just this one dealership here, "whereas if they're going to the Bay Area or Portland they have access to multiple stores," Harper said.
So, did the Harper family jump at this opportunity?
"We thought real hard about doing it," Harper said. They quickly came to the decision that it makes sense.
"It fits our business very, very well," Harper said. "Eureka is kind of its own market. You have to understand the local culture and the business climate."
With this acquisition, the Harper family will own three of the five biggest dealerships in the region. While sales figures aren't publicly available, Mid-City Motor World, Harper Motors and the Lithia dealership regularly land in the City of Eureka's list of top 25 sales tax generators, along with Northwood Chevrolet and McCrea Nissan/Subaru. All three dealerships employ about 50 people, according to Harper.
He said one of the motivating factors in the purchase was keeping the ownership local.
"If it wasn't us [buying it], it's overwhelmingly likely that it would have been somebody from out of town," Harper said. "It just makes sense for it to have local ownership."
The Harpers plan to make the transition in ownership as seamless as possible, he added, keeping the structure of the business about the same. The sale is scheduled to close on Aug. 31, with the Harpers taking over the following day. The new name of the dealership will be Eureka Chrysler Dodge Jeep Ram.
Before hanging up, Harper mentioned one more perk of this deal, one that ties in with a bit of family history. The Harpers became authorized Jeep dealers back in 1979, but after Chrysler and General Motors declared bankruptcy in 2009, the automakers began dramatically consolidating as part of their reorganization. Chrysler announced the removal of 789 franchises on a single day in May.
"And we were one," Harper said, referring to their Jeep contract. Eventually, Lithia acquired the right to sell Jeeps on its own lot. Harper sounded amused by the latest turn.
"In a weird twist of fate, we're gonna get our Jeep franchise back," he said.