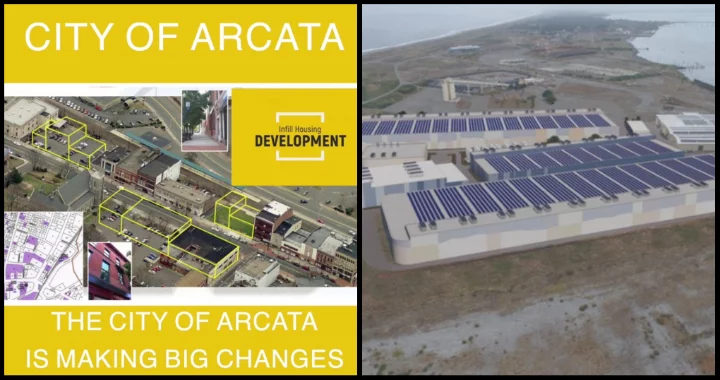 ###
Just a quick heads-up for people interested in the future of Humboldt County — most of you, right?
There are two important public meetings happening tonight on two separate big, county-altering projects: The proposed Nordic Aquafarms indoor fish farm in Samoa, and Arcata's Gateway Area Plan.
At 4 p.m., Arcata's Planning Commission will kick off a second week of hearings about design considerations in the Gateway Area Plan, which aims to encourage big development around the largely industrial or post-industrial K Street corridor. We previewed the first of those meetings here.
If you're an Arcatan who hasn't gotten up to speed on the Gateway Area Plan yet, now is definitely the time. There'll be a big joint meeting of the Planning Commission and the City Council on Aug. 23, and that's when many of the big-picture decisions about the plan will be made. You'll want to get your thoughts on record well before that.
The city's website for the Gateway and related efforts is at this link. There are tons of resources available. If you'd like to read the thoughts of a Gateway skeptic, Fred Weis' arcata1.com website has loads and loads of articles.
Here's the agenda for tonight's meeting. It takes place at Arcata City Hall starting at 4 p.m., and instructions for remote attendance are in the agenda packet, there.
###
Meanwhile, the Humboldt County Planning Commission, meeting at 6 p.m. in the Humboldt County Board of Supervisor's Chambers, is scheduled to make its final determination on the great big Nordic Aquafarms land-based fish factory proposed for the Samoa Peninsula.
The Outpost's Ryan Burns wrote about last week's meeting of the Planning Commission on the same topic here at this link. That meeting went on so long that that the commission put off a decision on the topic until this week.
Whichever way it goes, this will be far from the the final thumbs-up or -down on the project: Apart from a potential or even likely appeal to the Humboldt County Board of Supervisors, Nordic Aquafarms still has to run the gauntlet to get various permits from the state of California.
Tune in for the hearing and the decision, if you like, but fair warning: The Planning Commission likely won't be taking public comment on the project. That's because tonight's item is technically a continuation of last week's, and the commission took hours of comment at that time.
Full agenda for tonight's Humboldt County Planning Commission meeting at this link.
###
PREVIOUS GATEWAY:
PREVIOUS NORDIC: