Guess what! It is once again time to preview how the rest of the world will soon view Humboldt on their personal screens. Click play above… and remember to breathe.
Yes, earlier today Apple TV+ released the trailer for The Sky is Everywhere, the A24-produced, Josephine Decker-directed adaptation of the 2010 young adult novel of the same name that LoCO readers will recall was shot entirely here in Humboldt back in the fall of 2020. Remember? The film crew painted the rail of the Old Town gazebo a glorious blue before it was unfortunately repainted black? Yeah. That was for this.
As shown in the trailer, the film centers on the story of Lennie (played by Grace Kaufman), who is simultaneously having difficulty coming to terms with the death of her sister while also navigating budding complicating relationships with her sister's former boyfriend and the new boy in school. Other notable Sky performers include Jason Segel (Forgetting Sarah Marshall, The Muppets, TV's "How I Met Your Mother") and Cherry Jones ("The Handmaid's Tale," HBO's "Succession").
Oh, and let's not forget another of the film's stars: Humboldt County! Back in 2020, LoCO respectfully crept onto The Sky is Everywhere's film sets as they were shooting in Sequoia Park and Old Town. On top of those locales, in this trailer we spot Arcata High School, Arcata Presbyterian Church and the Eureka Waterfront. (What did we miss?)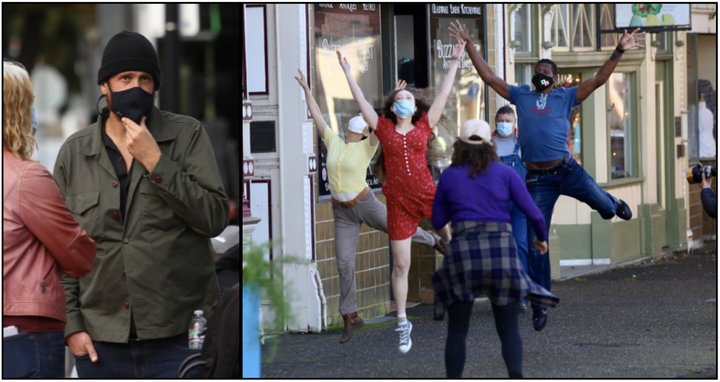 In addition to the joy of seeing Humboldt filmed so beautifully and professionally, there are some in our midst, namely Humboldt-Del Norte Film Commissioner Cassandra Hesseltine, who would like us to remember what a nice little boost to the local economy these large-scale productions afford us. By Hesseltine's calculations, The Sky is Everywhere crew injected upwards of $2 million into local businesses — between lodging, meals, supplies and Jason Segel's trips to Jitter Bean, among other expenses — during their multi-month stay here at the height of the pandemic. (As someone who visited the set, we can attest that strict COVID safety protocols were followed.) Over 500 local people played some role in the production and Hesseltine is happy with what she's seen of the film so far.
"We are thrilled with the look of the trailer and looking forward to seeing our beautiful locations when the entire film premieres!" Hesseltine told LoCO. "Honored that they filmed the entire project in the redwood region while keeping the community safe during the pandemic."
The Sky is Everywhere will be released in select theaters and (more useful to local eyeballs) Apple TV+ on Feb. 11.
PREVIOUSLY: