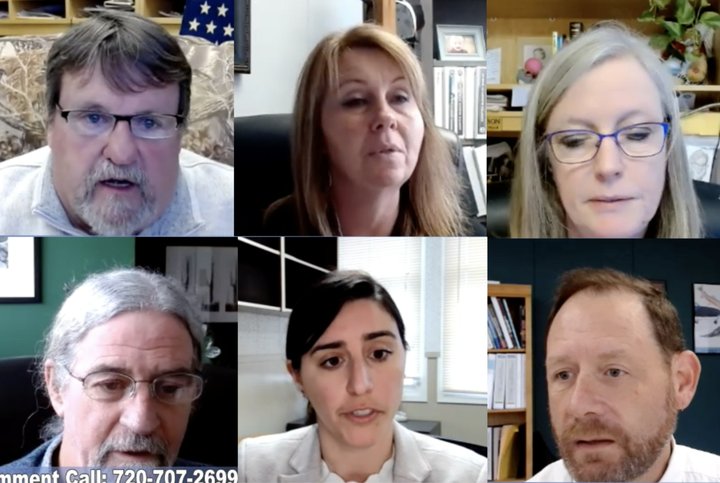 ###
If you're a fan of these Brady Bunch-style screenshot grids from Humboldt County Board of Supervisors meetings (above), well, enjoy them while you can because starting March 1, the supes are headed back into board chambers — the whole gang gathering in the same room for the first time in nearly two years.
County staff, including the IT Department, has been busy upgrading the equipment inside chambers, adding an extra camera, a new sound system and something called a "tricaster" to facilitate live-streaming. They also plan to implement "Vote Cast" software, which, as we understand it, will allow each supervisor to cast their vote by pressing a button, rather than calling out "yea" or "nay" or some variation thereof. The results will pop up on a scoreboard in chambers.
All that's left to do before go time is conduct some "mock meetings" to make sure everything's running smoothly, according to Clerk of the Board Kathy Hayes. The supervisors sounded pretty pumped about getting back to in-person meetings and voted unanimously to do so starting in March.
What else happened at Tuesday's meeting? Glad you asked. You'll find a rundown below.
COVID contract
It's not particularly surprising that the meeting kicked off with a smattering of wackadoo public comments about COVID-19. (Example: a pre-recorded comment that characterized isolation and quarantine measures as "the COVID Gestapo" and predicted a fascist progression toward COVID "internment camps.")
Such remarks came from trio of anti-vaxx/mask-mandate callers, who've become regulars during the pandemic. They objected to a professional services agreement between the county and Public Health Institute, a firm offering staffing services to assist the Department of Health and Human Services (DHHS) with COVID case investigation and contact tracing.
What was a bit surprising was the testiness of the ensuing board conversation. First District Supervisor Rex Bohn said the public had asked some very good questions and deserved answers about such matters as the effectiveness of contact tracing at this point in the pandemic, given the high case rates, and the price tag of up to $634,013 for employing Public Health Institute's services through April 12. (That funding is supplied via state-allocated grants, according to a staff report.)
Bohn also remarked on the pattern of COVID-related items being put on the consent calendar, as this item was, only to see them become the subject of public debate. This triggered some procedural confusion over whether to pull the item for discussion, with Bohn's colleagues encouraging him to do so since he had so many questions.
Third District Supervisor Mike Wilson said this was merely a contract matter rather than a policy decision and thus shouldn't be controversial. But Bohn persisted with his inquiries, and the matter was officially pulled for discussion.
Public Health Director Sofia Pereira said Public Health Institute's team of 10 workers has helped DHHS work to improve population-level health, focusing their contact tracing efforts on vulnerable populations such as homeless shelters, skilled nursing facilities and other congregate living settings. DHHS Assistant Director Michele Stephens agreed, saying, "We absolutely need this outside support."
With Bohn's continued questioning, DHHS Director Connie Beck asked him whether he'd like her staff to come back next week with a more comprehensive report on their COVID-19 response efforts. Wilson and Fourth District Supervisor Virginia Bass said they weren't sure whether Bohn was referring to the comments about the Gestapo and internment camps when he mentioned the "very good questions" being asked.
Bohn, growing frustrated, said he wasn't.
"I — seriously. Shit," he uttered before the board went back to public comment.
Eventually Bohn seemed satisfied that the questions had been answered satisfactorily, and the board voted unanimously to extend the contract through April 12.
Community halls
Wilson and Fifth District Supervisor Steve Madrone brought forward a resolution in support of local community halls, which, like others across the state, have been engaged in a years-long battle with the California State Grange organization over control of the rural gathering places.
Fieldbrook resident Rowetta Miller spoke on behalf of her community's hall, saying the new leadership of the California State Grange has transformed the organization into exactly what the community center has fought against for the past 83 years: a large corporation bent on making an unjust land grab.
Another grange advocate, Margie Plant, said, "It can only be considered as a forced takeover of community property" and urged people to visit a website dedicated to saving the local halls.
Wilson said he understands that there have been many legal battles around this issue, and the resolution isn't intended to take a stand on any of the underlying legal issues. Rather, it's "just in support of those folks trying to maintain what they've found successful in keeping these community spaces together."
Bohn said he'd prefer to "stay away from this one," saying the state organization appears to have the upper hand, legally. "I think the horses are already out of the barn," he said. "We're gonna have to organize and figure out how to work with 'em."
Nonetheless, the board passed the resolution unanimously.
Samoa Wastewater Project
Later in the meeting, Planning and Building Director John Ford outlined for the board some policy changes that needed to be made, per direction from the California Coastal Commission, in order to move forward with the long-planned Samoa Peninsula Wastewater Project.
Ford said the policy document being presented today reflects the need to balance many factors, including groundwater quality, private property rights, sea-level rise and tsunami inundation.
Senior Planner John Miller told the board that the modifications suggested by the Coastal Commission will disallow all conditionally permitted uses and Accessory Dwelling Units on properties located within 300 feet of the proposed new sewer line. That means no manufactured home parks, no guest houses, no bed and breakfast establishments and no neighborhood commercial buildings, among other restrictions.
But staff recommended the board approve the new version of a policy resolution, allowing the project to move forward.
Bohn questioned whether this would mean that the many legal lots in Fairhaven that are within 300 feet of the proposed infrastructure would be unable to do any type of development.
Miller said there would be a prohibition on additional extension of the public sewer main unless the board further amended the Humboldt Bay Area Local Coastal Program. But new development can occur on existing legal lots, subject to requirements designed to protect lives and property from tsunami and sea level rise while also protecting environmentally sensitive habitat areas outside of the 300-foot margin.
Rob Holmlund, former community services director for the City of Eureka and recently hired development director for the Humboldt Bay Harbor District, called in to express support for the project, saying it will be good for both water quality and economic development.
Bohn was skeptical. "So we should anticipate not building anything on the Samoa [Peninsula], Fairhaven and everything else for any time in our lifetimes, right?" he asked.
Wilson said he believes there are 82 lots within the 300-foot boundary being discussed, and Ford said those lots already can't be developed because a sufficient septic system can't be installed there.
"The concern is is that putting a sewer there does make them now developable, and that's being balanced against the fact that this is within an area that subject to sea level rise," Ford said. Staff hopes to find an answer for this conundrum with an update of the Humboldt Bay Area plan, he added.
Eventually, the board was asked to vote on the matter. When Bohn was called upon to cast his vote he said, "Sure. Sucks." Nevertheless, the motion passed unanimously.
Eel River Groundwater Sustainability Plan
Shortly before the lunch break, the board approved a state-mandated groundwater sustainability plan for the Eel River Valley. The plan, which was discussed at length earlier this month, has been a heavy lift for staff, but it was legally mandated by the Sustainable Groundwater Management Act of 2014 (SGMA). And the county has to submit the plan by the end of the month.
Hank Seemann, the county's deputy director of environmental services, said extensive analysis has shown that the groundwater in the Eel River Basin is being managed sustainably. Staff created a computer model to analyze whether pumping from the groundwater aquifer has a "significant and unreasonable effect" on migration of adult salmon and steelhead in the Lower Eel and Lower Van Duzen rivers. They concluded that pumping volumes could double without negatively affecting the fish.
Watershed projects and stream habitat restoration would be a better investment — and be more effective — than limiting pumping in the basin, Seemann said. The county will have to conduct periodic monitoring of groundwater levels going forward.
Seemann explained that the Department of Water Resources will publish the county's groundwater sustainability plan for public review. The agency will then have up to two years conduct a review and determination, and county staff will need to update the plan in five years based on any new information.
During the public comment period, Alicia Hamann, executive director of the environmental nonprofit Friends of the Eel River, took issue with the groundwater plan, saying it fails to protect the public trust interest in groundwater and doesn't comply with SGMA.
She quoted from a comment letter submitted by the National Marine Fisheries Service, which argued that continued groundwater use will negatively impact the viability of listed species and the greater ecosystem. If or when the state rejects this plan, Hamann said, the county should develop "meaningful regulatory mechanisms for groundwater use."
Scott Greacen, Friends of the Eel River's conservation director, expanded on those comments, saying the county has a duty to protect public trust values.
"In the Lower Eel River Valley, the water tapped by wells and pumps is connected to the water flowing down the Eel River," Greacen said, noting that the river ran completely dry below Fortuna in 2014. The model and analysis underlying the county's groundwater plan "do not support the county's claim that groundwater extraction cannot affect salmon and steelhead in the Lower Eel," Greacen said.
Melissa Lema, a field rep for Western United Dairies, representing 32 dairies in the Eel River Basin, disagreed, saying data shows that the Eel River Valley "has had a stable and thus far sustainable cycle of groundwater use since record keeping began in the 1950s and even in years of extreme drought."
Lema argued that asking groundwater users to cut back "doesn't make sense and could have significant economic impact impacts on farms and ranches with very little positive impact on the health of our groundwater basin, or the Eel River itself."
After public comment ended, Seemann addressed the concerns brought up by Friends of the Eel River.
"Some people look at the lower rivers and they see conditions that are not optimal or not favorable for fish, which is true," he said, "but we did not find evidence that those conditions were directly caused by groundwater use."
The board wound up approving the plan, though Bohn voted no, saying, "We should even be here in the first place."
Reached after the meeting, Bohn explained that he strongly disagrees with the state assessment that (barely) found the Eel River Basin meets the criteria to require a groundwater management plan under SGMA. So his vote wasn't against the plan, per se, but rather a protest vote over the justification for even needing a plan.
"My biggest concern is we will have a lot of unnecessary restraints on our dairy farmers," he said.