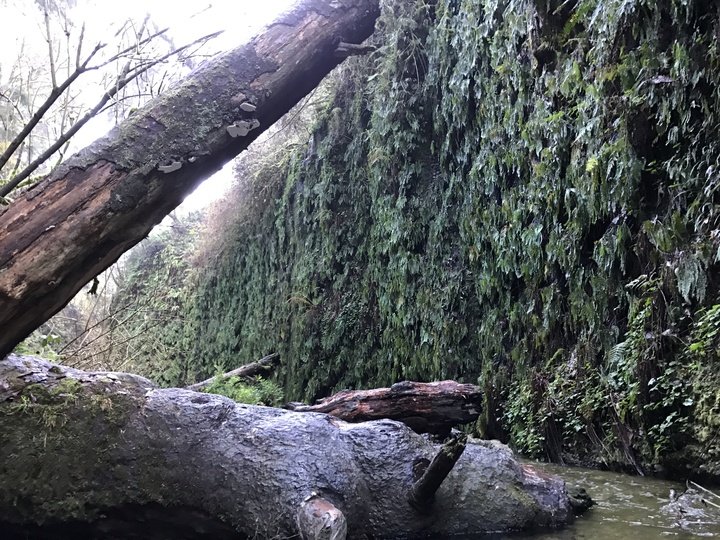 On May 1, Redwood National and State Parks will introduce a free parking permit system for Fern Canyon and Gold Bluffs Beach, in an effort to preserve the park's natural beauty, give visitors a less-crowded experience and make the area more accessible to emergency personnel.
Supervising ranger for Sue-Meg and Prairie Creek Redwoods State Parks Keven Harder told the Outpost that the pilot program will allow for a maximum of 110 cars to access the parking lot each day between May 1 and Sept. 30, annually. This includes 35 morning permits (8 a.m. to noon), 35 afternoon permits (1 p.m. to close), 20-all day permits for both locations, and 20 permits strictly for Gold Bluffs Beach day-access.
"In the last few years, we've run into issues where [emergency personnel] can't even access places because there is so much congestion back there," Harder said. "The sheer number of people and cars is taking a toll on the actual resource that's bringing people there in the first place. If you stress something, natural or anything else, it's going to degrade."
To prevent a loss in revenue caused by the impending restrictions, Redwood National and State Parks will also increase the Fern Canyon and Gold Bluffs Beach entry fee from $8 to $12 per vehicle. Visitors can pay the $12 fee in cash or check. America the Beautiful and California State Park annual passes are also accepted.
"The increase was designed because we realized that 600 cars aren't going to be there on any given day now — and that's a good thing," Harder said.
Park visitors can apply for their permit of choice through the Redwood Parks Conservancy website. Using the "Gold Bluffs Beach Day-Use & Fern Canyon Permits" webpage, applicants are presented with various permit and time frame options. This selection is followed by a series of questions, including: the applicant's name, email, party size, state-issued ID number and license plate number.
Once a reservation is made, visitors can access the parking lot by providing a park employee at the Davison Road kiosk with a cell phone picture or physical printout of their permit. The employee will then compare the applicant's state-issued ID number or license plate number with the permit before granting access to the park.
Permits can be reserved in advance or for same-day use before 1 p.m. Park visitors with a current Gold Bluffs Beach Campground reservation do not need to apply for parking permits.
Fern Canyon can still be accessed without a permit year round by hiking the James Irvine Trail from the Prairie Creek Visitor Center (12 miles roundtrip). Permits will not be required between Oct. 1 and April 30, annually.
"We're trying to make this a more pleasant and unique experience for people that go to Fern Canyon and Gold Bluff," Harder said. "You can probably relate to showing up to a place like this and being shoulder-to-shoulder with with everybody else. It wasn't the experience that people were hoping it was. In the long run, we feel like this is going to be a move in the right direction."