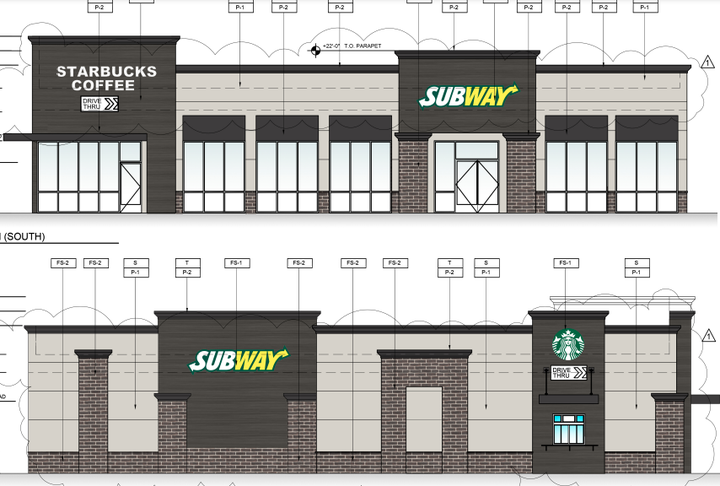 The City of Eureka's Design Review Committee held a meeting this morning to discuss a proposal that would replace the Pine Motel at 2411 Broadway with a new building containing a Subway and separate Starbucks drive-thru.

Eureka Principal Planner Kristen Goetz told the Outpost that the committee was in favor of the proposed project.
"Ultimately, their consensus was that it was a good project and that it would be cleaning up that section of Broadway," Goetz said.
Plans for the project show designated spaces for landscaping, outdoor seating, about two dozen parkings spaces and a one-way drive-thru lane that wraps around the building.
The property was previously owned by Ron Zhang and Whendy Chan. However, Eureka City Manager Miles Slattery confirmed that the property was recently purchased by Victor Chiang, the same developer who plans to demolish three existing restaurant buildings sandwiched between Highway 101 at 1906 Fourth Street and 1905 Fifth Street in Eureka. These buildings include Annie's Cambodian and the now-closed Subway and Sizzler. Starbucks and another yet-to-be-named restaurant are planned to be built in their place.
In 2020, the City of Eureka expressed interest in obtaining a Homekey grant from the State to purchase the $360,000 Pine Motel property and convert it into a transitional housing facility. UPLIFT Eureka Program Coordinator Jeff Davis told the Outpost that the City asked for more than $1.4 million in funding to help cover the cost of buying the property, plus remodeling and operational expenses. However, Davis said the State only agreed to provide enough funds to buy the property — leaving the City more than $1 million short of its goal.
"We looked into other options, but couldn't find alternative sources of funding," Davis said. "It's unfortunate that we weren't able to secure that property."
Following today's meeting, the City will now begin a review process for approving the proposed Subway and Starbucks project.