SATURDAY LOWDOWN: Free Local Music All Day in Blue Lake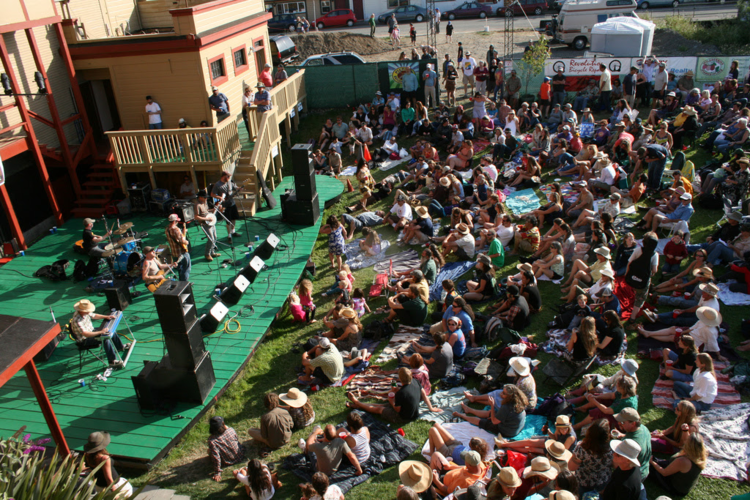 It's a nice Humboldt-summer day, yo! Scroll your Lowdown below for your Humboldt Saturday's best joy options, sure, but an obvious highlight: The Humboldt Folklife Festival reaches its grand finale today with the annual All-Day Free Festival in downtown Blue Lake. In short, this means you have been allotted two-stages of free local music that you need only decide to collect.
Click on over to the Humboldt Folklife Society's site for more intel, but the Lowdown is gonna do you the solid of listing today's music schedule below:
Amphitheatre Stage:
7pm: The Yokels
6pm: Kingfoot
5pm: Belles of the Levee
4pm: The Gatehouse Well
3pm: Kenny Ray and the Mighty Rovers
2pm: The Bandage
1pm: Johnny Kadingo
12pm: Lodestar
11am: Chubritza

Street Stage:
4:45pm: Beatles Sing-a-Long
3:45pm: The Oyster Baes
2:45pm: Covered With Moss
1:45pm: Lone Star Junction
12:45pm: Seabury Gould and Evan Mourden
11:45am: Tristan Norton
10:45am: The J. Nelson Band
Details on other Saturday Humboldt human clusters in your Lowdown listings below.
Events
Movie Showtimes
Broadway Cinema
ALADDIN 2D: 11:30, 2:35, 5:35, 8:35
ANNABELLE COMES HOME: 7:10, 9:45
CRAWL: 12:30, 2:40, 4:55, 7:15, 9:30
LION KING, THE 2D: 11:40, 12:25, 1:10, 2:30, 3:15, 4:00, 5:20, 6:05, 6:50, 8:20, 9:40
LION KING, THE 3D: 1:55, 4:45, 7:35
MIDSOMMAR: 8:55
SECRET LIFE OF PETS 2 2D: 11:35, 1:50, 4:15
SPIDER-MAN: FAR FROM HOME 2D: 11:30, 12:15, 2:25, 3:20, 5:30, 6:15, 8:30, 9:15
STUBER: 1:40, 4:10, 6:35, 9:00
TOY STORY 4 2D: 12:15, 2:45, 5:15, 7:45
YESTERDAY: 12:55, 3:40, 6:30, 9:15
Mill Creek Cinema
CRAWL: 12:25, 2:45, 4:55, 7:10, 9:25
LION KING, THE 2D: 11:40, 12:40, 2:30, 3:30, 4:30, 5:20, 6:20, 8:10, 9:05
LION KING, THE 3D: 1:40, 7:20
SPIDER-MAN: FAR FROM HOME 2D: 11:30, 2:40, 5:40, 8:40
STUBER: 1:30, 3:55, 6:30, 9:20
TOY STORY 4 2D: 11:25, 1:55, 4:25, 6:50, 9:10
YESTERDAY: 12:35, 3:20, 6:15, 8:55
Minor Theatre
MIDSOMMAR: 9:00
SPIDER-MAN: FAR FROM HOME: 1:30, 5:00
THE LAST BLACK MAN IN SAN FRANCISCO: 2:30, 5:45, 8:15
THE LION KING: 12:30, 3:30, 6:30, 9:30