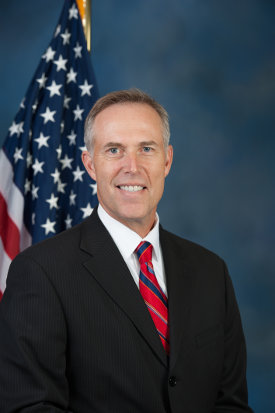 Rep. Jared Huffman has had plenty of tough words for trespass growers in the past, even going so far as to introduce legislation that would introduce new penalties against those caught growing on property that does not belong to them.
Yesterday opened a new front on the battle, leading a coalition of legislators who are asking the United States Sentencing Commission to stiffen up the sentencing guidelines for people found guilty in federal court of trespass cultivation.
Press release from Jared Huffman's Office:
Huffman, Feinstein, Boxer, CA Reps: Address Environmental Damage Caused By Trespass Marijuana Grows

Bipartisan House-Senate letter targets trafficking organizations that make forests and open spaces unsafe for working and recreation

WASHINGTON­—Congressman Jared Huffman (D-San Rafael) led a bipartisan letter to the U.S. Sentencing Commission recommending a legal response to the threat posed by trespass marijuana growing operations on public property and private land. Huffman was joined on the letter by California Senators Dianne Feinstein and Barbara Boxer as well as Reps. Mike Thompson (D-CA), Doug LaMalfa (R-CA), and Sam Farr (D-CA).

"Drug trafficking organizations… are making forests and open spaces unsafe for working and recreation," the lawmakers wrote. "We urge you to consider the significant impacts of drug cultivation operations on public and trespassed lands throughout the country and add new emphasis to countering the environmental damages of drug production."

The U.S. Sentencing Commission is responsible for establishing sentencing policies and practices for the federal courts. The Commission has not yet directed federal courts to appropriately sentence those who cause environmental harm during trespass marijuana operations.

In 2012, nearly one million marijuana plants were eradicated from 471 sites on National Forest lands found in 20 states across the country. The operators of these illegal grow operations frequently level hilltops, starting landslides on erosion-prone hillsides, divert and dam creeks and streams, and use excessive pesticides to protect their crop. A single 2011 law enforcement operation in Mendocino National Forest located 56 marijuana cultivation sites and removed 23 tons of trash, over a ton of fertilizer, 57 pounds of pesticides and herbicides, 22 miles of irrigation piping, and 13 man-made dams.

Individuals and private landholders, including ranchers, timber companies, and forest trusts, report that they are increasingly forced to confront criminals and eradicate drug operations from their own land, endangering lives and costing significant sums of money for eradication and reclamation.

In July Congressman Huffman introduced the bipartisan PLANT Act, which would establish new penalties for causing environmental damage while cultivating marijuana on federal public lands or while trespassing on private property.

The full letter may be found here.