Much is happening in celebration of the two-year anniversary of California's marine protected area network on December 19. In particularly exciting news, the Northcoast Environmental Center and Six Rivers Brewery have collaborated on a limited edition "MPA IPA" – label designed by Lucas Thornton – look for it at upcoming events.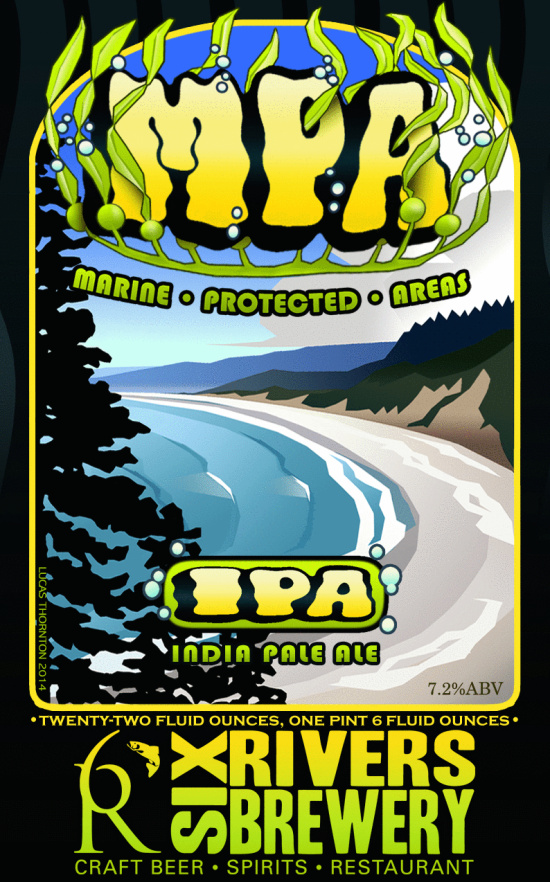 Why are marine protected areas important? They protect entire ecosystems, protect biodiversity at multiple levels, act as insurance against overfishing and other harmful human activities, and provide resilience in the face of sea level rise and ocean acidification.
Additionally, MPAs established at relatively undisturbed areas – like many of the North Coast's – can serve as benchmarks to compare with altered ecosystems to assess human impact and improve management.
Currently, baseline monitoring projects are underway – keep up on North Coast MPAs via Ocean Spaces. Reef Check's Anna Neuman details diving off the Mendocino Headlands and Frolic Cove, while a robot visits the offshore depths of the Mattole Canyon.
Coast Seafoods + Humboldt Baykeeper = $20,000
In case you missed yesterday's Coastal Currents, here's a recap: Humboldt Baykeeper citizen science data has resulted in the state recognizing several of Humboldt's creeks and streams as impaired by E. coli. This is good news, because that means steps to solve the problems can be taken. Humboldt Baykeeper's top priority for 2015 is thus to continue this work by raising $20,000 for the nonprofit's Water Quality Program. "It's our hope we can take this critical step toward restoring clean water to our streams, the Bay and local beaches," Executive Director Jen Kalt said.
With that in mind, Kalt announced a $10,000 challenge grant from Coast Seafoods, who will match contributions of $50 or more. As the largest oyster grower in Humboldt Bay, Coast Seafoods understands the importance of clean water, Kalt said, not just for oysters, but for the health of our entire community.
(TL;DR version: Donate to Humboldt Baykeeper by Dec. 31 and Coast Seafood will match your donation up to $10,000.)
The emergence of environmentalism
Without environmental watchdogging, corruption and pollution would run rampant though our communities. In a special screening of Wrenched tonight at Arcata Playhouse, filmmaker ML Lincoln shows how Edward Abbey's anarchistic spirit and riotous novels influenced and helped guide the nascent environmental movement of the 1970s and '80s. Through interviews, archival footage and re-enactments, the film captures the outrage of Abbey's friends who were the original eco-warriors. A short discussion will follow the screening.
Doors open at 6:30 p.m., film at 7:30 p.m. Admission is on a sliding scale from $5 to $10, and beer, wine and snacks will be served for an additional donation.
Do you care about fish in the forest?
The Six Rivers National Forest is hosting public meetings throughout December and January to get the public's thoughts and ideas on the forest's proposed forest-wide aquatic restoration program. The overall purpose of restoration program is to improve riparian and instream conditions for anadromous fisheries including listed threatened and sensitive fisheries and their critical habitats. The forest is considering a suite of potential restoration actions including adding large woody debris to provide cover for juvenile coho salmon and developing side-channel areas for winter rearing and riparian treatments to encourage species diversity.
These meetings are being held prior to the initiation of the formal NEPA (National Environmental Policy Act) process to address any concerns and/or issues the public may have so they may be incorporated into the initial project design.
"This is a great opportunity to not only help the fish and improve their habitat, but to build our partnerships with our communities," said Forest Supervisor Merv George. "We need to get everyone involved on the 'ground floor' of this project to make it successful."
Meetings are scheduled from 4 to 6 p.m., in the following locations:
Tuesday, Dec. 16: Mid Klamath Watershed Council, 38150 Highway 96, Orleans
Thursday, Dec. 18: Forest Supervisor's Office, 1330 Bayshore Way, Eureka
Wednesday, Jan. 21: Gasquet Ranger District/Smith River National Recreation Area, 10600 Highway 199, Gasquet
Wednesday, Jan. 28: Mad River Ranger District, 741 State Highway 36, Mad River
Each meeting will begin with a short presentation, followed by an open house to discuss aquatic restoration ideas with forest staff.
Get your hands dirty
Go to Humboldt's Best Building this Saturday from 9:30 a.m. to 12:30 p.m. to help restore the dune ecosystem on the Friends of the Dunes' property by removing invasive plants and making room for more native diversity. Tools, gloves and cookies will provided. Bring water and wear work clothes. Meet at the Humboldt Coastal Nature Center, 220 Stamps Lane in Manila. This event will take place rain or shine.
Get your child happy
Also at the Humboldt Coastal Nature Center this Saturday, from 2 to 3 p.m., join Friends of the Dunes naturalist Barbara Reisman for Nature Story Time. Geared for ages 3-to-6, the story will focus on local nature and will be followed by a simple craft project. Call or email for more information or to reserve a space.