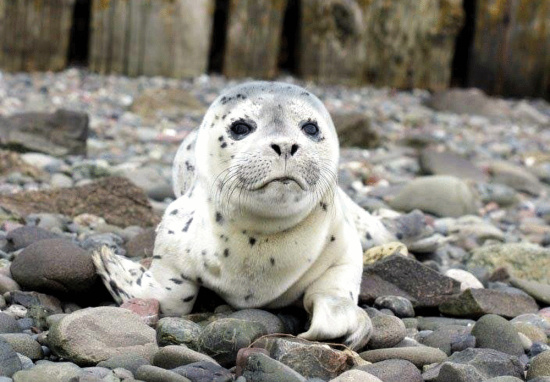 Does not want to play with your dog (by Amber Anderson via Northcoast Marine Mammal's Facebook page)
Friend of LoCO Bill Lydgate recently reminded us that we're entering seal pupping season and various caring folks would appreciate beachgoers keeping their dogs leashed around the little critters. Before we could even get to posting the info, another FoLoCO, Katie Goulart, reported a sea lion pup hanging out alone on Trinidad State Beach having exactly the problem we'd hoped to avoid. "I was there making sure dogs didn't ravage the poor thing," Goulart said.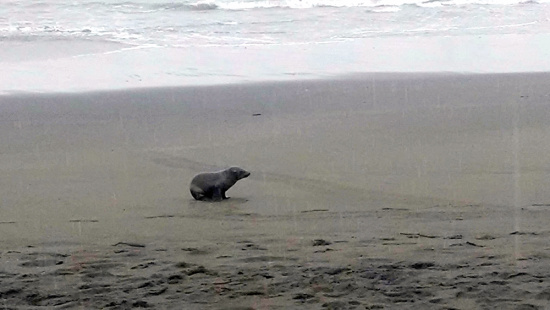 Sea lion pup on Trinidad State Beach (Photo by Katie Goulart)
As the fine people at the Northcoast Marine Mammal Center note on their Facebook page:
If you find a seal pup, please do NOT pick it up. Please keep your distance and keep all pets leashed. Most likely its mom is foraging offshore and knows exactly where she left her pup. If you do happen to come across one of these cuties, please call us at (707) 465-6265 or on our stranding line at (707) 951-4722.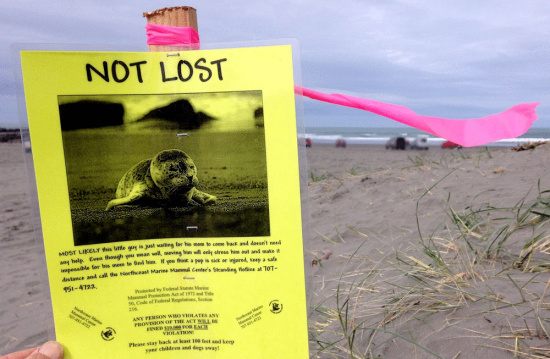 Sign at the North Jetty (Photo by Bill Lydgate)
PREVIOUSLY
Don't Harass the Elephant Seal
LoCO contributor Jennifer Savage is the Northcoast Environmental Center's Coastal Programs Director and Humboldt Surfrider Chairperson.