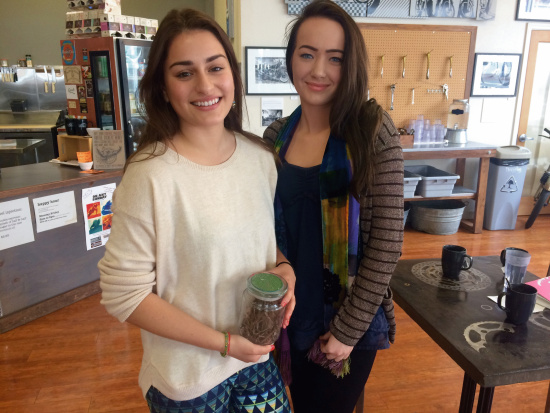 Emma Bruhnke and Zoe Stouffer by Jennifer Savage.
Emma Bruhnke and Zoe Stouffer are out to change the world.
A few weeks ago, the two were hiking along the south end of Centerville Beach when their casual beachcombing turned into a serious collecting of litter. "We noticed some trash and decided to pick it up. Eventually, our arms were full of trash, the sun was going down and we had to stop. We were appalled that not only had we failed to notice the trash on the beach before in our lives, but that their was just so much of it and we had gotten used to it," they said in an email to the Outpost.
That email prompted a sit-down at Black Lightning Motorcycle Café, where Bruhnke, 17, and Stouffer, 18, expanded on the inspired mission their new awareness has prompted.
A few days after the impromptu Centerville cleanup, they decided to hike through Sequoia Park – and ended up spending an hour and a half cleaning up cigarette butts, beer bottles, candy wrappers and other trash people had left behind. "There were cigarette butts all around the perimeter," Stouffer said.
She posted a "long" status update on both her own Facebook page and on 707 Humboldt classified detailing their experience. The outreach worked. "It blew up," Stouffer said – the post garnered over 200 likes – so she and Bruhnke took the logical next step: the creation of the Humboldt County Clean Up group and a commitment to cleaning up a beach or park every Sunday.
The idea drew a lot of attention, Bruhnke said. "And when we cleaning up on the beach, a lot of people would say, 'Thank you!' but just keep walking and not even think about it again. We wanted to badger people to get out there."
The trash they've found has consisted mostly of beer bottles, Starbucks cups and "random litter," but perhaps most troubling were all the nails in the sand at Centerville, the result of pallet-fueled bonfires.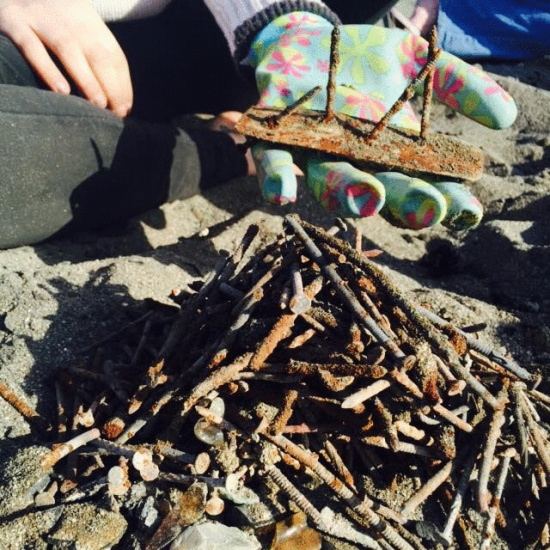 Bruhnke described the scene: "After a few minutes of picking up trash, Zoe ran her hands through the sand at the entrance of the beach (nearest the parking area) and noticed an overwhelming abundance of rusty old nails all around her. Soon, I joined her in picking up the nails. After 2 hours of digging up nails, we found ourselves in the same exact 5 foot radius, with hundreds and hundreds of nails. We… figure not many have stopped to think where the nails in the pallets go after everything has burned."
"We've been to beach parties and never thought about the nails," she added.
"You don't think about it, you just think about the fire," Stouffer said. She and Bruhnke hope to do some outreach to high school and college students, encouraging them be aware of the dangerous debris left behind. "We want to make it a new fad, to clean up trash!"
"I don't want my beaches filled with nails and trash," Stouffer said. "I want to be able to have my family go to the beach – "
" – and not have my dog eat cigarette butts!" Bruhnke finished.
Stouffer, an aspiring botanist, recalled how reading about the enormity of plastic production and its impacts made an impression. "I won't get a to-go coffee cup," she said. They're hoping discouraging use of disposable plastic products will trigger a decline in production of those things.
Similarly, Bruhnke's interest in environmental stewardship has been deepened by her Academy of the Redwoods classes, most notably an English class with a nature bent. "Talking to other students… writing about my own experiences in nature… I want other generations to have the same beautiful experiences. Our redwoods are so well protected. Why not keep that up?"
The two, best friends since kindergarten, also spoke on the profound impact made by their teachers at Fortuna Middle School.
Stouffer: "The main reason we're aware is our middle school teachers were very, very, very avid – "
Bruhnke: "Our teachers were all environmentally conscious – "
Stouffer: "They tied it in to any subject we were studying – "
Bruhnke: "They really set it up – "
Stouffer: "We spent a whole day at Wolf Creek [Education Center]… as children, conservation was burned into our minds – "
Bruhnke: "And instilled moral values! Our teachers were so much about respecting the Earth, it really stuck to us, was a big part of our childhood. If you teach young children – "
Stouffer: "That's the main audience we want to reach. I remember songs from camp, still."
Join Bruhnke, Stouffer and other Humboldt County Clean Up volunteers at Centerville Beach this Sunday, April 19 at 2 p.m. Bring gloves and buckets if you have them. The team could use donations of cleanup supplies – contact them through Facebook to help out.