Reminder: Listen to Coastal Currents today at noon!
In our excitement over scoring an interview with Shaun Tomson, we neglected to share with you some other big news – NOAA scientists have discovered that a large ocean-going fish, the opah, is fully warm-blooded. This is unusual! In fact, the opah is the only known completely warm-blooded fish identified. You can read all about how the opah, unlike other fish, stays warm even at plunging depths right here.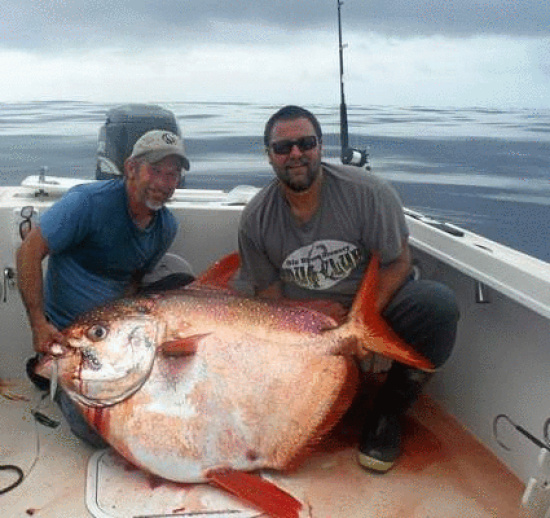 Chuck Chastain, pictured left, with a 114-pound opah caught 75 miles west of Eureka with Coastline Charters. Courtesy Kenny Priest/Fishing the North Coast.
Or, if you're the fishing type, you can keep a sharp eye out for opah off the Humboldt Coast. As usual, Kenny Priest has the scoop in his weekly Fishing the North Coast column. Note: The linked column is from last week and the weather has changed substantially – be sure to read the latest and keep up via Facebook.
IMPORTANT: Checking to see where your seafood lands on the sustainability scale is critical to the future of our fisheries. All imported opah is on the "Avoid" list because sea turtles and other threatened species are also caught on longlines. However, opah from the U.S. is a "Good Alternative" because these fisheries have made changes in recent years to greatly reduce bycatch of vulnerable species. Eat local, friends!
And if you're inspired to give it a go yourself, get your pre-trip thrill on with Bob Pagliuco's documentation of Chastain's landing of the opah in this Grateful Dead-soundtracked video, below.(SPOILER: Things do not end well for the fish.)