At its regular meeting tonight, the Arcata City Council will get its first look at an idea to transform a vacant mill site into a "Medical Marijuana Innovation Area" – a marijuana business incubator turning out weed-laden "edibles, oils, tincture sprays, lotions and a variety of other products ."
Community Development Director Larry Oetker lays out the idea in a compelling staff report, which argues for the creation of a new zoning designation – a "Medical Marijuana Innovation Overlay Zone" – which could then be applied to the property in question, the old Humboldt Flakeboard plant on West End Road, just north of the intersection with Spear Avenue.
The plant shut down in 2008, and the city now holds partial title on the parcels that are still home to its remains. According to Oetker, opening it up for weed entrepreneurship currently seems to be the only way to get some business going again. From the staff report:
Staff and the property owners have been trying to market and sell the property in order to make it economically viable again. To this point the only businesses that have submitted serious offers to acquire, repair and create jobs in the facility have been related to the marijuana industry. The property owners have received offers to purchase the parcels partially based on assumptions that the Council would approve a Medical Marijuana Innovation Area for the site. I have had several meetings with persons interested in leasing portions of the building and have received conceptual plans to revitalize portions of the site. I am convinced that from an economic development and blight elimination standpoint, this Innovation Area would be a benefit to the community.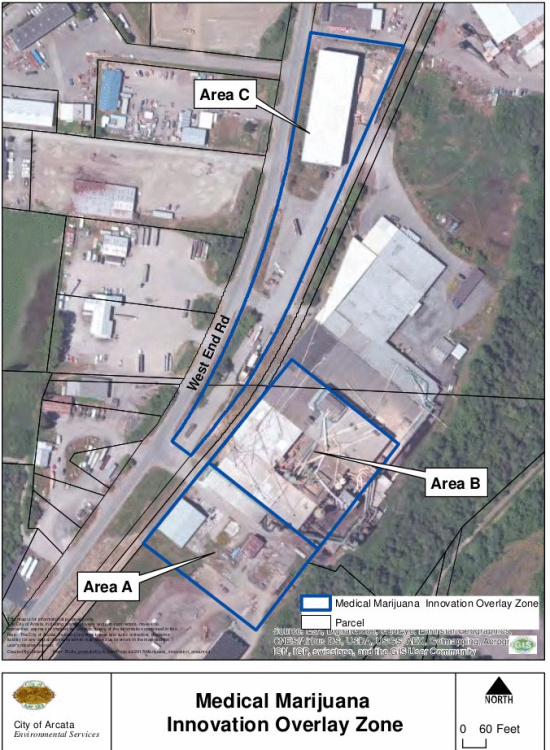 What would the Medical Marijuana Innovation Zone look like, if it comes to pass? Apparently it would be an all-purpose, soup-to-nuts sort of place that would house all sorts of marijuana-related enterprises. Oetker, in consultation with the prospective developer, envisions the construction of a new 10,000 square-foot building, an industrial-grade kitchen, testing labs, warehouse space and cultivation areas, along with "small manufacturing spaces" that could presumably be leased to weed-industry startups.
Who is the prospective developer? According to an item scheduled later on tonight's agenda, it is local businessman Bob Figas of Figas Construction. Figas is asking the council's permission to assume the block grant loan that the city had previously issued to Humboldt Flakeboard, shortly before the economy turned and the company went belly-up. The outstanding block grants give the city a stake in the present weed innovation project.
If the council moves forward with the Figas-Oetker plan tonight, the whole concept will be kicked back to the city's planning commission for further hammering-out. There will be other public hearings and such in the future, so don't panic if you miss tonight's meeting.
The Arcata City Council meets tonight at 6 p.m. at Arcata City Hall – 736 F Street.
One more quote from city staff on this, because it's so good. Remember – this is government talking:
With the "legalization" of recreational marijuana in Colorado and Washington, and medical marijuana in several states, these areas are quickly developing businesses that are diminishing the Humboldt County "brand." Other areas of California are either allowing medical marijuana business or not actively enforcing federal, state, and local laws. This area could likely face significant economic difficulties if it does not take proactive measures to provide a level playing field and allow our existing long-term underground businesses an opportunity to 1) conduct their business out in the open; 2) hire and pay employees paychecks with standard deductions and benefits such as retirement, health insurance, sick leave, and vacation time; 3) manufacture products; 4) operate agricultural cooperatives so that local growers can work together to bring their product to market; 5) protect and promote the Humboldt County brand; and 6) market our local products to permitted marijuana dispensaries throughout California.