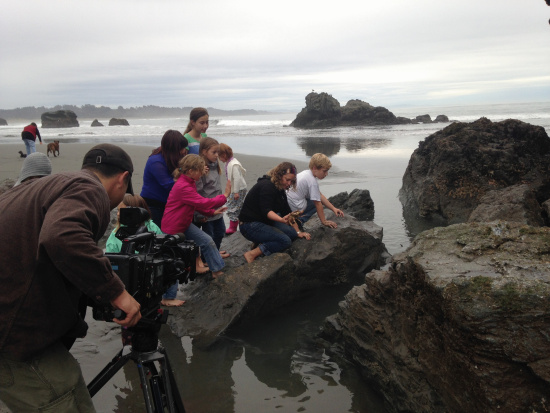 There is nothing that will remind you how special our ocean beaches are than watching a group of rambunctious youngsters run wild and enjoy them. Last week a group of Trinidad school kids and families took a field trip to the natural playground of Houda Point (Camel Rock) to film footage for a series of short documentaries that will tell unique stories of the North Coast's relationship with Marine Protected Areas and the ocean.
The negative low tide presented the opportunity to enter caves otherwise underwater and climb rocks that would normally be offshore. The kids were enchanted by everything from sea snails the size of a poppy seed to surfers one girl referred to as "seal people." One thing is certain, kids can teach us adults a thing or two about how to enjoy the beach to the fullest and why we need to protect it. The film is being produced by Humboldt State University Professor and natural history filmmaker David Scheerer, in collaboration with the Humboldt County Marine Protected Area Collaborative. It is tentatively scheduled to be released late Spring of 2016.
And speaking of tide pooling…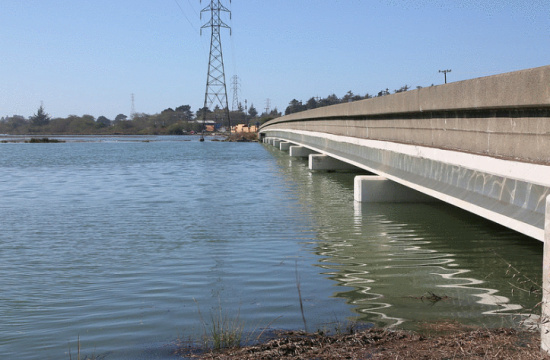 Did you think flooding from those King Tides last week was bad? What if our local community were forced to move inland because of flooding? That is what the people of Takuu are experiencing. A Polynesian outlier contained within Bougainville in Papua New Guniea, Takuu is being seriously threatened by extreme flooding as a result of climate change. People must face the question of whether to leave their culture and island home in order to find refuge elsewhere.
Dying to know more? Come to the screening of There Once was an Island during Ocean Night this Thursday, Nov. 5 at the Arcata Theatre Lounge. Doors at 6:30 p.m., movies at 7 p.m.
Delia Bense-Kang serves as the Northcoast Environmental Center's Marine Protected Area Outreach Coordinator and chairs Surfrider Foundation's Humboldt Chapter.