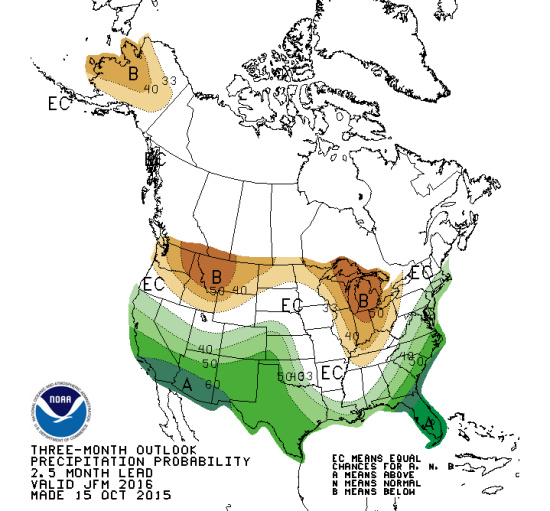 Last time we checked in, there was still a lot of uncertainty in the air over what this year's monster El Niño would signify for Humboldt, rainwise. While southern California nearly always gets above-average rainfall in big El Niño years, up in the north it's a flip of the coin whether we'll get more rain than normal or less.
Today, though, the National Weather Service announced it is upping the chances that we northerners will get a pretty good soaking in the first three months of 2016. (See coverage of today's announcement from the Associated Press and Los Angeles Times.) Long-range forecasters are now giving coastal California between the Bay Area and Humboldt County a 73 percent chance of average or above-average rainfall during that period, which is when the weather system's effects will be most strongly felt here on the North Coast.
They're giving us about equal odds of an "average" and "above average" season; as you can see on the chart at the top, they're putting us in the 30-40 percent range for an "above average" year. But hey, even average rainfall would be nice, right?
PREVIOUSLY