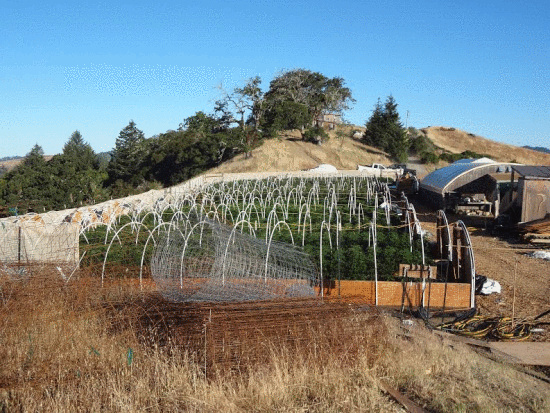 Remember about 10 years back, when then-District Attorney Paul Gallegos' 100-square-foot cap on medical marijuana grows was still pretty controversial? Like: Why does someone need as much as 100 square feet of canopy to grow their own weed?
Well, the latest sign of the changing times comes to us from Assm. Jim Wood, who has sponsored a bill to amend last year's "Medical Marijuana Regulation and Safety Act," legislation that set up a statewide commercial cannabis regulatory regime.
Wood's bill (AB 2516) would create a new, presumably looser licensing system for what he's calling "specialty cottage" growers — those that only grow up to 2,500 square feet of weed. You read that right: These pinner grows are 25 times the size of the Gallegos grow that everyone was still freaking out about this time last decade.
Wood's bill made it out of the Assembly Agriculture Committee today, and will continue to move through this committee and that before reaching the floor. An Agriculture Committee analysis notes that it's not yet clear what the new designation would mean, in practice — it only authorizes the California Department of Food and Agriculture to "develop regulations and requirements with the special needs of this unique group of cultivators in mind."
Press release from Assm. Wood's office:
Today, Assemblyman Jim Wood's "Cottage Cannabis Farmers" bill passed through the Assembly Agriculture Committee. AB 2516 will create a new cannabis cultivator license for "micro farmers".

Assemblyman Wood said, "This is an important measure to support the small farm cannabis growers on the North Coast. Last year's Medical Marijuana Regulation and Safety Act (MMRSA) established cultivator licenses and guidelines for a safer, cleaner and more transparent industry. However, it is not fair to require the small cannabis farmers to adhere to the same standards as larger operations. The proposed specialty cottage license will allow the California Department of Food and Agriculture (CDFA) to develop regulations specific to small farmer practices."

The new license type 1C, or specialty cottage cultivator license, will be available for farms with 2,500 square feet or less of total canopy size for outdoor cultivation or a maximum total canopy size of 500 square feet for indoor cultivation. The CDFA will issue the licenses to qualified candidates as well as develop the requirements for each license type.

"Creating a new license for small cannabis farmers will help maximize the number of growers that come into compliance with the MMRSA regulations and sustain many of the farmers who have been in business for years," said Wood.

AB 2516 will be heard next in the Business and Professions Committee next week.