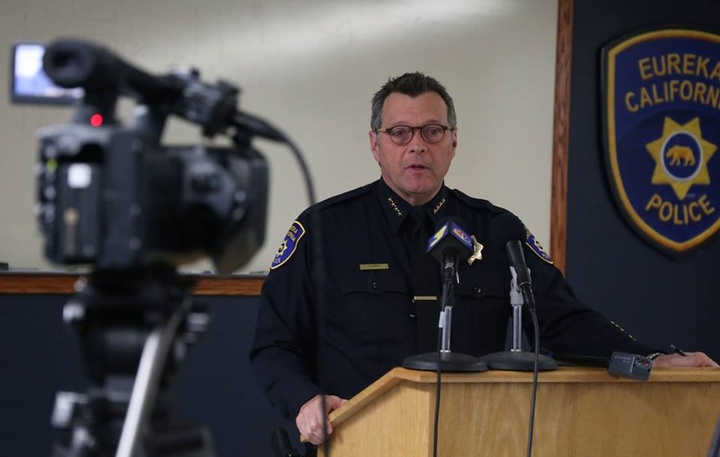 PREVIOUSLY: (UPDATING) SHOTS FIRED DOWNTOWN: One Person Down After Eureka Police Engage in Firefight on Fifth Street; Highway Closed
# # #
At a press conference still underway at Eureka Police headquarters, Eureka Police Chief Andy Mills said that the person shot by police in downtown Eureka yesterday evening — Clayton Lee Lasinski, 26, is expected to survive.
It is unclear whether or not Lasinski actually fired on police officers during their foot pursuit yesterday, Mills said. He said that a fully loaded .45 semiautomatic was found where the suspect went to ground, with the hammer pulled back. Either he reloaded his weapon at some point during the chase, or else he never fired to begin with.
Four officers are on administrative leave while the investigation into the incident is underway.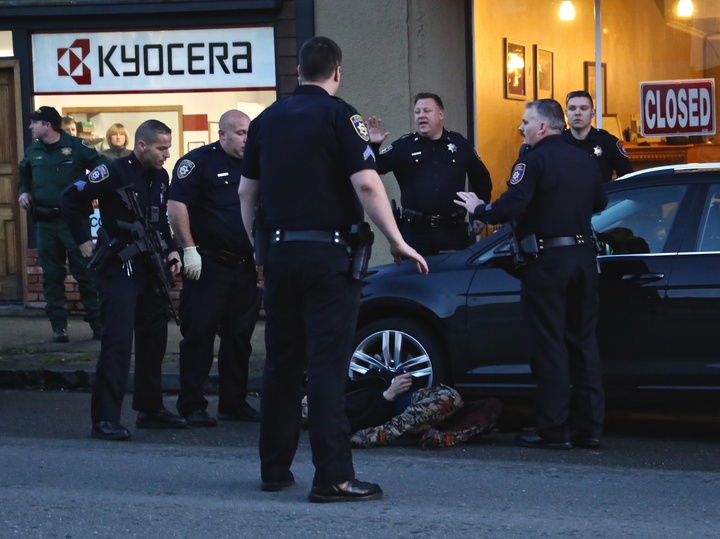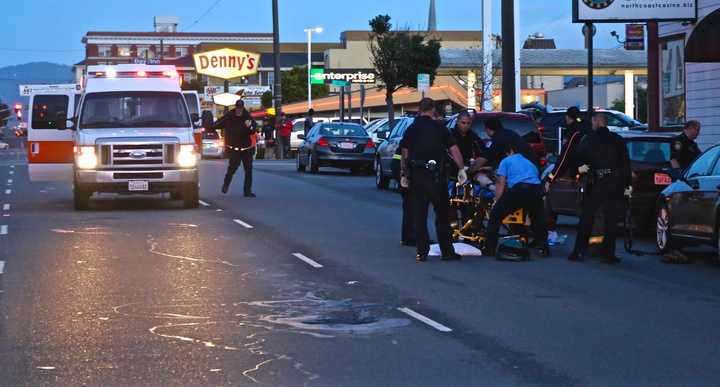 Mills said that the confrontation began in the parking lot of the Best Western at the bend of Fourth/Fifth streets and Commercial. The California Highway Patrol had followed a vehicle containing Lasinski — who is believed to have grown up in Southern Humboldt, Mills said — into the parking lot. There were two women in the vehicle with him.
Lasinski ran from CHP officers and was briefly detained by employees of the motel. According to their statements, Lasinski told those employees that he was "strapped," then continued on. The Eureka Police Department was called in for backup, and chased the suspect to Seventh Street and over a fence.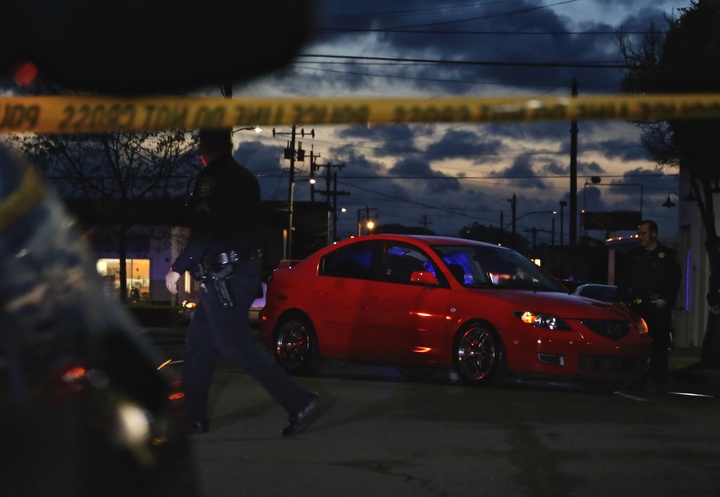 A few minutes later, officers received word that an automobile — the red Mazda pictued in front of the police station last night — was stolen from the Sole Savers dealership nearby. He abandoned the car in front of the police station, though, and continued on foot toward Fifth Street, with officers in pursuit.
Witness statements indicate that Lasinski leveled the weapon at officers during the chase, Mills said. Four officers — the four since placed on leave — fired at him, Mills said, and he eventually came to ground on the highway between A and B streets.
One of the women with Lasinski earlier later told investigators that he may have run because he believed that there was a warrant out for him in another state.
The Internet tells us that back in 2011 Lasinski received 36 months probation for felony marijuana charges after being arrested following a traffic stop on on Interstate 80 near Cambridge, Illinois. His mother, Jean Lasinski, had embarked with her son on the journey and faced similar consequences.
This was the Eureka Police Department's second officer-involved shooting in the last six years, Mills said.
"This is going to take time to do correctly and I want it done correctly," Mills said. "We will look at the investigation and see where it goes, as we do with all investigations."
Following this criminal investigation, which will be conducted by the county's Critical Incident Response Team, the department will conduct an internal investigation, Mills said, to determine whether policies were followed and determine what, if anything, could or should have been done differently.
"I understand that every officer is personally responsible for every round discharged," Mills said, promising to report back to the community on the department's internal review of the incident.
Investigators have searched a room at the Best Western that Lasinski was "associated" with, Mills said. They haven't been able to speak to the man himself yet.
News Channel 3 posted video of the press conference in its entirety to Facebook which you can watch below.
# # #
ELSEWHERE: