Clad in matching teal leggings, hiking boots, and tie-dye bandanas, at first sight Mo (Morgan) and Jo (Jocelyn) of the MoJo Coastwalk look more like superheroes than hikers. The dynamic duo is a modern day superhero team, who along with their support woman Alisan, and two dogs, are on a mission to walk/bike the entire California Coast. Their objective is to spread the message of coastal stewardship and spark a movement to complete the California Coastal Trail (CCT). I introduced their journey in last week's YWIO, and this week I had the absolute pleasure of hosting them for the night as they made a pit stop in Humboldt County.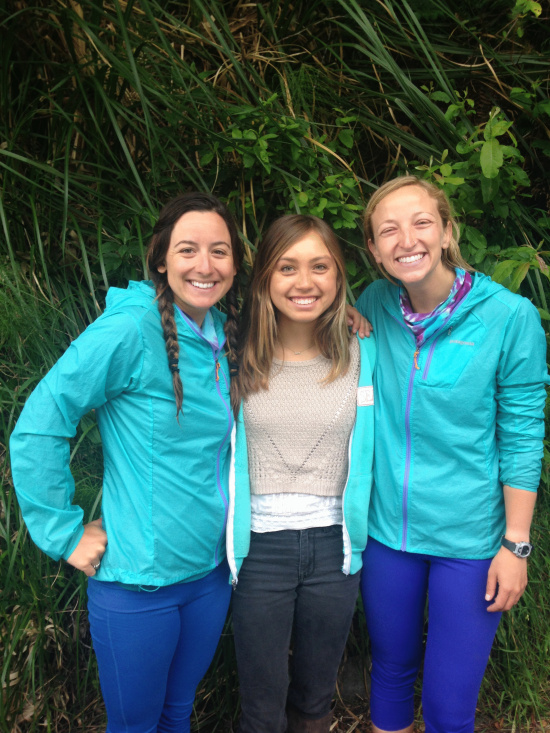 As we sat in my living room this morning talking about their journey over coffee and listening to the new Beyoncé album, I couldn't help but feel like I was visiting with old friends. They told me how they became friends while earning their master's degrees in marine science from Bren School at UC Santa Barbara, and how it was always a dream of theirs to hike the California coast.
"The opportunity presented itself when the California Coastal Conservancy offered a grant," said Jo. The grant was $50,000 to help fund an expedition traversing the coast to celebrate the Conservancy's 40th anniversary and raise awareness of the CCT.
Mo and Jo applied and were awarded the grant, convinced their friend Alisan to be their support crew, and now nearly a year later are 13 days into their journey.
Three months and 1,200 miles is a long walk, and I was curious what the girls did to pass the time. "I chat chat chat nonstop," laughed Jo. "We sing songs, talk, and look for things like whole sand dollars," said Mo. They explained how they are mostly focused on creating interpretive content for a new Explore the Coast smart phone app. "We stop a lot to take videos and photos of cool things we see, and then haul ass in between," said Jo.
Only having just passed the 100-mile mark, the team is already marveling at the experiences they have had and how much they have seen. Jo recalled how the end of their first day couldn't have been more magical. They came across a man in the Tolowa Dunes State Park who offered them two cold coronas. As they drank the beers and talked with the man they watched whales breaching in the sunset. Mo's favorite experience so far has been camping in Redwood National Park. "We were in such a dense forest, but could still hear the ocean," she exclaimed.
A highlight for Alisan was when an older couple in Crescent City invited them into their home where they had coffee, cookies, and some other community members gathered to welcome them along their way. Of course, Humboldt County has not failed to disappoint team MoJo. The ladies spoke in awe of Fern Canyon and kayaking across the lagoons. I even convinced them to make a special guest appearance at Ocean Night. "Overall we are just so impressed by how friendly and giving the people in this community are," they praised.
One message the girls are spreading that really resonated with me is how the California Coastal Trail is a modern incarnation of what native peoples have been using for millennia. It is more than just a hiking and biking trail, it is a way to feel connected to nature and the coast. Jo explained how she felt that connectedness a few days ago when they were on an old Yurok trail in the forest that finally opened up, exposing the view of where the Klamath River meets the ocean. "Looking out on that vista I knew I was in a spiritual place and got goosebumps," she stated.
With all that is going on in our modern fast paced world, the MoJo Coastwalk is a breath of fresh air and a reminder for all of us to slow down and simply go enjoy the coast. Mo and Jo encourage everyone to join them physically by walking a segment with them or virtually by following along with their social media.
###
Delia Bense-Kang serves as the Northcoast Environmental Center's Marine Protected Area Outreach Coordinator and chairs Surfrider Foundation's Humboldt Chapter.