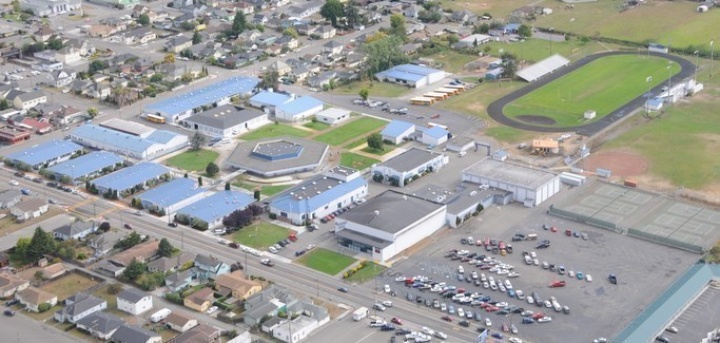 In the press release below, Humboldt County District Attorney Maggie Fleming announces that, at this point, she sees no point in filling criminal charges against students accused of planning an attack on a Fortuna High School assembly last week:
This press release provides current information from the Humboldt County District Attorney's perspective on the potential threat to public safety at Fortuna High School last Thursday.

Based on statements by students, Fortuna High School staff and the Fortuna Police Department responded immediately to a potential threat and took appropriate action. The ensuing investigation resulted in the FBI and Fortuna Police Department serving search warrants on the homes and computer devices of the two juveniles suspected of plotting an attack at an assembly. To date the investigation has yielded no evidence that either juvenile had the means to create an item that could be a health hazard – one individual possessed approximately 2 grams (< 0.1 ounces) of sulfur, a readily available legal product with a variety of uses. Further, there is insufficient evidence to indicate the two juveniles conspired to commit an attack.
The FBI and Fortuna Police Department continue to investigate the case, but at this point the evidence does not support filing of state criminal charges against the two individuals involved.
# # #
UPDATE: Additionally, the Fortuna Police Department responds to today's news in a press release of their own below:
The Fortuna Police Department has been made aware that the Humboldt County District Attorney's Office will not be bringing charges at this time against the two 15 year-old boys arrested on November 10, 2016 at Fortuna High School.

The Fortuna Police Department has worked tirelessly over the last 6 days investigating this case with the assistance of the Federal Bureau of Investigation. We have followed every lead and conducted multiple searches in regards to this case. The safety of the students and citizens of Fortuna never wavered and was a paramount concern during this investigation.

Although no charges will be filed at this time, the Fortuna Police Department will continue to follow up on any new information related to this case.