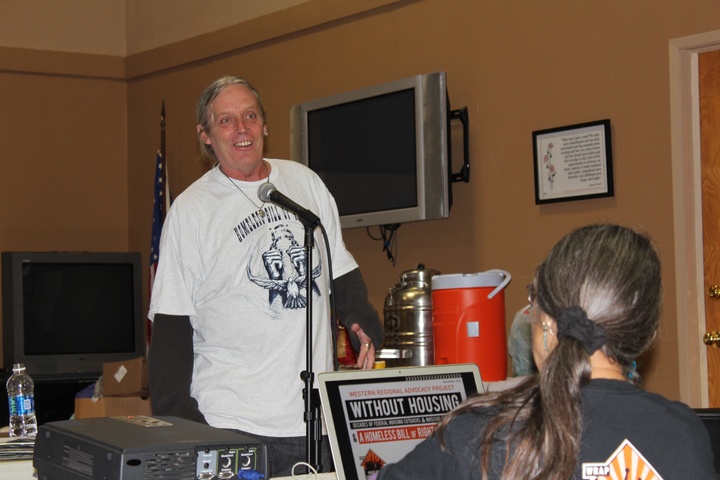 A few dozen homeless advocates gathered in the Labor Union Temple in Eureka this evening to discuss a variety of issues, including the proposed California legislation for a Homeless Bill of Rights and Right to Rest.

Local advocacy group Affordable Homeless Housing Alternatives teamed up with the Director of the Western Regional Advocacy Project, Paul Boden, to host the meeting days after the City abruptly ended its overnight homeless sleeping program.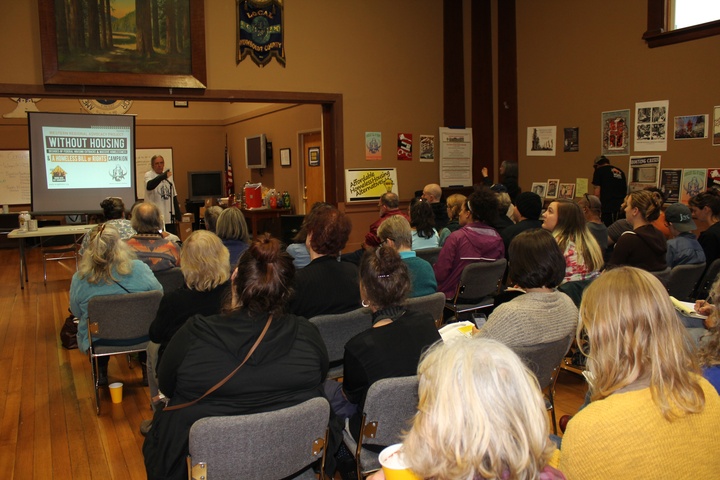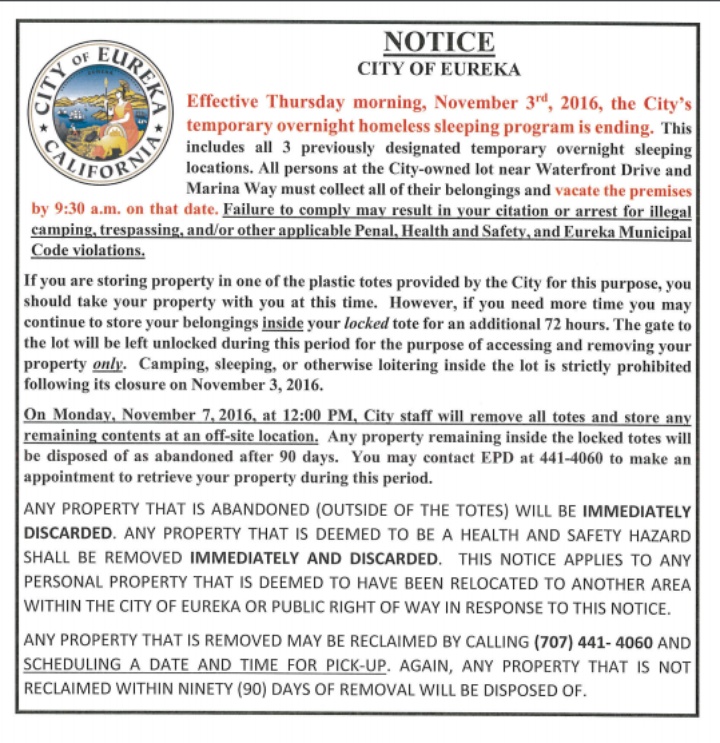 The former homeless man turned WRAP director opened the meeting with a speech, citing statistics gathered by WRAP volunteers through street interviews with homeless people across the U.S. According to WRAP's statistics, homeless people are often cited by police officers while sleeping, sitting and loitering.

"This isn't rocket science people, it's human rights," Boden said. "Sitting, standing and sleeping are major offenses? They don't have a safe place to hide. They want us out of sight, but no matter where we go, they seem to find us."
AHHA also used the meeting to announce its "Holiday Tiny Home Village Capital Campaign."
The group handed out pamphlets at the meeting, which summarized the campaign as a fund to secure properties where new homeless villages can be built within the city.
"The Tiny Home Village vision is a proven, cost-effective plan that will protect Humboldt County's residents, businesses and environment form the impacts of homelessness and will give houseless individuals an opportunity to thrive in a positive, safe and legal community," the pamphlet reads. "This season of giving, AHHA invites our community to donate money to help create a solution to homelessness in Humboldt County."
AHHA aims to use the funds to build housing projects that include community kitchens, gardens, restrooms and showers.
For more information of how to donate, visit www.ahha-humco.org.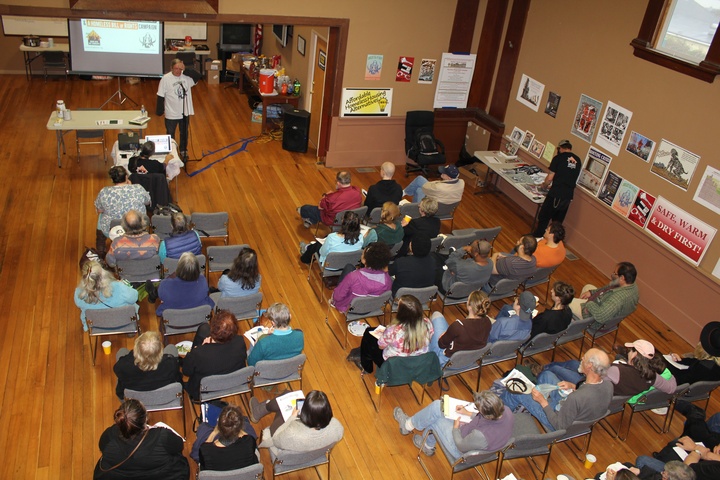 Read more in the AHHA press release below: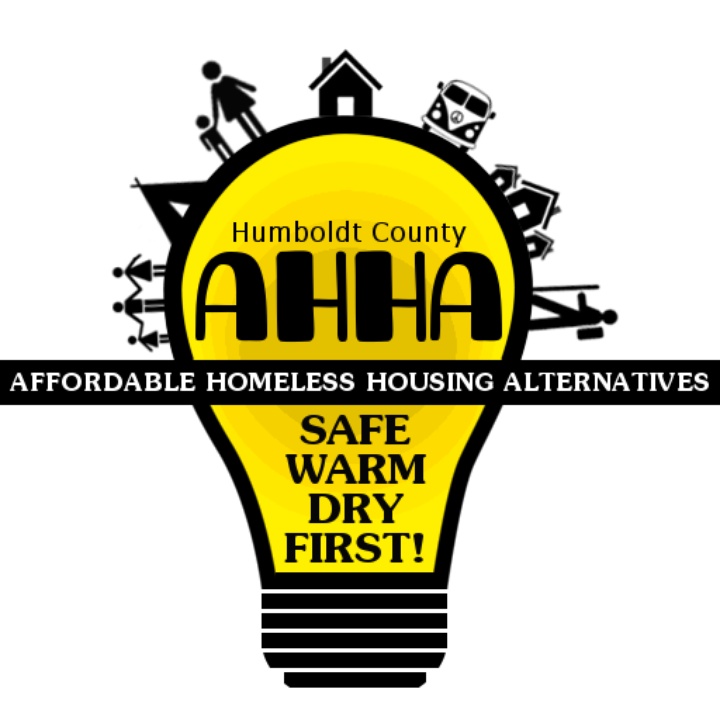 A public forum will be held Saturday, Nov. 5 hosted by Affordable Homeless Housing Alternatives and the Western Regional Advocacy Project (WRAP-www.wraphome.org) about the California Homeless Bill of Rights and Right to Rest legislation at 3 p.m. at the Labor Union Hall, 840 E Street, Eureka. Discussion on proposed California Legislation for a Homeless Bill of Rights next year will be presented. The Forum is timely, as Eureka has just closed all safe sleeping areas to the hundreds of homeless, so there is no legal place for them to be night or day.

Other California communities have ordinances like Eureka's no-camping ordinance that, when enforced, routinely criminalize homelessness. In Eureka there are far too few shelter beds for those in need. With no other choice than to rest, sleep, eat and perform other life-sustaining activities in public spaces, people who are homeless are often cited and fined or even arrested and jailed. Police records then make it harder for people to gain employment and housing.
Paul Boden, Director of WRAP will talk about how the California Homeless Bill of Rights and Right to Rest legislation can eliminate criminalization, which the U.S. Justice Department is calling unconstitutional and "cruel and unusual punishment." (www.wraphome.org).

AHHA invites the public to join them at the Labor Union Hall and work with the featured speaker on how to move affordable housing forward. AHHA and folks living rough in Eureka will outline the current situation of residents who have no legal place to be in Eureka, and the status of AHHA's proposals for sanctuary camp to tiny house villages as solutions.

AHHA is launching a Campaign for funding Tiny Houses for homeless in Villages will be, and a kick-off to raise $100,000 to secure property and manifest Eureka's first Tiny House Village. More information on theAHHA Campaign for Land and Villages in Humboldt County is available at www.ahha-humco.org. This Campaign will create good looking villages for folks now living in the rain, and solve the community problem of folks only option of roaming and living on the streets.

This important Forum for Humboldt County can make a difference by creating spaces that are safe, warm, and dry first!, until affordable housing is created. And, AHHA will announce a solution the community can participate in to bring folks out of the rain and off the streets through development of sanctuaries to tiny house villages.

For further information, contact Nezzie Wade 445-5883, now1@suddenlink.net. Interviews with Paul Boden, or AHHA Board of Directors are possible by contacting Nezzie Wade, or attending the event. The Forum is free. Snacks will be available.

Paul Boden (Executive and Organizing Director) became homeless at the age of 16. He began volunteering at a drop-in shelter in San Francisco in 1983, eventually becoming a program director there and worked as a case manager in a supportive hotel program for mentally ill people. Paul served as Executive Director of San Francisco's Coalition on Homelessness for 16 years and was a founder of the Community Housing Partnership, a nationally recognized permanent housing corporation with optional supportive services.

Paul was also a board member of the National Coalition for the Homeless and co-chair of its civil rights and grassroots organizing workgroup. He has received dozens of community city/ county of San Francisco, State of California, and the Congress of the United States awards. Paul regularly writes articles and op-eds and travels throughout the country giving talks and trainings. He now leads the Homeless Bill of Rights Campaign in California, Colorado, and Oregon www.wraphome.org