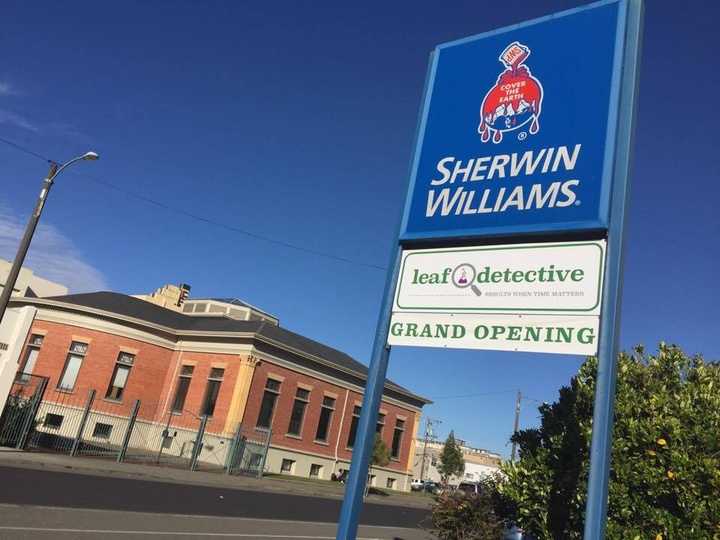 PREVIOUSLY:
Starting today, thanks to last month's narrow 3-2 City Council approval, Eureka has opened its doors to a new kind of business: legal weed. A dozen different types of medical marijuana enterprises, including cultivators, manufacturing labs and dispensaries, can now apply for licenses and open up shop in the Humboldt County seat … just as long as they're not in the coastal zone.
The City is still waiting on approval from the California Coastal Commission before it allows such businesses in the coastal zone, which includes the regions north of Third Street, west of Broadway and east of Myrtle Avenue. But Eureka is now accepting applications from all sorts of businesses that, until this morning, have never been allowed here.
That's not to say all weed-related businesses have been banned. Eureka has its well-established horticultural supply stores, head shops and the like, not to mention the attorneys, insurance agents, restaurateurs and others (hell, most of us) who depend on the pot dollar. The difference is that the city now welcomes businesses that have a direct and explicit connection to the industry.
There's even a precedent for that, though. Back in 2010 the City Council approved just two types of medical marijuana-related enterprises: testing labs and transportation companies. No such businesses had opened their doors until last month, with the grand opening of Leaf Detective, a testing lab located on Seventh Street near the Sherwin Williams paint store.
The City's new regulations prohibit all types of weed businesses from putting up signage. But since Leaf Detective obtained its permits under the previous regulations it was allowed to hang out a shingle, as seen in the photo atop this post.
Co-owners Michele Malaret and Gordon Griswold said the City of Eureka was "amazing," helping them every step of the way as they set up their business. "We've dealt with other cities and that has not been the case," Malaret said. They also commended the recently formed Humboldt Cannabis Chamber of Commerce for its help negotiating government red tape.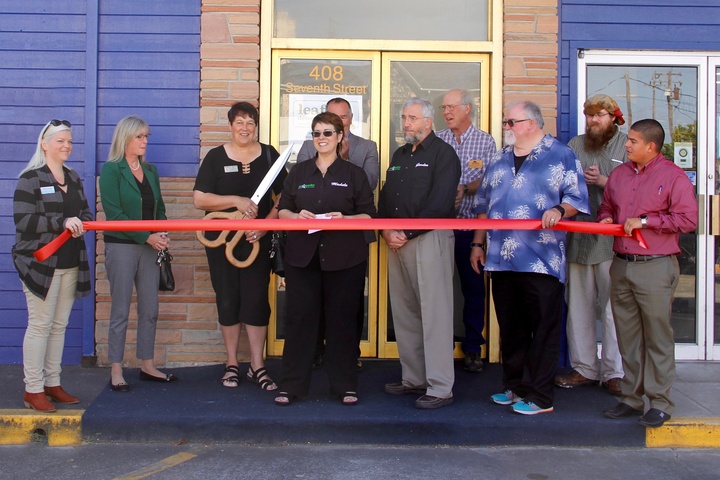 In a bit of an ironic twist, Eureka City Councilwoman Marian Brady — one of the two councilmembers, along with Melinda Ciarabellini, who opposed weed-related businesses in the city — wielded the large, ceremonial scissors at Leaf Detective's ribbon-cutting (above).
Eureka Community Development Director Rob Holmlund said there's a pair of transportation businesses that obtained licenses under the previous regulations, but they haven't opened their doors yet. They, too, will be allowed to have signage, if they so choose.
Asked whether such signs will give a competitive advantage to the three businesses being grandfathered in, Holmlund said he doesn't think so. "Testing labs are not retail-related," he said. Customers will primarily be large-scale cultivators and manufacturers who want to know the THC level of their product. "If someone needs a testing lab they're not gonna drive around and look for a sign."
The only type of weed business that might want a sign, Holmlund said, will be dispensaries.
But Leaf Detective did choose to erect a sign.
"Would we have less of a benefit or services to offer if we didn't have a sign? I don't think so," Griswold said. Eureka, he reasoned, is laid out logically, so he doesn't think people will have a hard time finding the place. "But we did want the benefit of having something there so people know they're in the right place," he added.
New medical marijuana businesses won't have that option.
In addition to the sign rules, Eureka's new weed businesses will also be regulated by a schedule of fees and fines approved at Tuesday night's City Council meeting. Holmlund compared the fees to a carrot and the fines to a stick — two ways to encourage businesses to come into compliance with the new regulations.
Fees vary by business type and include charges for applications, licensing, the city's track-and-trace program and annual inspections. They range in cost from $1,500 a year (for testing labs) to $9,000 a year (for large-scale, volatile manufacturing such as butane hash labs). See the full fee schedule (in poor resolution) here.
Fines, meanwhile, will be much more expensive. Holmlund gave a couple of examples during Tuesday's meeting. "If the Fire Department found a hash lab, that lab would be considered an illegal manufacturing facility and would be fined $18,000 per day," he told the council. "If it were a hash lab with a grow associated with it, they'd be fined $28,000 per day." That is, until the operators either came into compliance or disabled the operation. See the full fine schedule here.
Of course, as Brady noted during the meeting, getting offenders to pay those fines may prove challenging.
Malaret, meanwhile, is happy to be open for business in Eureka. "We're excited to be here," she said. "Everybody's been friendly and welcoming. We keep hearing [from customers] that they love keeping it local. We work here and we live here."
The next big development for their business, she said, will likely come on Election Day, when Californians decide whether or not to legalize weed entirely.