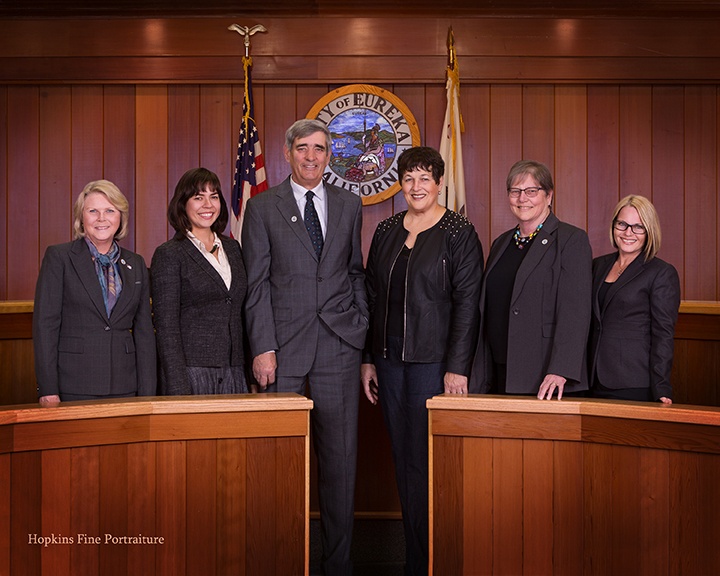 After last week's City Council meeting Eureka appears ready to open its civic doors to medical marijuana businesses, including dispensaries, testing labs, cultivation facilities, manufacturing facilities and delivery services. It just doesn't want visitors to know they're here.
At last Tuesday's meeting the council voted 3-2, with Councilmembers Melinda Ciarabellini and Marian Brady dissenting, to have staff prepare changes to the municipal code and the local coastal plan. Those changes, if approved by the California Coastal Commission, would allow 12 types of medical cannabis businesses to locate in certain designated zones. And the council agreed to add a provision stating that all signs for those businesses would be prohibited. That's right: no signs allowed, even for dispensaries.
Tuesday night the council will consider whether to approve these changes to the code and submit the plan to the Coastal Commission for approval. The city has had a moratorium on dispensaries since 2010.
We'll explain some of the plan's details below, but first the sign thing. After an impressively thorough presentation from Community Services Director Rob Holmlund, Ciarabellini expressed concern about cannabis-related signs, especially on the main corridors of Fourth and Fifth streets.
Holmlund noted sympathetically that, earlier in the process, staff had suggested to the Planning Commission that it include a rule banning pot leaves or any other cannabis-related imagery from signs. "So, no Rasta guy smoking a bong, kind of thing," Holmlund said. But after talking to the city attorney staff realized that the First Amendment prohibits governments from regulating the content of signs.
"I think it would be a good approach in Eureka to have no signs," Holmlund said.
The council rather quickly and unanimously agreed to this proviso. "Whoever wants to find these places will find them," Councilmember Linda Atkins said. Ciarabellini, who has a history in law enforcement and has long voiced skepticism about legitimizing marijuana in any form, expressed a variety of concerns about the measure, not least of which was appearance. She mentioned towns in Washington state that now have signs showing green crosses and other weed imagery. "And I am very concerned about the look of what's supposed to be our Victorian seaport village," she said. (The thematic consistency of the latest South Broadway sign was not addressed.)
Ciarabellini also voiced concern about marketing to children with products such as cannabis gummy bears and lollipops. Holmlund pointed out that the state has regulations governing labeling and prohibiting marketing to children. The City would have the power to revoke the license of any business that fails to comply. But Ciarabellini seemed unconvinced. Shortly before the council voted on the matter she again invoked the specter of "a kid ingesting a gummy bear that was licensed and manufactured in the beautiful seaport village of Eureka."
Brady also expressed concerns, saying there was not enough data on a variety of issues, from potential tax revenue to banking regulations to the total number of potential cannabis businesses in the city.
But Councilmember Natalie Arroyo said medical marijuana should be treated like any other product. "I don't want to have a second tier of businesses who are cannabis related," she said, adding that she felt it was the council's responsibility to move forward.
Bergel agreed, saying, "I personally believe that cannabis is medicine, and people need access to that in a legal and safe way."
As for the plan itself, here are a few details:
It would restrict the various types of medical marijuana businesses to certain zone districts in the city, as spelled out with this matrix and this map. More than half of the available property lies in the coastal zone, and staff said approval from that agency likely won't come until the middle of 2017.
For dispensaries, the City would issue a maximum of two licenses every six months until there was a maximum of six licensed retail outlets. (Some council members expressed a preference for fewer, perhaps four.) Applicants would go through a "request for proposals," or RFP, process, with dispensaries allowed only on land zoned commercial, industrial or hospital/medical. Those applicants would be ranked and conditional use permits would be considered by the Planning Commission.
Cultivation would be allowed primarily in industrial zones, with mixed-light grows conditionally allowed in agriculture zones and small grows (less than 5,000-square-feet) conditionally permitted in the service commercial zone.
Production of hash, considered "volatile" manufacturing, would be conditionally permitted in industrial zones. Holmlund said that the combustible hash labs in Eureka helped convince him that a legal and regulated industry is preferable to the black market. "We have hash labs in Eureka," he said. "They explode. They're bad. They're bad news."
Research by staff and independent analysts resulted in a broad range of estimates for the total number of cannabis-related businesses that might eventually open in Eureka, but Holmlund predicted that demand will be limited by market forces and the finite amount of leasable space in the city. "We predict there won't be a mad rush," he said. "I genuinely think [there might be] 25 businesses in the first two years."
All these medical-marijuana-related businesses would be subject to mandatory annual inspections. Holmlund described the situation as a way to lessen the damage being caused by illegal activity while taking advantage of a relatively untapped economic resource, potentially creating hundreds of jobs and generating tax revenues. Staff estimated cannabis-related businesses could give the city from $55,000-$155,000 annually, enough to hire at least one full-time employee.
"Eureka is in the geographic center of massive cultivation," Holmlund said. "We have an opportunity to regulate an existing black market and create living-wage jobs."
The City Council will consider these changes to the Eureka Municipal Code at Tuesday night's meeting, which starts at 6 p.m. at City Hall.