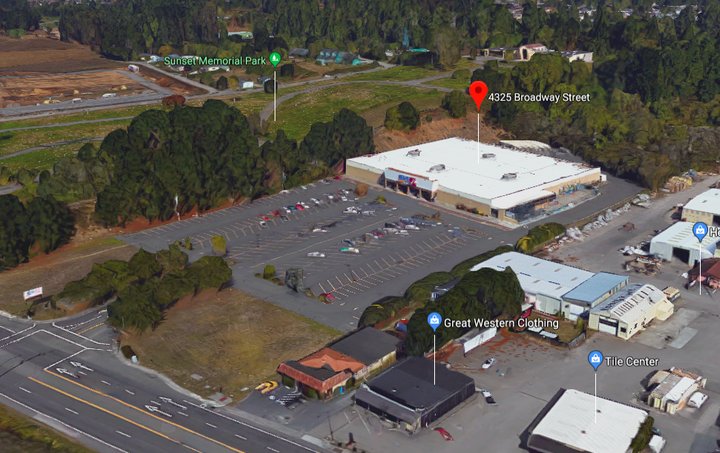 About a week and a half ago we reported that the County of Humboldt was looking into purchasing the recently vacated Kmart property at the south end of Eureka. Now we know why.
Looks like county officials are interested in putting three government departments (or technically two departments and a division) inside Eureka's former home of blue-light specials.
According to a staff report for tomorrow's Board of Supervisors' meeting, officials are looking at relocating the Planning and Building Department, the Public Works Department and the Department of Health and Human Services — Division of Environmental Health into the 59,000-square-foot building on the eight-acre property.
"Each of these departments provide permitting and inspection services for the public that require review and collaboration amongst these departments," the staff report explains. The county has a goal of establishing "campuses" where various related government offices can be co-located, thus "allowing members of the public and those doing business with the county to obtain services, ideally, from a single location," the staff report explains — a "one-stop shop" for a variety of services.
This plan, should it go through, would involve moving those county departments out of their current locations, which are now scattered all over town. Public Works alone currently has offices at 1106 2nd Street, 901 and 931 2nd Street, and 209 J Street in Eureka. The Environmental Health Division is currently located at 100 H Street in Eureka, and the Planning and Building Department currently lives in the decrepit old Clark Complex at 3015 H Street in Eureka.
Tomorrow's agenda item asks the board to give the County Administrative Office permission to go out and get appraisals for all these properties — the Kmart property at 4325 Broadway Street as well as the current offices for the departments in question. If the price is right, the county could sell those latter properties as "surplus" property and use the revenues to help offset the price of buying and renovating the Kmart property.
You can read the full staff report below. The Board of Supervisors meeting is scheduled to start at 9 a.m. Tuesday inside board chambers at the county courthouse, 825 Fifth Street in Eureka.
# # #
DOCUMENT: Appraisal Services for Real Properties and Supplemental Budget