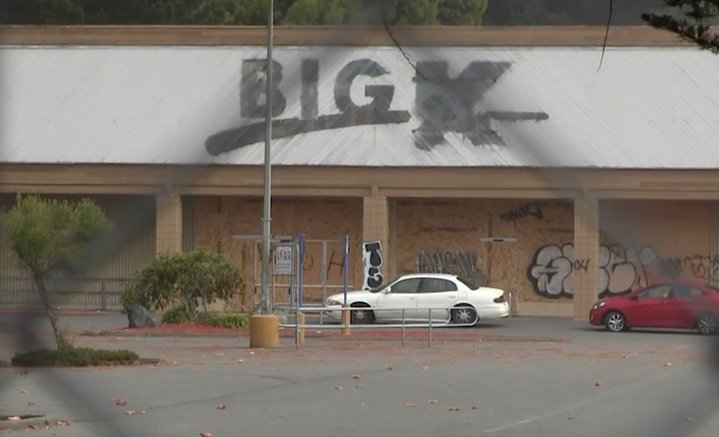 ###
The abandoned Kmart property on the south end of Eureka may soon have a new owner — the County of Humboldt.
On Tuesday, the Humboldt County Board of Supervisors will meet in closed session to appoint a pair of negotiators empowered to haggle over "the price and terms of payment for the purchase" of that property, which has become a target of graffiti and other vandalism since the big box retailer closed its doors back in October.
County Public Information Officer Sean Quincey declined to comment, which is standard policy for closed-session items. A call to the current property owner, John McNellis of Palo Alto-based McNellis Partners, LLC, was not immediately returned Friday afternoon.
As Outpost reporter Sierra Jenkins noted a few weeks back, City of Eureka staff has been working with both McNellis and the Sears Holdings Corporation (which owns Kmart and has a lease on the property through July 2018) to address code violations that have been accumulating at the secluded and vacant property.
McNellis told the Outpost in October that his company "does not think there's a viable traditional retail use for the property," which includes the 50,000-square-foot building that housed Kmart. The property sits within Eureka city limits and is zoned service commercial. (Learn more about what's allowed in that zone here.)
No indication yet what the County might have in mind for the property. The negotiators slated for appointment include County Administrative Officer Amy Nilsen and Public Works Director Tom Mattson. Feel free to post your guesses for the property's next use in the comments below.