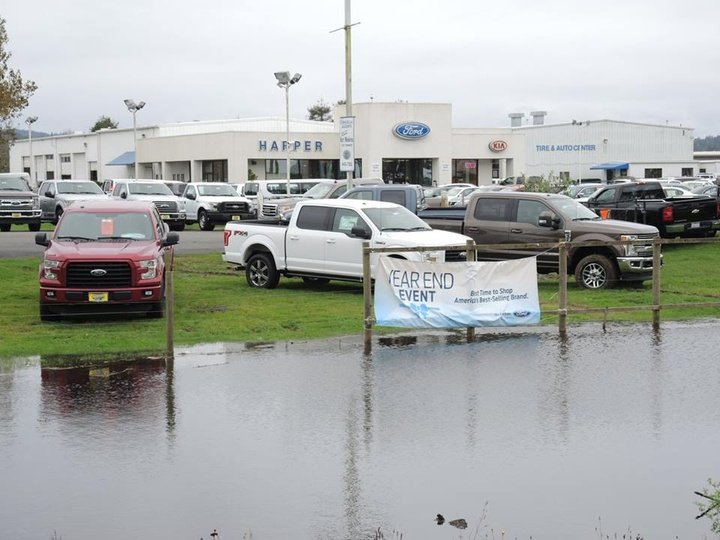 There will be a King Tide this Tuesday!
Remember the King Tide? It's when the ocean reaches furthest up the land, up to levels that will seem low a couple of decades from now. Lowlands around Humboldt Bay get flooded out quick.
This year the City of Arcata is asking citizens to help document the King Tide, so the city will have a clearer handle on what sea level rise is going to look like around the bay. Looking for something useful to do New Year's Day at just after 11 a.m. — or, better, Tuesday morning at about 11:37 a.m.? Check this out.
The city has put together a pretty nice website to help its citizens participate in this effort. It lets you upload your King Tide photos to a map directly from your phone, and it lets you type in your notes and annotations right there. Seems really neat!
There are 15 spots around the bay and the Bottoms that the city wants documented. Check the details below.
From the City of Arcata:
Three days of high tides will begin on January 1, with a King Tide event on January 2 at 11:37 a.m.

King Tide is the term for an especially high tide event. They occur naturally and regularly, and are predictable, but when they occur during heavy storms or flooding, water levels can rise even higher and cause even greater flooding. Even with no extraordinary rainfall, a King Tide can help us get an idea of what a permanent rise in sea levels might look like in our communities.

The City is asking for our community's help in documenting the King Tide in particular, with photos that show the effect of high tides in Arcata. We have prepared a King Tide Guide which shows 15 impacted locations identified by City staff, but we are eager to see photos from other locations as well - especially creeks and streams.

The guide can be found at City Hall, at the Arcata Marsh Interpretive Center, and on the City's website.

Photos can be uploaded to a story map at the City's website. The story map shows photos and locations where they were taken. It's very easy to use. Just go to the Sea Level Rise page at cityofarcata.org to find the story map and for more information.

Crowdsourced documentation of Sea Level Rise impacts will be invaluable in the short term as City staff gathers information in anticipation of a City Council study session in the Spring.

This is the first of annual King Tide events that will record tidal impacts in specific places over a span of years.

The weather is predicted to be good – some clouds but no rain – and we invite the community to start 2018 with phones and cameras to help us create a visual record of King Tide impacts.
###