Murder suspect Maxx Robison rolled down the car window, leaned out and fired multiple rounds, a witness testified today at Robison's preliminary hearing.

But so far it's unclear whether Robison was purposely firing at anyone, let alone the 19-year-old girl who was killed that morning in a car outside McCullen's Motel.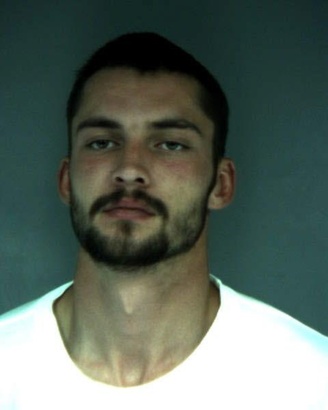 Witness Calvin Aubrey testified that he and a friend, Matthew "Bolt" Adams-Johnson, spent many hours with Robison the night of June 29 and the morning of June 30. During that time Aubrey ate some dinner, drank a few beers, smoked a little pot and just hung out at the High Street home where Robison lived with his grandmother.

While the three were sitting outside around a bonfire, Aubrey said, Robison told them he was a drug user and it was "a major problem in his life." Aubrey began feeling "weird vibes" when Robison seemed to become agitated, pacing back and forth and constantly on his cellphone. At one point Robison left them alone and went into the house. After 20 to 30 minutes, Aubrey and Adams-Johnson went in to check on him.
"There were two guns on the table, on his living room table," Aubrey said. "He asked me and Bolt if we had any money. He started picking up one of the guns; he asked if we wanted to buy it."
When they weren't interested in guns, Robison asked if they wanted to buy mushrooms or weed, Aubrey said. He kept after them, and finally the discussion awakened Robison's sleeping grandmother, Barbara Berry.
"She came out and she asked that me and Bolt leave because it was getting late," Aubrey said. He estimated this was about 2 or 2:30 a.m. "That's when the defendant asked Bolt to take him down to McCullen's."
They left in Robison's car, with Adams-Johnson driving, Robison in the passenger seat and Aubrey in the back seat. It was only a few blocks to the motel. Aubrey said Robison's goal was to buy some drugs, "get his fix."
Unknown to Robison, his worried grandmother called the police when she saw his car leaving. She testified today that she assumed he was driving under the influence, and she feared he would hurt himself or someone else.
Aubrey said that when they arrived at the motel, "Maxx got out of the car and was gone for about 10 minutes." He returned with an angry man following him. Aubrey described the man as Caucasian, tall and wearing a ball cap and a white T-shirt. He was cussing at Robison. At one point he said something such as "Do you want to take this up to the graveyard?" in a possible reference to the nearby cemetery.
Aubrey said he and Adams-Johnson were terrified and were yelling at Robison to get in the car. The angry guy was pulling at his waistband like he was trying to get something out.
Robison got in the car and yelled "Punk bitch!" at the man. When Aubrey looked out the back window, he saw the man standing in the middle of the street and extending his hand. He saw a flash and heard a loud "pop."
Back they drove to Robison's house. Aubrey said Robison went in the house and came back to the car. This time he had a rifle.
Aubrey recalled Robison racking the rifle and issuing a command: "McCullen's. Now."'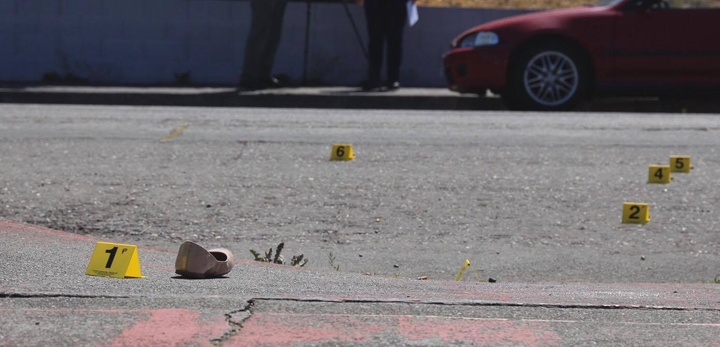 During this time the grandmother had called police and told them her grandson was safely home, then called back and said he was gone again and his guns were missing. She was terrified that Robison, upset that his girlfriend had recently left him, was going to shoot himself.
Instead Robison was on his way back to McCullen's Motel, with Adams-Johnson driving and Aubrey in the back seat.
Aubrey said he was shaking in terror and trying to hide. When they arrived at the motel he only saw Robison roll down the window and lean out. He heard the shots, and then Robison saying "Let's get out of here."
They drove to the Little Fairfield Street home where Bolt lived with his uncle. There, he said, Robison laughed and bragged about how he "let off five shots."
But the night wasn't over yet. They drove around town, with Robison pestering Adams-Johnson about where he could get drugs. Finally he dropped them off. Aubrey said he walked to his friend Liz's house and went to sleep. The next morning a woman staying with Liz was talking about a shooting and saying a girl had died.
"I started crying," Aubrey said.
It's not clear whether the man who argued with Robison at McMullen's Motel was Elisha Mansell, who was sitting in the car with 19-year-old Rihanna McKenzie when Robison allegedly opened fire. Mansell escaped injury and drove McKenzie to the hospital, but she died from her wounds.
Mansell was scheduled to testify today, but appeared to be suffering from emotional problems and eventually was dismissed as a witness.
Before the hearing started this morning, Mansell could be heard announcing to Deputy District Attorney Roger Rees that he constantly relives the incident and "My symptoms are getting worse."
Once in court but still in the audience, Mansell kept making unsolicited statements to attorneys and to Judge Dale Reinholtsen. He told Deputy Public Defender Jennifer Dixon that "I have a bunch of papers here that could help your client a lot." He said he planned to give the papers to Dixon and the prosecution.
He complained to Rees that he had never received a police report on the incident, and said he has had no cellphone since it was taken as evidence the night of the killing.
Mansell took the witness stand and seemed to waver on whether to speak. He wanted to testify because "My girl was murdered," but on the other hand he was afraid of the district attorney.
"The DA is out to prosecute anybody and everybody in any situation," Mansell said.
Judge Reinholtsen appointed Deputy Public Defender Marek Reavis to counsel Mansell, and Reavis advised him to plead his 5th Amendment right against self-incrimination and not testify. Mansell apparently was not satisfied with Reavis because he believes a victims' rights organization is going to appoint him a lawyer.
Prosecutor Rees offered Mansell immunity but eventually gave up on him. He was excused as a witness and most likely won't be summoned again.
The hearing was scheduled to continue this morning, with defense attorney Dixon cross-examining Aubrey. He has already admitted under cross-examination that his memory of some events is hazy. One possible issue is his timeline of the evening. He believes he and Adams-Johnson first met up with Robison between 4 and 5 p.m., when he said the sun was setting. In June the sun would have set quite a bit later.
Also at question is why he didn't part company with Robison much earlier, considering how frightened he was.
Robison, 22, is charged with murdering McKenzie and attempting to murder Mansell. He was recently planning to accept a plea deal that would have put him in prison for 37 years to life, but changed his mind at the last minute. He remains in custody on bail of $1.6 million.
###

PREVIOUSLY: