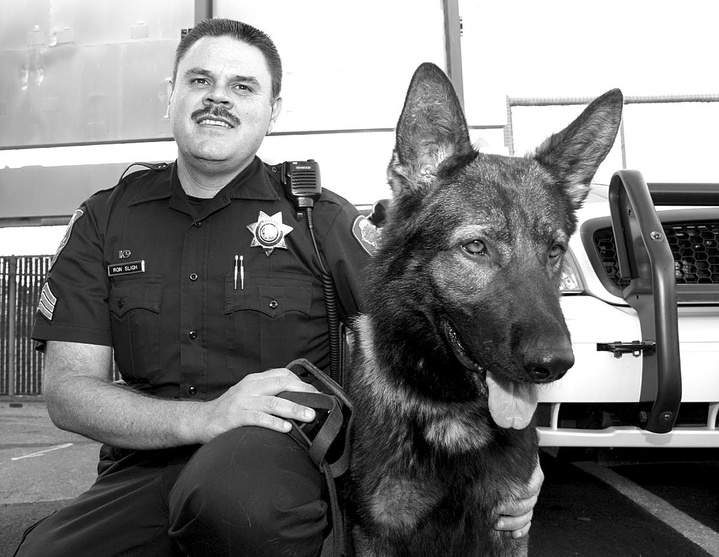 From the Arcata Police Department:
Arcata Police Service Canine, "Zari" is retiring after eight and a half years of dedicated service to the community. Zari, the K9 partner of Sergeant Ron Sligh, is retiring due to normal age related ailments that make it no longer practical for him to serve.

Zari began his service to the City of Arcata in June of 2008 and his official last day was January 13th, 2017. Zari is a sable colored German Shepherd that was born on March 23rd, 2007 in the Czech Republic. He was imported to the United States by the Witmer-Tyson Kennels of Menlo Park, California in June 2008.

Sgt Sligh and Zari attended the basic patrol handler's course in Newark, California, which culminated in the Police Officers Standard's in Training (POST) certification. Since attending the basic handlers course, Sgt Sligh and Zari have attended thousands of hours of maintenance training and certified annually to POST Standards.

During Zari's career he has responded to numerous high risk incidents in the City of Arcata and all over Humboldt County. As part of mutual aid requests from almost all law enforcement agencies in the county, Zari has been a regional asset.

Some of the more notable incidents that Zari has been involved in are; in 2009 he assisted in the apprehension of a home invasion robbery suspect that attempted to flee the scene. Also in 2009, Zari came to the aid of Sgt Sligh in arresting a suspect that was violently resisting arrest and who had assaulted Sgt Sligh. Again in 2009, Sgt Sligh and Zari responded to assist the Humboldt County Sheriff's Office SWAT Team in searching a vehicle that had crashed during a high speed pursuit, near Willow Creek. The suspects in the vehicle had committed an armed robbery and had been shooting at pursuing officers during the pursuit.
Zari barks at double homicide suspect Bodhi Tree as Tree is taken into custody.
In 2013, Zari located a double homicide suspect who was hiding in the bushes. Zari and Sgt Sligh assisted the Humboldt County Sheriff's SWAT Team in the apprehension of two homicide suspects in the Samoa Dunes. Zari was part of the muti-agency response to search for a homicide suspect in Petrolia. Zari assisted in the apprehension of another homicide suspect. Zari was called in by Humboldt County District Attorney Investigators to search a residence where a vehicular manslaughter suspect was hiding. Zari located the suspect hiding under a bed.

Zari was present on over a thousand arrests during his career. On the vast majority of those arrests the suspects were taken into custody without resisting or attempting to flee. Within in the last month, Sgt Sligh and Zari were able to arrest a felony warrant suspect, who has a history of fleeing, without incident.

Zari and Sgt Sligh conducted many K9 demonstrations over the years for schools and community groups. Zari has enjoyed interacting with the department's staff and made a special friendship with Police Services Assistant Bev Bence in the department's front office.