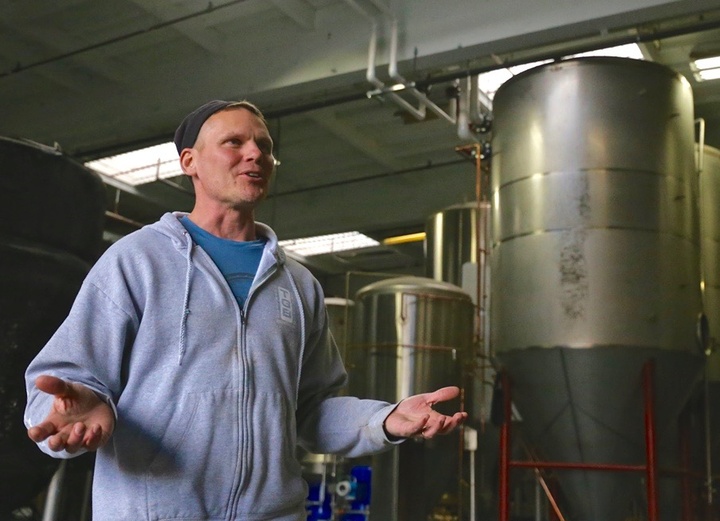 Humboldt County's newest brewery may be operating out of the former Lost Coast Brewery facility on Third and Commercial streets in Eureka, but the company has a much different business strategy in mind. The vast majority of suds produced here by The Booth Brewing Co. will be shipped 5,400 miles across the Pacific to Seoul, South Korea, where the company was founded.
Why would a South Korean beer maker do its brewing in Old Town Eureka? Head brewer Chris Shelton explained that since the United States is home to most of the world's microbrewing operations, we have better access to the fresh ingredients required, including hops, barley and yeast.
"It was just more economical to do it here, and then we're going to bring our beer back to South Korea," Shelton said.
But don't worry: You'll be able to try some without flying to Seoul — first at a special craft beer tasting party at the facility Friday evening and eventually at an established taproom on the premises.
We first wrote about The Booth in October 2015. The company was cofounded by a Korean couple named Sunghoo Yang and Heeyoon Kim and their friend, British journalist Daniel Tudor. Serving a pale ale with pizza by the slice in the Seoul suburb of Pangyo, The Booth soon became one of the most successful operations in South Korea's upstart craft brewing scene.
To some extent, the Lost Coast Brewery helped launch that scene. "Any fan of craft beer in Korea, especially before 2015, is very familiar with Lost Coast brewery," notes the website Craft Beer Asia. "Lost Coast was one of the [country's] first imported craft beers and their Indica IPA, Great White, Tangerine Wheat, and Watermelon Wheat were often the first craft beers in any [South Korean] restaurant or pub."
So when Lost Coast owner Barbara Groom opened the large new brewing facility at the south end of Eureka, Sunghoo approached her about moving into the Commercial Street spot. "As demand grew for our brewed beers, he knew we needed a larger capacity," Shelton explained.
A 46-year-old native of Iowa, Shelton moved to South Korea about three years ago with his wife and their son, almost on a whim, he said. His wife had been offered a job there as a speech pathologist, and within three weeks the family was on their way from small-town Iowa to their new home in Asia.
After coming back to the states for a summer to work at Iowa's Toppling Goliath Brewing Co., Shelton posted a message on the Seoul Homebrew Facebook group asking about places where he might indulge his passion for brewing beer. Sunghoo reached out to him, and after a series of meetings Shelton was brought onboard as head brewer.
His affection for the South Korean couple is clear. "They are just the kindest, warmest, most amazing people I've ever met," he said. And their passion for brewing runs deep. "They're just craft beer crazies," Shelton said. "That's the only reason they're doing this, is cuz they want to drink craft beer. They could care less about money."
The Booth's new Eureka facility is just now coming online, with Shelton and another brewer, Aaron Weshnak, running the operation. Shelton said they plan to hire more people soon. They will start by producing one batch of beer per day with a 30-barrel system, eventually doubling that production level. "Within the first year I'm guessing we'll do at least 10,000 barrels," Shelton said.
The company plans to supply local grocers with their beers, too, perhaps in 22-ounce bottles or six packs, though Shelton says six packs "aren't a thing" in South Korea. And within a year they hope to open a taproom for local beer lovers at the Eureka facility.
With the business rapidly expanding, The Booth is already looking for a larger facility elsewhere in California, perhaps Los Angeles or the Bay Area, but Shelton said they'll continue to operate in Eureka, even after that new facility comes online.
Friday evening's tasting party will offer 7 ounce tastes of three types of beer, a pale ale and two IPAs. But the free tickets are limited to the first 100 people through the door. More details here.