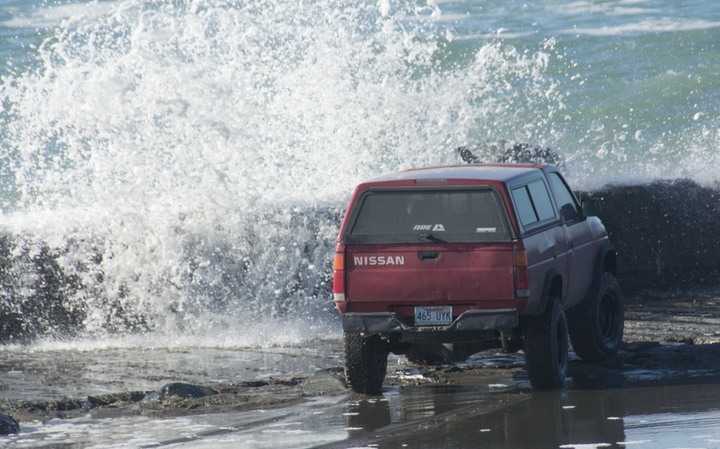 And here's what not to do.
In this morning's wee hours, our local arm of the National Weather Service posted the following helpful warning to its Facebook page concerning increasingly worrisome ocean conditions:
"Overnight, the high swell has been traveling towards NW California coast. At around 11 pm Wednesday, Buoy 46015 saw wave height rise to 19 feet with a wave period of 19 seconds. This indicates a surf height of 27 feet. A High Surf Advisory is in effect for west and northwest facing beaches along NW California coast through 4 pm this afternoon. After that, sneaker wave threat will persist through Friday afternoon."
In short, the ocean can kill you. Respect the ocean.
As is the case most times NWS puts word out that the Pacific is going to be gimungous, wave watchers flocked to Humboldt Bay's North Jetty to take in Mother Nature's performance.
Tyler Whiteside — ocean lover, local photographer and sometimes LoCO contributor —was one of the gawkers who headed out New Navy Base Road this afternoon. As he watched and snapped photos of the spectacle from a safe distance, Whiteside told us that a man in a red Nissan pickup truck drove out on the jetty, directly into the white water. Not sure what was going to happen, Whiteside started filming.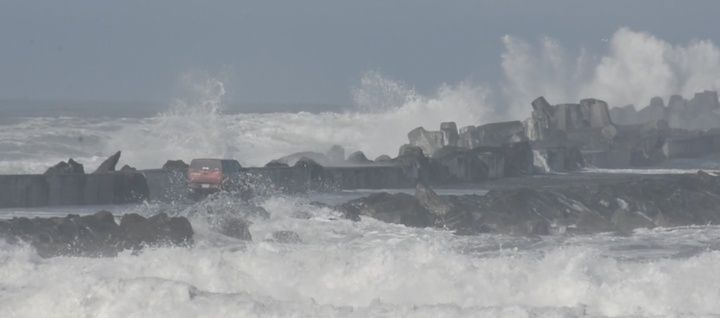 It went about as you might expect. Huge waves crashed over the jetty's walls from both sides, occasionally slamming into the truck and pushing it one way or the other. Still, the driver headed farther out.

"I thought he might be was suicidal until I saw the Arkansas plates," Whiteside told us while reviewing his footage with us. "He just didn't know."
Eventually the truck seemed to become disabled and the driver exited his vehicle multiple times to size up his situation.
A couple who'd been walking along the beach with their dog recognized the danger the driver was in and called 911. Coasties arrived 15 minutes later and determined that it was too dangerous to attempt a rescue by land. A Coast Guard helicopter flew in about 20 minutes after that and quickly lowered a rescuer to the jetty. The driver was harnessed and lifted to safety, hopefully with an important lesson learned.
Watch Whiteside's edited footage below.
Below is a press release issued by the US Coast Guard Sector Humboldt Bay on today's incident:
The Coast Guard rescued a man from the Humboldt Bay north jetty Thursday after he became stranded in his vehicle during a period of high surf and high tide.

Coast Guard Sector Humboldt Bay watchstanders dispatched crews aboard an MH-65 Dolphin helicopter and a 47-foot Motor Lifeboat to the scene after being notified at approximately 11:26 a.m., that a man had driven his vehicle onto the jetty where his vehicle became disabled, putting him in distress from breaking waves and high tides.

The Coast Guard aircrew determined the conditions to be too hazardous for other means of rescue, and hoisted the man into the helicopter. The man was reportedly uninjured and the vehicle remains on the jetty until conditions are safe for recovery.

The Coast Guard reminds the public to remain vigilant during changing ocean conditions and remain off coastal rocks, jetties, and outcroppings during periods of high surf. When boating, always wear a life jacket, file a float plan, and check the weather before heading out. The National Weather Service forecast for the area can be found at http://www.wrh.noaa.gov/eka/.