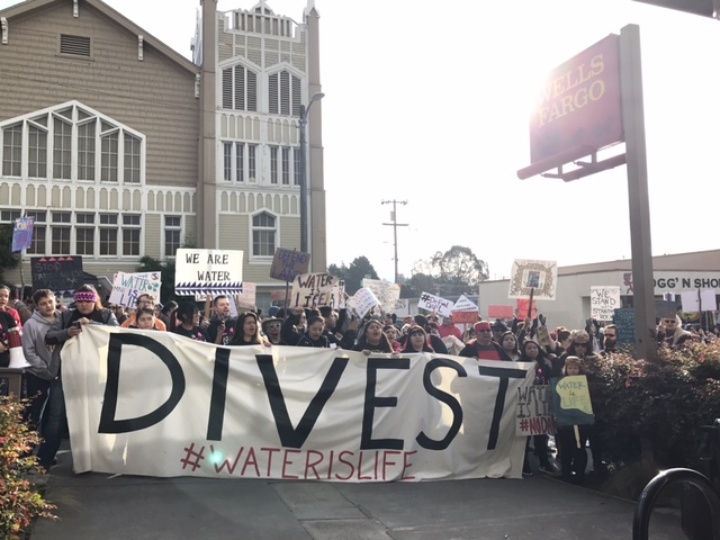 PREVIOUSLY:
Press release from Wells Fargo:
Wells Fargo understands the social and environmental concerns associated with projects such as the Dakota Access Pipeline (DAPL). As a company committed to environmental sustainability and human rights, we respect all the differing opinions being expressed in this dispute. We are closely following the developments in this situation and are hopeful that all parties involved will work together for a peaceful and positive outcome.

Wells Fargo is one of 17 financial institutions involved in financing the DAPL. The loans we have provided represent less than 5% of the total. We remain committed to our obligations to serve our customers' financial needs, and will continue to be respectful of the concerns being expressed by Tribal governments and communities, other groups and individuals.

Environment

Wells Fargo is committed to the responsible development of all forms of energy, and while we maintain a large conventional energy portfolio to support U.S. infrastructure, we are also a leader in the financing of renewable energy and clean technology. We have supported the evolution of energy markets toward cleaner forms of generation by investing more than $52 billion in environmentally sustainable businesses since 2012. In 2015, projects owned in whole or in part by Wells Fargo produced 10 percent of all solar photovoltaic and wind energy generated in the U.S.

Native American Communities

Wells Fargo has been serving Native American governments and communities for more than 50 years, and today we provide capital and financial services to more than 200 tribal and native entities in 27 states, including tribal community development projects.