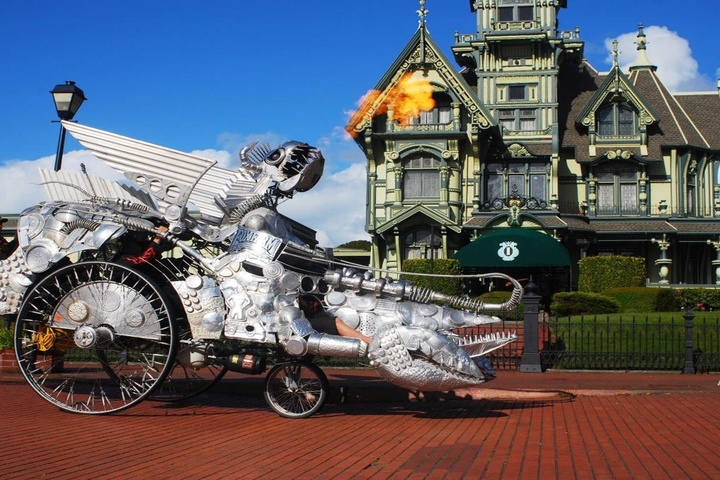 PREVIOUSLY:
A common bit of local folklore holds that Humboldt County has more artists per capita than anywhere else in the state. (Or is it the world?) We have no idea how you might quantify such a thing, but we do know that art is definitely our jam.
If you've ever been to Arts Alive, Eureka's monthly Saturday night art party, then you know how apt the name is. While our Victorian seaport can sometimes be a bit sleepy and bedraggled, it transforms on the first Saturday of each month into a bustling carnival of creativity. With our high concentration of galleries, theaters, museums and murals (not to mention opinions), Eureka is enlivened and inspired by her artistic impulses.
And now that tradition has been recognized by the state. Today, the California Arts Council announced that downtown Eureka is among the 14 places statewide that will serve as California's first officially designated Cultural Districts. The certification comes after a long, multi-phase application process, with Eureka being chosen over dozens of other applicants.
City staff partnered with Eureka Main Street and the Ink People to develop a proposal. Eureka Development Services Director Rob Holmlund said the effort was part of developing the city's five-year strategic arts plan, a process that involved interviews, a well-attended public meeting, four distinct surveys and lots of staff time.
"We did the Strategic Arts Plan way faster than we do most projects because we wanted it done, so we put in an incredible amount of effort to put it together," Holmlund said. Part of the rush was this application opportunity through the California Arts Council.
The program aims to "celebrate the state's diverse and abundant cultural treasures," according to the website. The 14 districts selected highlight "thriving cultural diversity and unique artistic identities within local communities across California."
Here's the full list of the state's 14 inaugural cultural districts:
Eureka Arts and Culture District
Downtown San Rafael Cultural District

Rotten City-Emeryville Cultural Arts District
Grass Valley-Nevada City Cultural District
Little Tokyo (Los Angeles)
San Pedro Cultural District (Los Angeles)
SOMA Pilipinas (San Francisco)
The Calle 24 Latino Cultural District (San Francisco)
The BLVD Cultural District (Lancaster)
Redding Cultural District
Truckee Cultural District

Balboa Park Cultural District (San Diego)
Barrio Logan Cultural District (San Diego)
Oceanside Cultural District (San Diego)
The designation will last five years and includes an array of benefits including technical assistance, peer-to-peer exchanges, and promotional resources. Holmlund said Eureka's inclusion on the list should help draw art-loving tourists from around the world. "This is something we can and should be marketing heavily," he said.
Here's how the California Arts Council describes the project's intentions:
Aligning with the mission and values of the California Arts Council, the districts will celebrate the diversity of California while unifying under an umbrella of shared values—helping to grow and sustain authentic grassroots arts and cultural opportunities, increasing the visibility of local artists and community participation in local arts and culture, and promoting socioeconomic and ethnic diversity. Districts will also play a conscious role in tackling issues of artist displacement.
The map below shows the boundaries of Eureka's Cultural Arts District: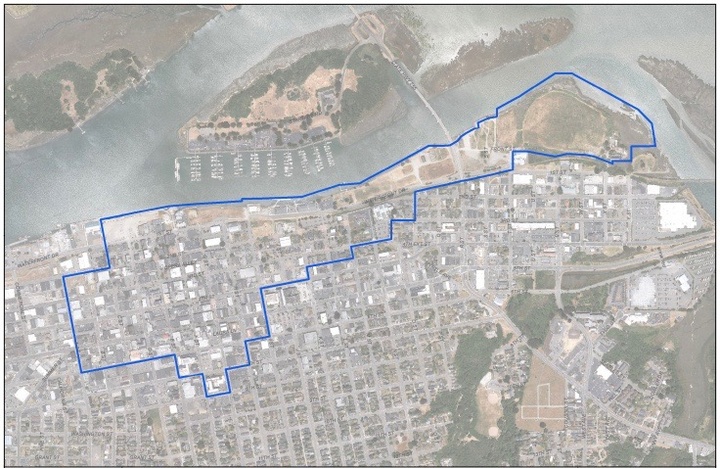 The district's online profile touts our mild climate, proximity to redwoods and "treasure trove of local arts and entertainment."
The certification also comes with a small stipend of $5,000 per year, which Holmlund said the city hopes to use as matching funds to leverage more grant funds.
Click here to download Eureka's Strategic Arts Plan, and here you'll find info on one of the city's newest art initiatives, the "Opera Alley Plan," which aims to enliven the walkway through art exhibits, infrastructure improvements, landscaping and more.
And to learn more about the rest of California's cultural districts, or the program generally, check out the website here.