Warning: The story below contains graphic, disturbing testimony concerning two cases of alleged child molestation that was presented in Humboldt County Superior Court today.

###
Local businessman Chad Alan Smith was held to answer today on child-molestation charges that could put him in prison for life.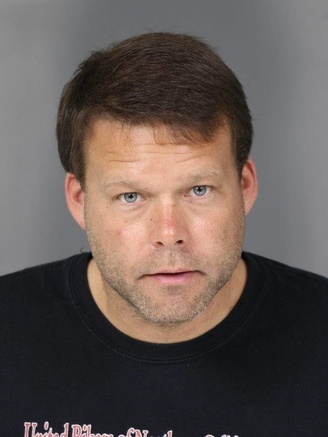 This morning Judge John Feeney, citing the testimony of two 15-year-old girls who testified during Smith's preliminary hearing, ruled there was enough evidence for him to stand trial on all charges filed by the district attorney.
His arraignment was scheduled for Aug. 10, and a trial date will be set then or later.
Jane Doe I testified that Smith, now 42, began molesting her when she was 10 and continued until she was 14. The alleged sexual acts include sexual intercourse, sodomy and oral copulation. Smith was also held to answer on four counts of violating a restraining order meant to keep him away from Doe I and her family.
Doe II, a friend of the other alleged victim, testified that Smith fondled her when she was 11 years old.
Outside the courtroom after Feeney issued his ruling, Smith's brother Rick Smith said the case against his brother is "devastating."
"My family's destroyed," he said. "My mother probably won't survive."
During testimony today Doe I's mother was cross-examined by Deputy Public Defender Jennifer Dixon. The mother said that as part of her job she is trained to recognize child abuse and neglect. But she acknowledged that even though she thought Smith had an "inappropriate" (not sexual) relationship with her young daughter, she never contacted law enforcement or sought professional help. She also said she had intentionally gotten pregnant by Smith, though he subjected her to constant verbal abuse.
"Despite the fact that you thought (Smith) had an inappropriate relationship with your daughter, was abusive, you conceived a baby with him?" Dixon asked.
"Yes."
She also agreed to allow Smith, a credentialed teacher, to homeschool the girl for a year after she threw a tantrum about attending Winship Junior High School.
"Essentially you allowed Jane Doe I to bully you," Dixon said.
"No," the mother said, "I allowed Chad Smith to bully me and my daughter."
Under later questioning by Deputy District Attorney Stacey Eads, the mother said she was in "a domestic violence situation."
"I was being told daily that I was crazy, that I was a horrible mother … that none of my kids liked me, that I would amount to nothing," she said. After awhile, she began to agree.
"I started to believe it was me," she said.
Eventually she told Smith to move out. Then she found a story her daughter had written about her sexual relationship with Smith. The girl said the story wasn't real, and she insisted to law enforcement that nothing had happened.
In the meantime, according to court testimony, she was secretly in contact with Smith. In hundreds of e-mails between them, Doe I expressed her love for Smith and said she wanted to become emancipated and live with him. They discussed how she could make her mother angry enough to kick her out. She sent Smith a photo of a card key to a Eureka hotel, saying it was a key to the Kitten Hotel.
The child and Smith allegedly called each other "Kitten" and "Master" during sex.
According to the girl, the sex acts occurred in a Eureka home, in motels and in the office of Smith's former business, the Surfside Burger Shack.
As the investigation into Smith's alleged crimes continued and more evidence came to light, Jane Doe I acknowledged she had performed oral sex on him a few times. Finally, she detailed numerous sex acts over a span of four years.
When testifying, Doe I explained that as she began to heal emotionally, she realized she wasn't in love with Smith and he was manipulating her.
"I wish the things that happened to me didn't happen to me," she said.
Smith was arrested in June and remains in Humboldt County Correctional Facility. During the two-day hearing he listened quietly to his accusers, occasionally taking notes and conferring with his lawyer. After the judge made his ruling, Smith was re-handcuffed and taken back to jail.
###