SEE ALSO: (PHOTOS) Another Amazing Oyster Fest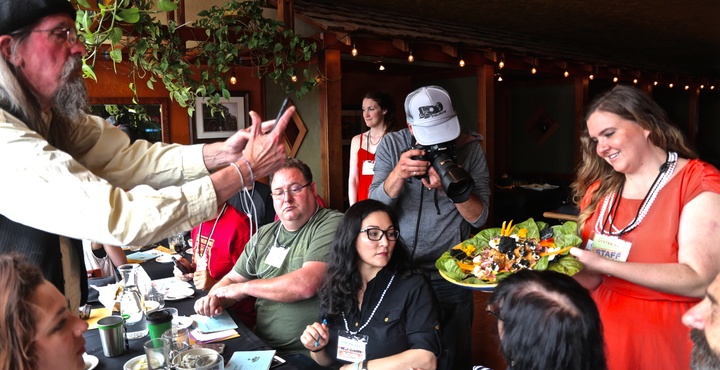 O really. You're telling us we can bypass the lines and the crowds and just sit in Mazzotti's and have the most exquisite selections that the 2017 Arcata Bay Oyster Festival has to offer hand-delivered to us? Damn. Well, if you insist.
Yes, once again your Lost Coast Outpost was required to serve as an official oyster judge. And while you can't nom all that we nommed, hey, we took pictures just for you, you lucky shuckers.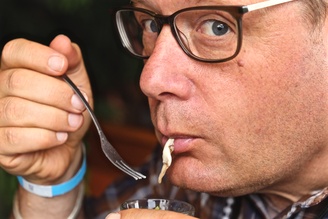 And! For the second year in a row, Humboldt County Third District Supervisor somehow finagled himself the honor of judging duties — the longtime Harbor Commissioner knows a thing or two about things that grow in our local bodies of water. After each oyster we tasted, LoCO pestered Wilson for a review. We've included his poetic/bewildering responses amongst the oyster photos below.
Feast away!
# # #
—-RAW—-
-Folie Douce-
Description: Raw Pacific Oysters served with a fresh horseradish and lemon sorbet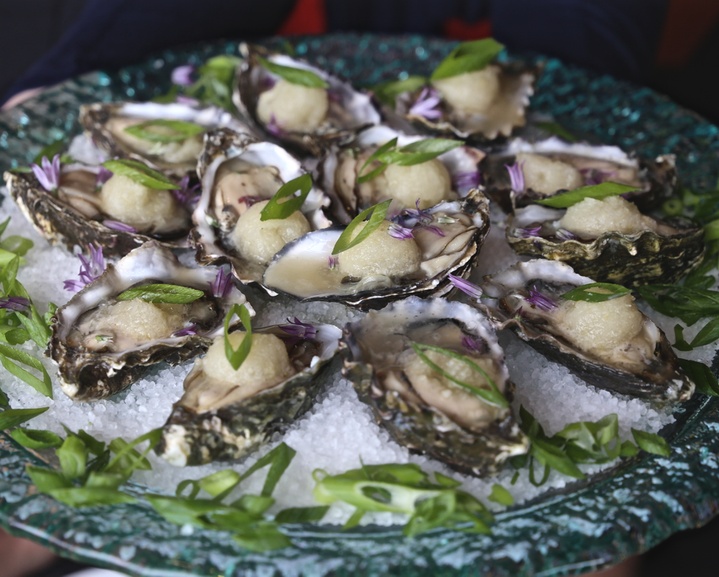 Mike sez: "A sweet afternoon spring breeze off the Mediterranean."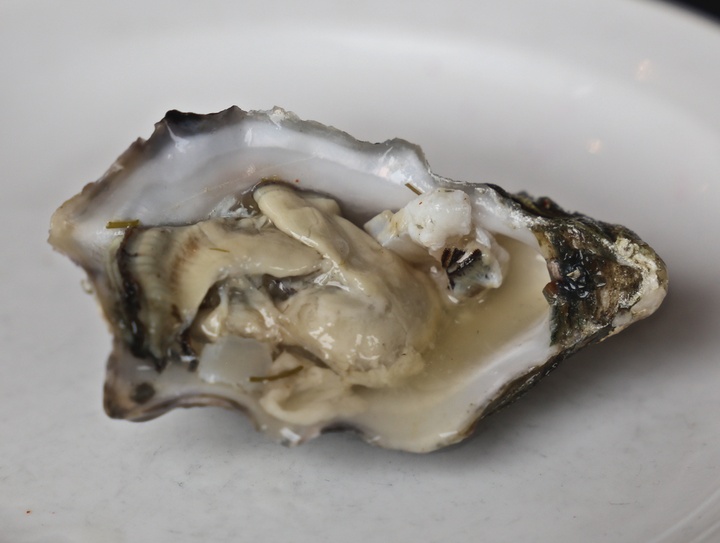 # # #
-Savory Grill and Cafe-
WINNER: Best Raw Oyster
Description: Carmelized onions, pineapple, red wine vinegar, cilantro, lemon juice, shallots, garlic, olive oil, very tomatoes and chives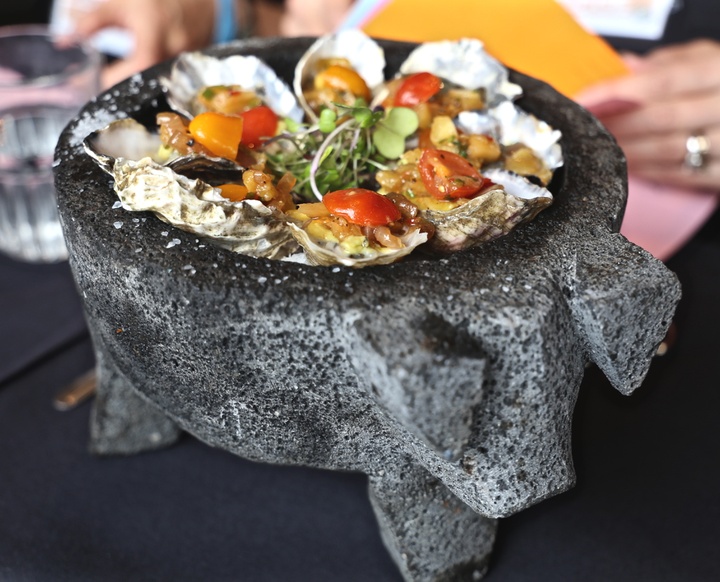 Mike sez: "Smooth as seal milk."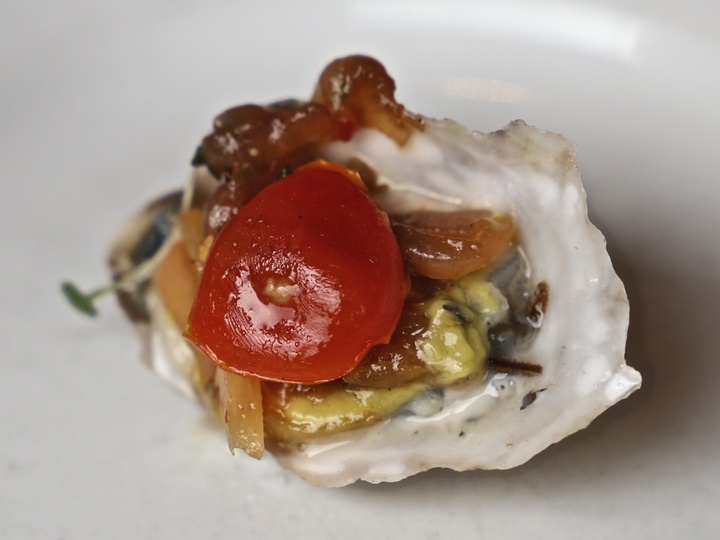 # # #
-Hog Island Oyster Co.-
Description: Pacific Oysters grown in Humboldt Bay and served with mignonette wash (tayberry and lavender)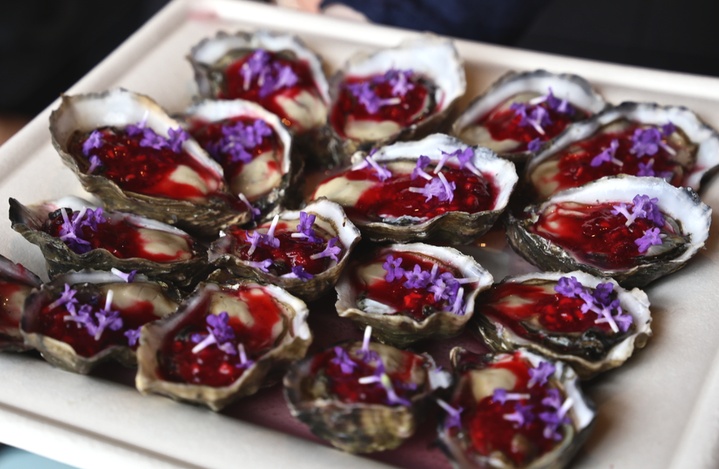 Mike sez: "Sea-berry Good!"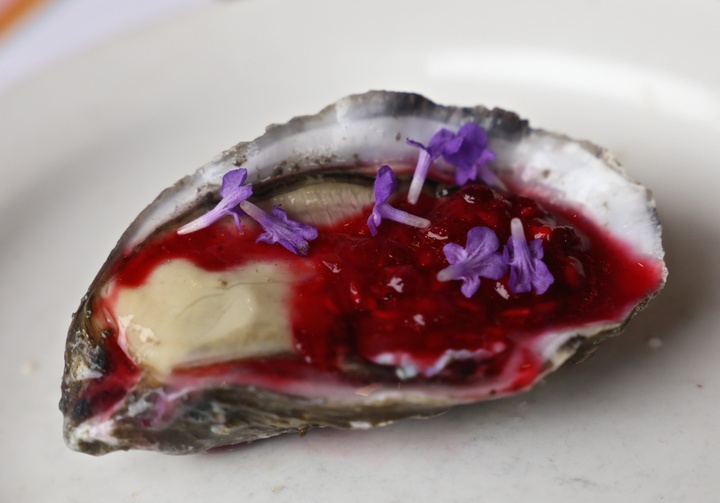 # # #
-Sushi Spot-
Description: Goose point oyster shooter seasoned with sesame-ginger vinaigrette, pickled wasabi root, yuzu-infused tobiko and spices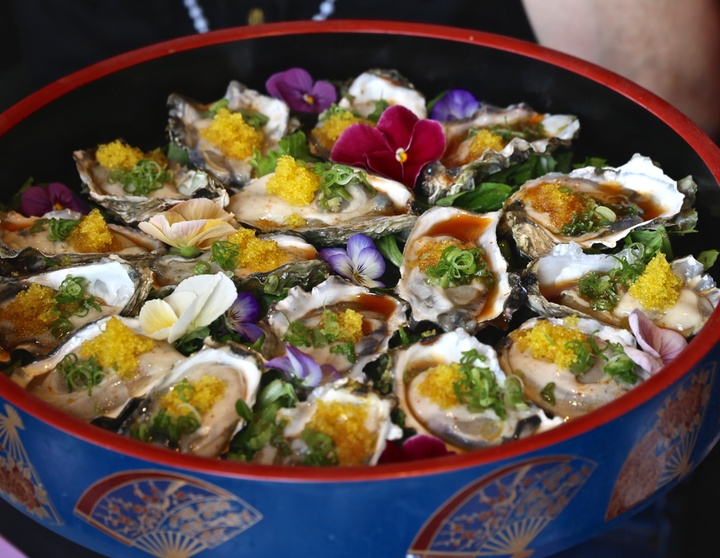 Mike sez: "Lemon marine pie."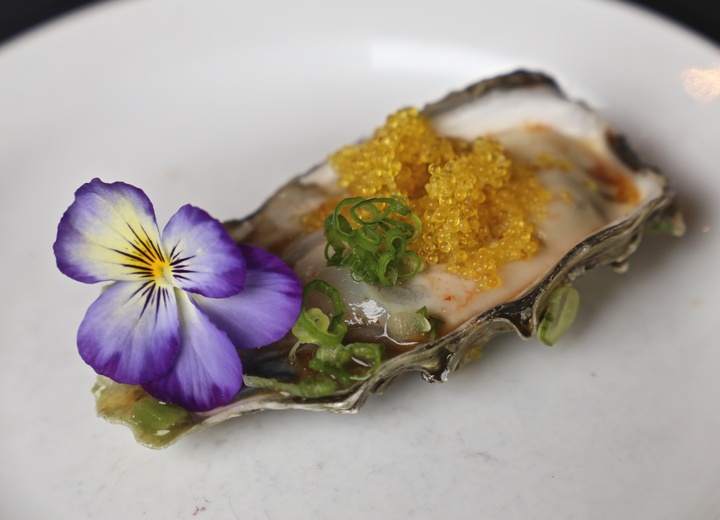 # # #
-Five Eleven-
WINNER: Best of Show
Description: Raw Humboldt Bay Oysters with a honeydew and cucumber gazpacho and golden trout caviar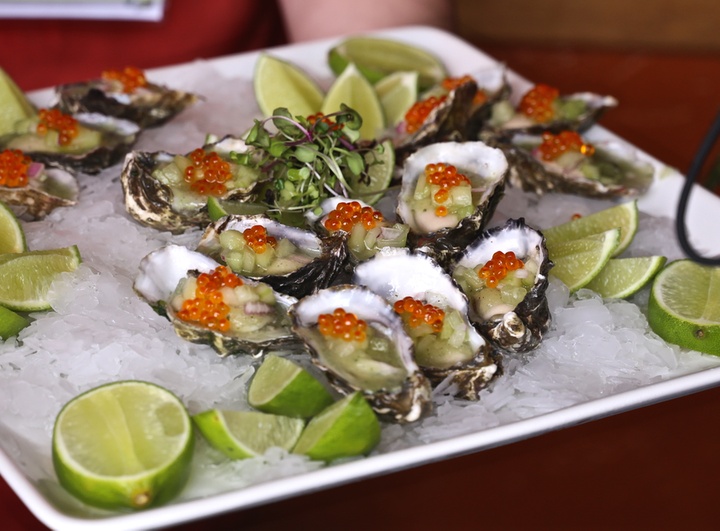 Mike sez: "Like roe-ing your boat into a cucumber sunrise."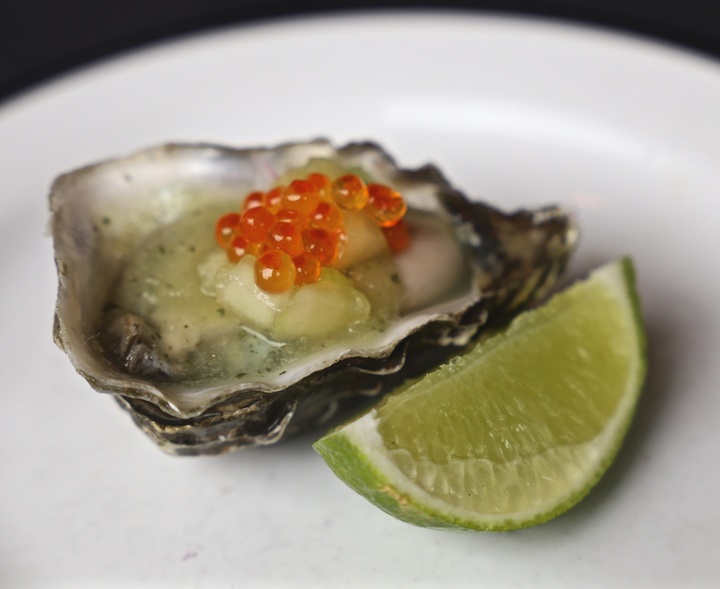 # # #
-Coast Seafoods-
Description: Small Pacific Oyster with salsa verde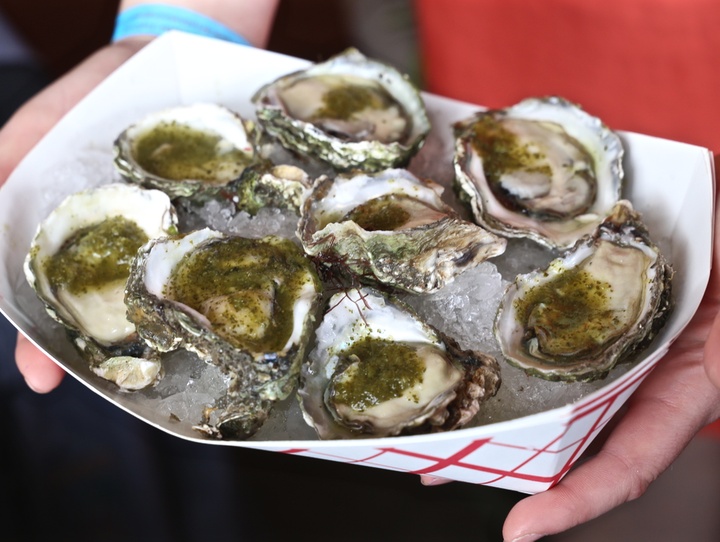 Mike sez: "Unvarnished, uncut, full flavor."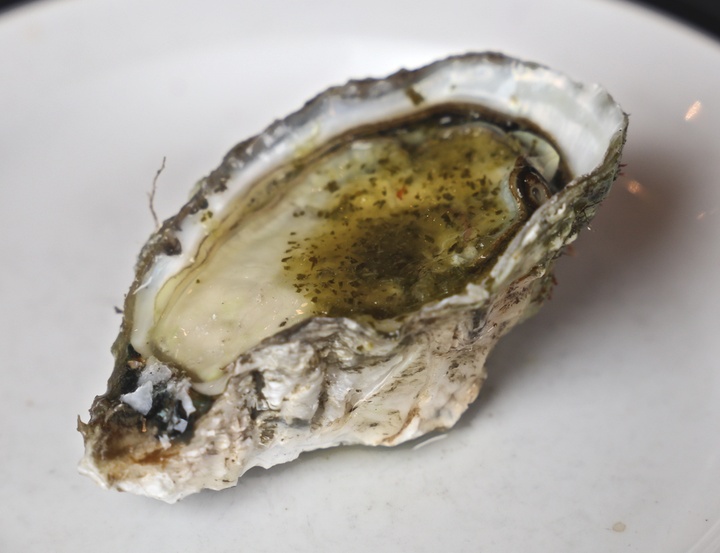 # # #
-Tomo-
Description: Hot and sour margarita shooter with a zesty spice of thai tom yum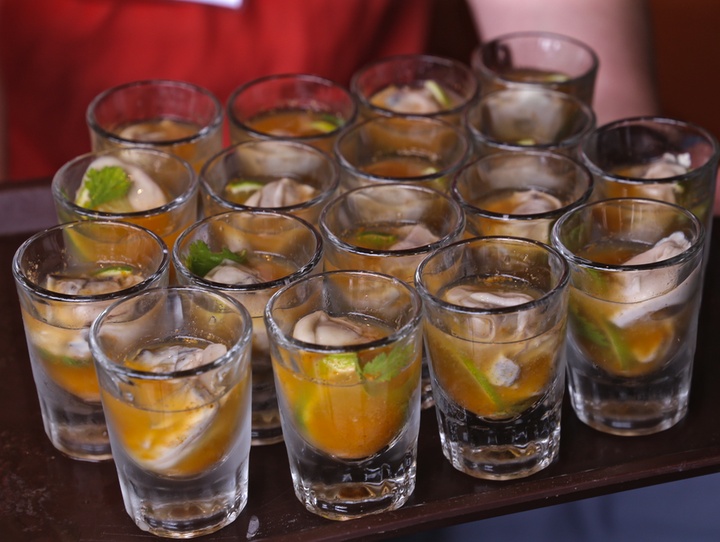 Mike sez: "A Tommy gun in the Singapore sun."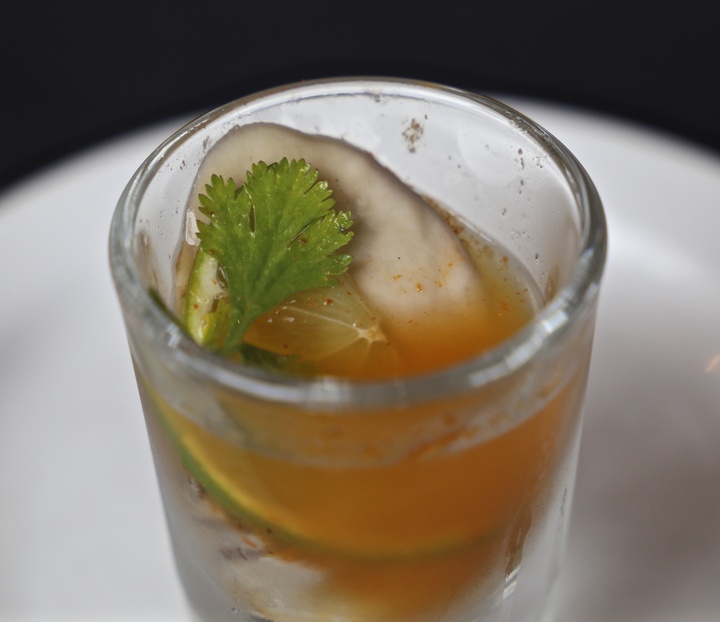 # # #
-Salt Fish House-
Description: Orange, champagne vinegar, fennel, dill, salt and pepper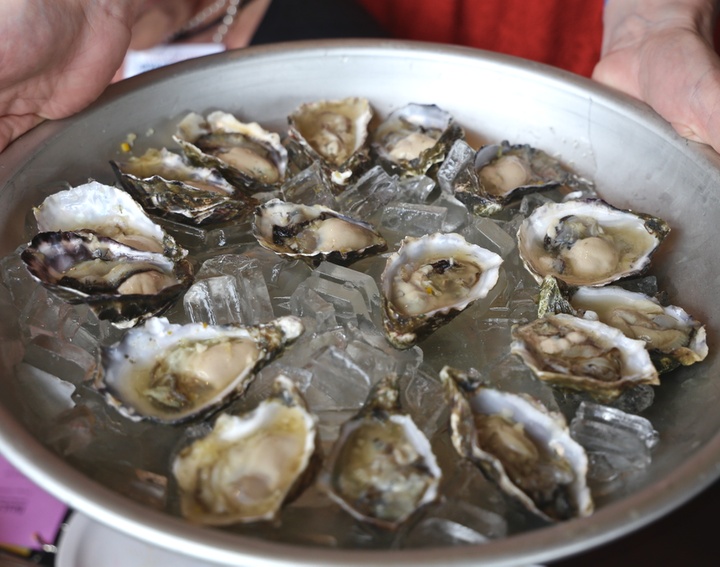 Mike sez: "pH levels adjusted."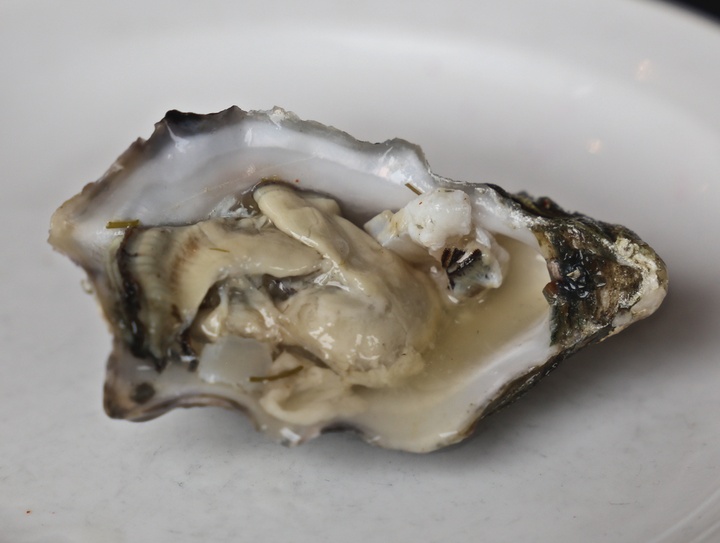 # # #
—-COOKED—-
-Sushi Spot-
WINNER: Best Cooked Oyster
Description: BBQ goose point oyster with garlic-jalepeno aioli, honey sriracha, crunchy garlic and seasoned green onions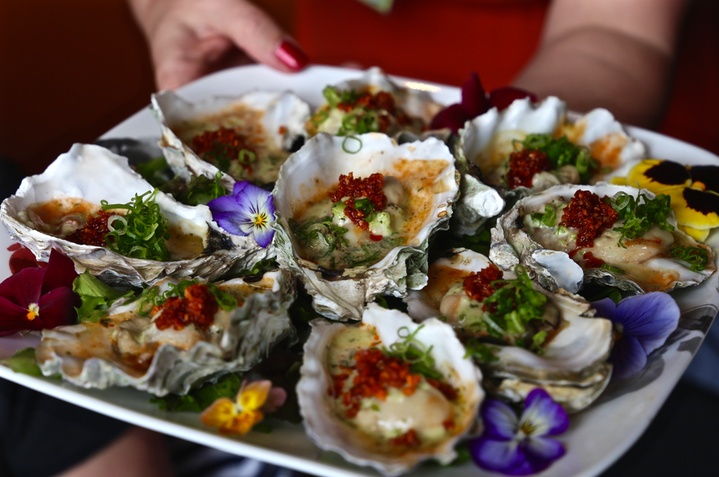 Mike sez: "Créme de la crúnch."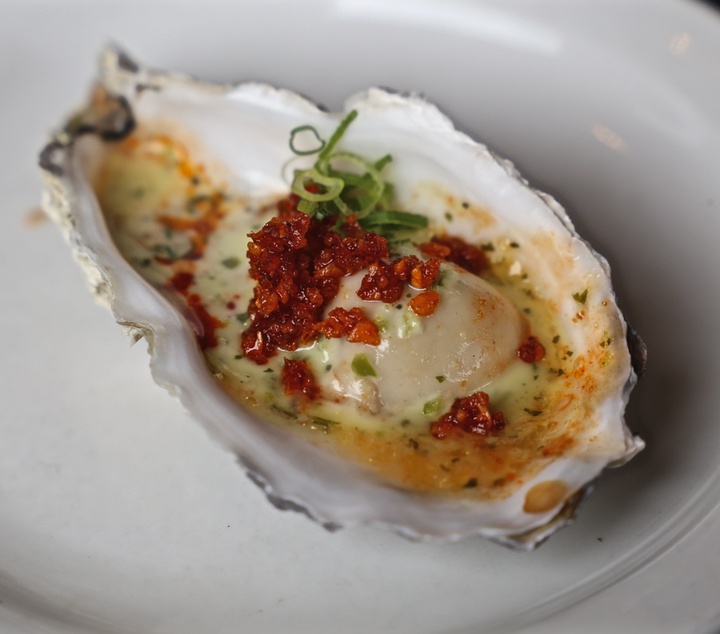 # # #
-Savory Grill and Cafe-
Description: Mexican chorizo, shallot, bell pepper, oyster mushrooms, garlic, red wine vinegar, chives, lemon juice and thyme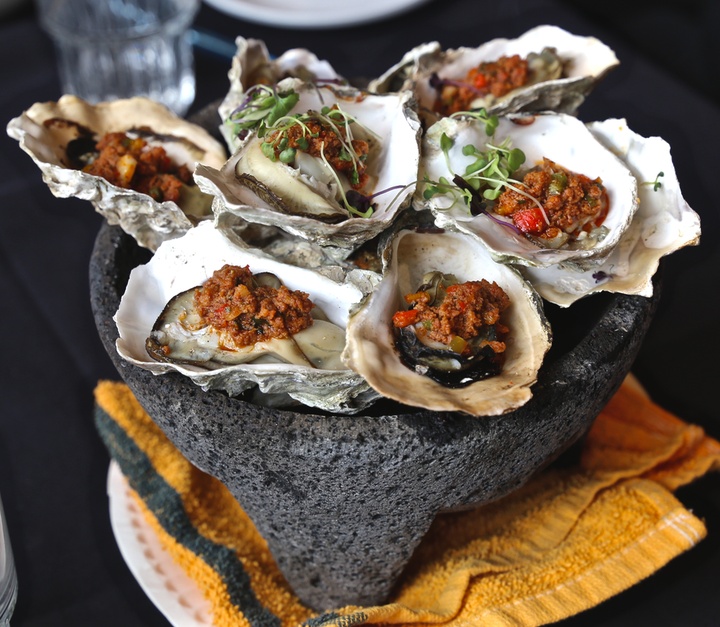 Mike sez: "Menudo at work."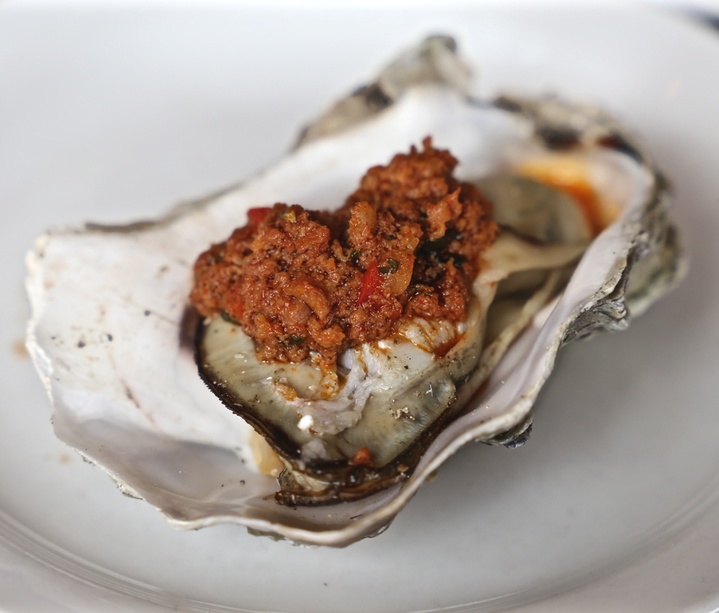 # # #
-Folie Douce-
Description: Smoked Pacific Oyster and marscapone cannoli with a lemon caper drizzle, served with house pickles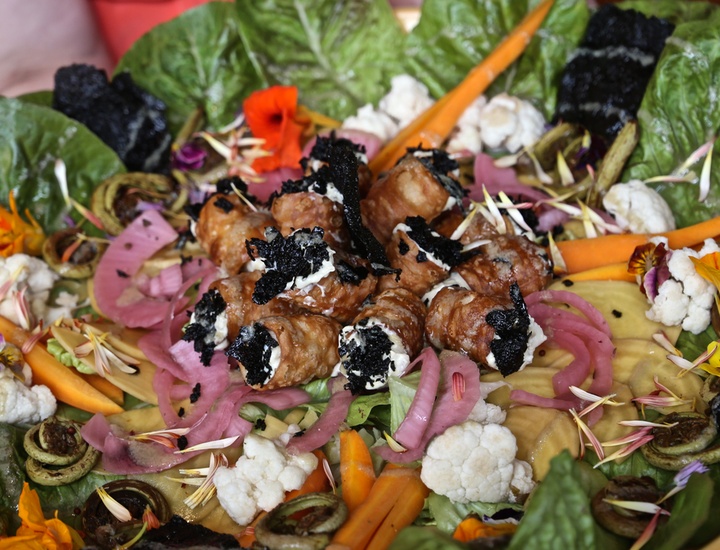 Mike sez: "Leave the shell. Take the cannoli." (h/t Berkowitzes)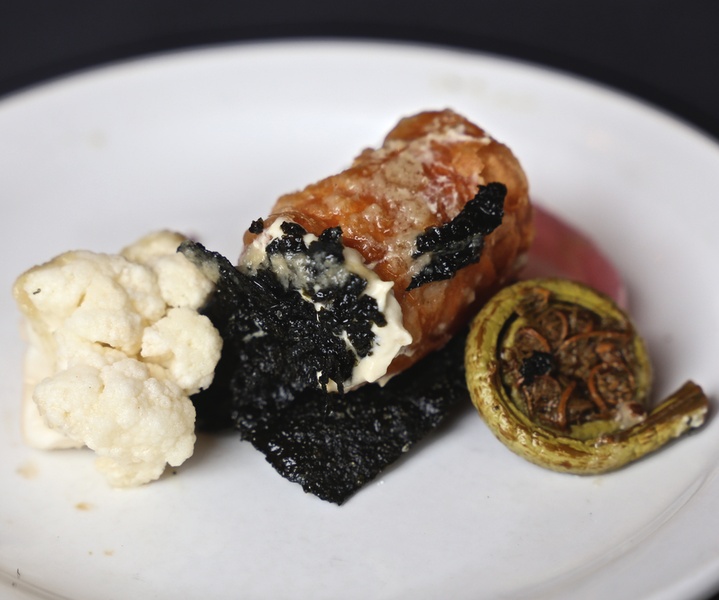 # # #
-Tomo-
Description: Flame-grilled pesto oyster with cilantro, shies leaf, lime, sesame seed puree and topped with roasted garlic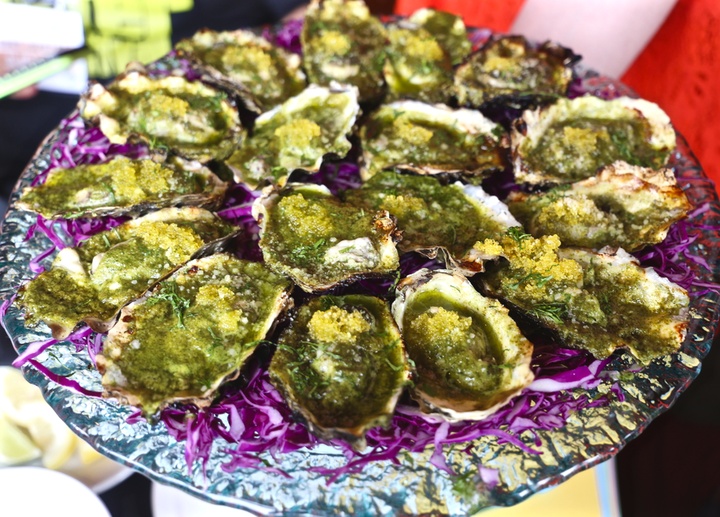 Mike sez: "Toni Basil would be proud. (She's 73, by the way.)"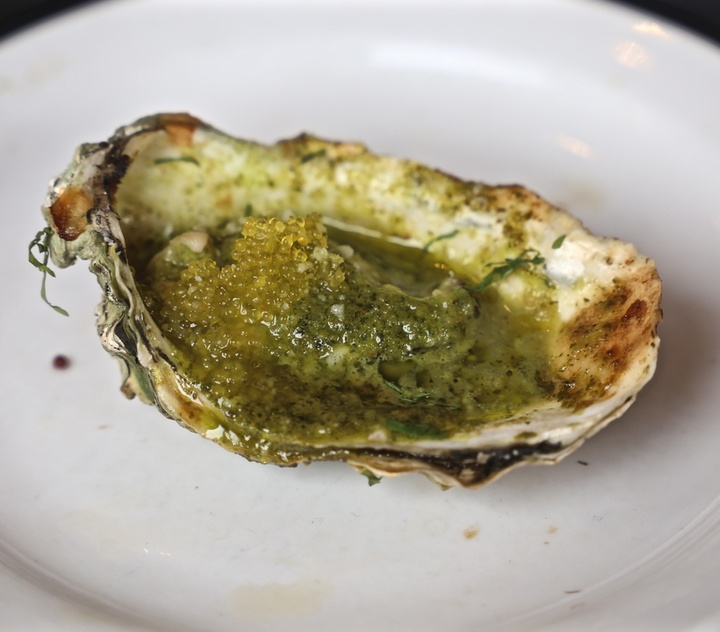 # # #
-Hog Island Oyster Co.-
Description: Pacific Oysters barbecued with chipotle bourbon butter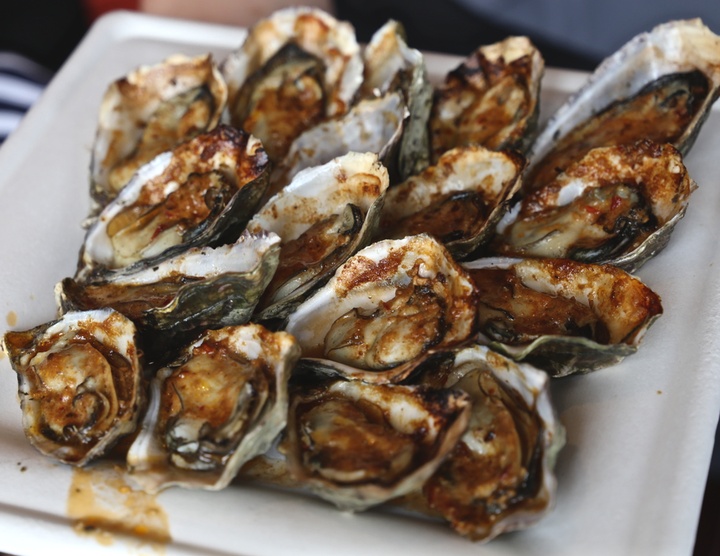 Mike sez: "Working man's paradise. Fire up the afterburners."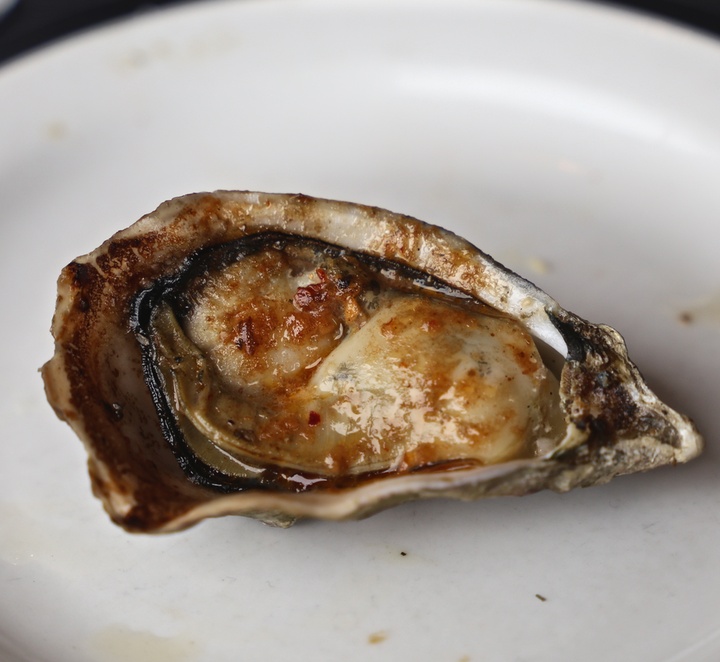 # # #
-Five Eleven-
WINNER: Best of Show
Description: Grilled Humboldt Bay Oysters with lobster sauce and roasted corn salsa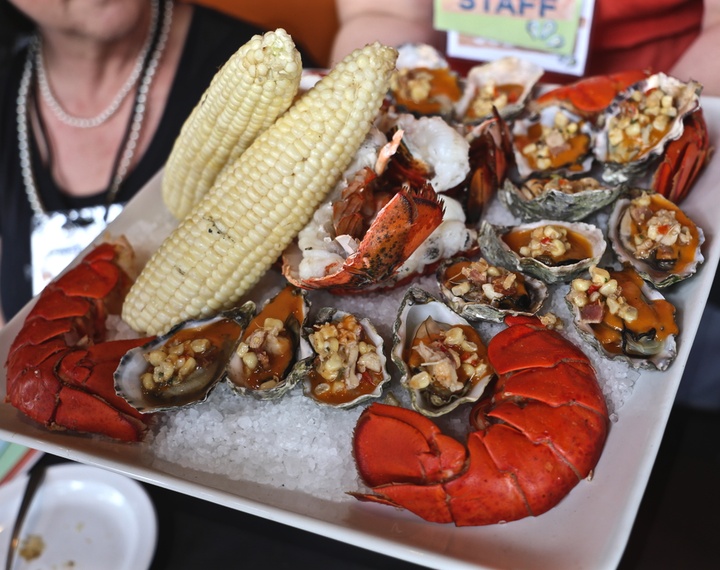 Mike sez: "My Maine squeeze."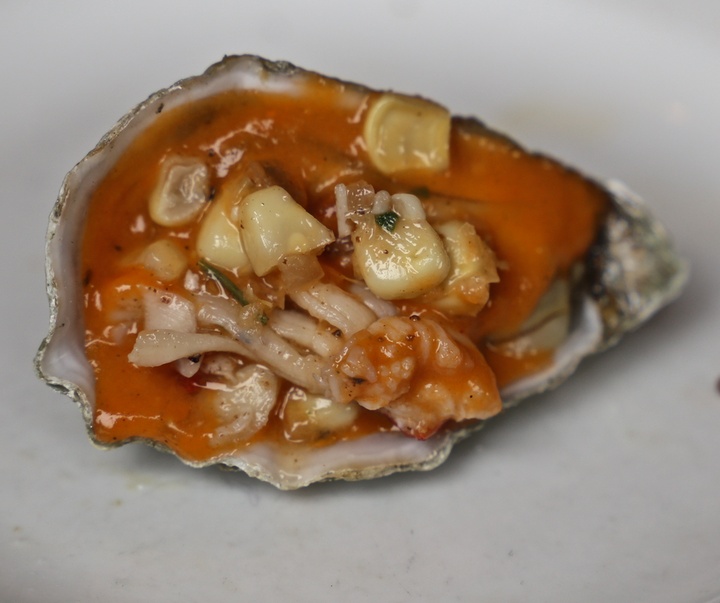 # # #
-Humboldt Bay Oyster Co.-
Description: Pampered locally grown Pacific Oysters grilled over a mesquite fire, topped with a tart chili cucumber salsa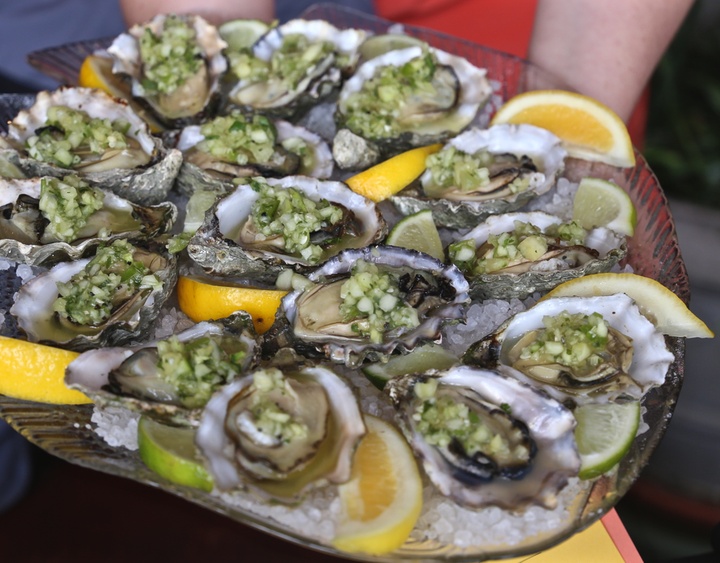 Mike sez: "Sea cucumber run."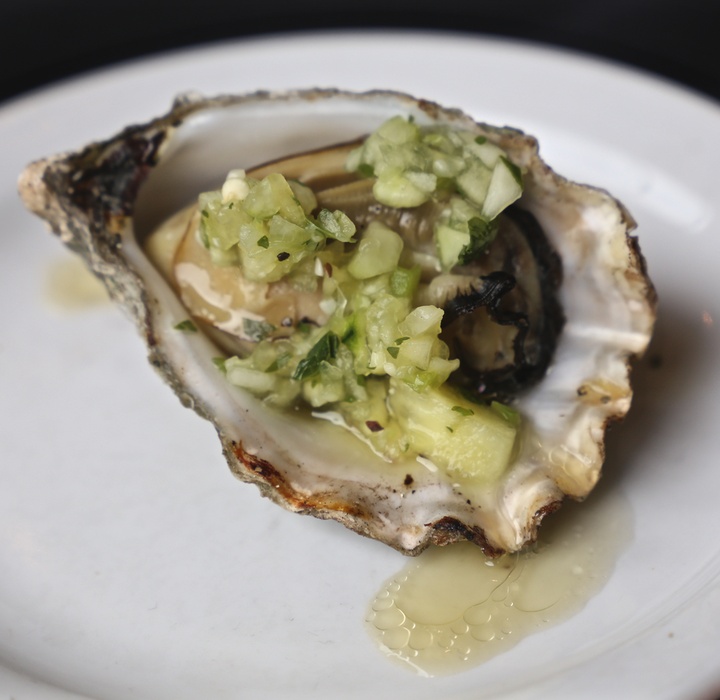 # # #
-Salt Fish House-
Description: Orange, rice vinegar, tamari, sambal, garlic, green, onion and honey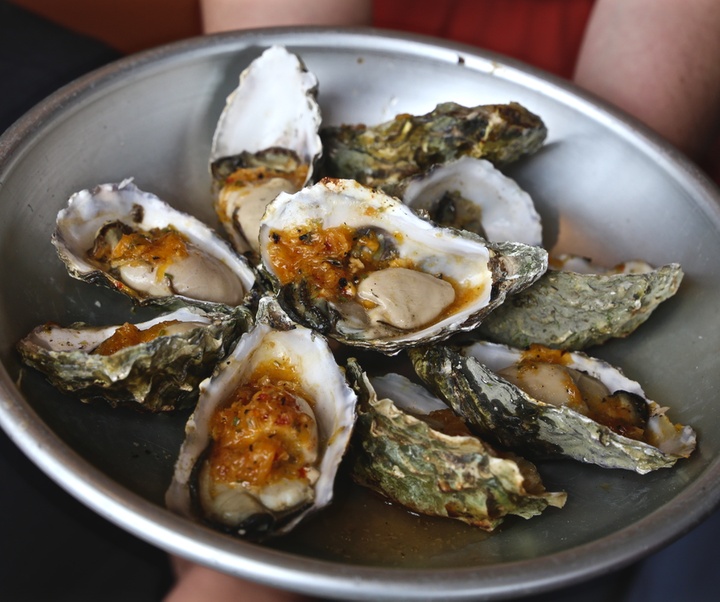 Mike sez: "Napoleon's last stand."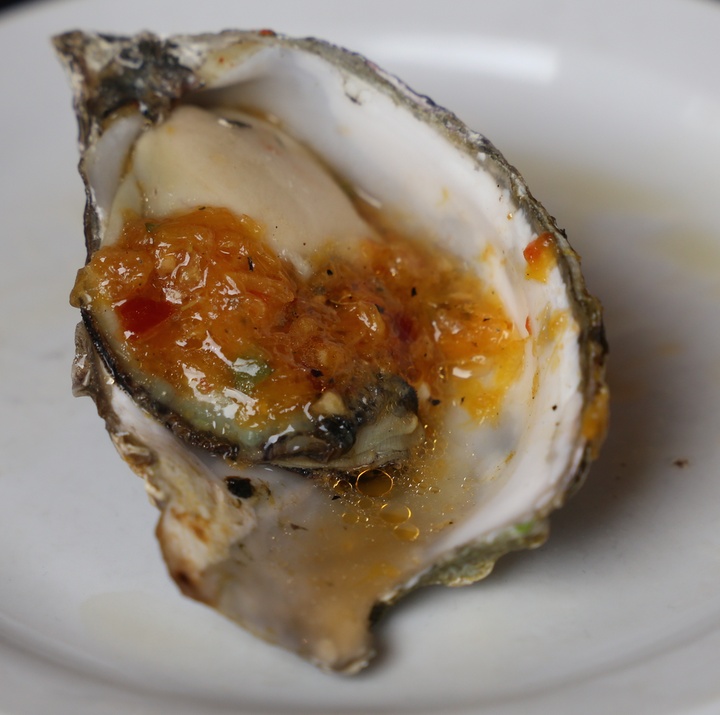 PREVIOUS OYSTER PORN:
2016
2015
2014
2013