Did murder suspect Eric Jason Lively deliberately run over and kill Jesse Earl Simpson on May 3 in Shelter Cove, or was Simpson's death a tragic accident?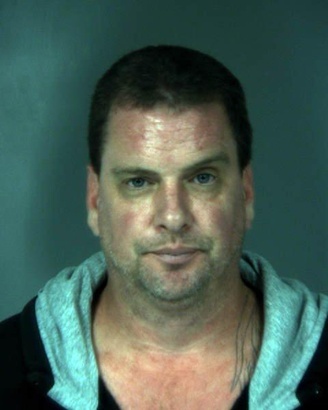 California Highway Patrol Officer Juan Lopez, testifying today under questioning by Deputy District Attorney Adrian Kamada, said he determined the death was intentional because of what Lively told him: Lively, in his Toyota Tacoma truck, saw Simpson on the lawn he was weed-whacking. The two made eye contact, then Lively "peeled out" toward Simpson, deliberately ran a stop sign and never applied his brakes.
But the CHP determined the point of impact was in the middle of the road, not on the lawn. Car parts and a pool of blood were found there. Lopez, testifying during the first day of Lively's preliminary hearing, said he couldn't explain why Simpson was found in the road.
There were no eyewitnesses to the fatal collision at the intersection of Debbie Lane and Eileen Road. The testimony so far has consisted mostly of statements Lively, 45, made afterward. He told Lopez he accelerated toward Simpson, but he also said he didn't intend to hit him and tried to help him afterward.
Defense attorney Russ Clanton, cross-examining Lopez, asked how it could be that Simpson was found in the roadway.
"Do you recall (Lively) telling you that he jumped in front of his truck with the weed-whacker?" Clanton asked. Lopez said he did recall.
Lively told law enforcement that after he hit Simpson, he got out of his truck and tried to help him to his feet. Simpson, mortally injured, reportedly told Lively he "just wanted to go home." Lively then drove to the Shelter Cove Volunteer Fire Department for help, and also went home to get some water and a towel.
So far there has been no testimony on whether Lively also said, as stated in a Sheriff's Department report, that while at home he washed the blood off his truck tires.
CHP Officer Michael Cole testified he was told to go to the Shelter Cove Airport, where medics were trying to save the 42-year-old Simpson's life. Cole watched them performing CPR on the injured man. But at 5:42 p.m., about an hour after he was struck by the truck, "paramedic Mike Lee declared Jesse deceased," Cole testified.
The officer said Simpson had "major head injuries and lower-extremity fractures."
Later Officer Cole returned to the accident scene, where Lively was sitting on the tailgate of his wrecked truck. The officer spoke briefly with Lively, who told him Simpson jumped out in front of him and he was not to blame.
Lively also reportedly told Cole that "When I hit Jesse I didn't know I'd get charged."

After the CHP decided the collision was intentional, the Sheriff's Department was called.
Sheriff's Deputy Dustin Del Biaggio was the first to arrive. He handcuffed Lively and put him in his patrol car.
Del Biaggio testified that Lively's pickup truck had a shattered left headlight, a caved-in bumper, hanging bits of plastic, a buckled hood and a cracked windshield.
The deputy said he spoke with Shelter Cove resident Eric Snyder, who lives near the crash scene. Snyder told him he heard a loud crash, so loud he thought two cars had collided. He drove around the block and saw Simpson on the ground and Lively trying to move him.
Snyder told the deputy that Lively said, "We need to move him. We need to move him. Let's load him in the back of my truck."
That comment drew gasps from the crowd of Simpson's friends and relatives in the courtroom this morning.
Snyder told the deputy Simpson was breathing rapidly and had a "strong, fast heartbeat." He tried to keep his head steady to prevent spinal injuries.
Del Biaggio said Snyder told him he had gone home after the incident to "decompress," and he seemed calm and relaxed while being interviewed.
That may have been, as he told the deputy, because he had smoked "a lot of marijuana" and was having trouble focusing on the questions.
A number of Shelter Cove residents have said Lively is well-known in the community for his violent behavior and threats. This is the second time he has been arrested for hitting someone with his truck. The first time, in 2013, he was charged with assault with a deadly weapon.
Testimony was expected to continue Wednesday before Judge Timothy Cissna, who will decide whether there is enough evidence to take the case to jury trial.
PREVIOUSLY: