A Eureka man was sentenced today to 27 years to life in prison for murdering a Blue Lake man in April 2015 and attempting to murder two officers who found him nine months later.

Judge John Feeney sentenced Nickolas Ryan Joseph Johnson after hearing statements from Johnson's mother, who asked for mercy; and District Attorney's Investigator John Burke, who recalled the life-changing experience of Johnson firing at him with a semi-automatic rifle.
"Nick made some regrettable mistakes," Johnson's mother Monnique Hillyard told the judge. "He's just a kid still; he's only 25. Please take that into consideration."
Hillyard said her son has "two kids who love him very much, and he's a good dad." She didn't discuss the Ganfield murder, but said her son didn't intend to murder the officers. "If he would have wanted to kill those DA people he would have," Hillyard said. "He's a really good shot."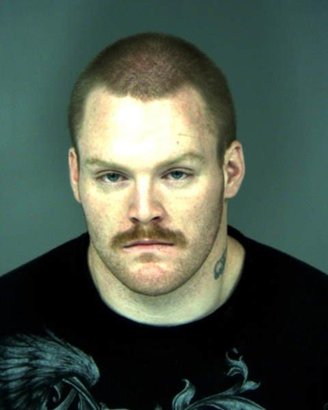 It was Johnson who was shot when officers returned fire, hitting him several times.

Investigator Burke said he wanted the judge to know he and his fellow officer are not victims of Johnson's criminal behavior, but survivors.
"When you look down the barrel of a rifle and it's spewing bullets at you, it changes your life forever," Burke said.
He said the "real victims" are the family members of murder victim David Ganfield, including two children, 4 and 7 years old, who will grow up without a father. Ganfield, 36, was beaten to death as he slept in his Blue Lake home. He died from head injuries.
The case involving the officers was filed by the state Attorney General's Office. This morning Deputy Attorney General Geoff Lauter, on speaker phone from San Francisco, discussed a new law set to take effect in January. That law would allow judges to strike the so-called "enhancement" of personal use of a firearm, which in Johnson's case added 20 years to his sentence.
Lauter asked Feeney to rule that he would not have stricken the firearm enhancement, saying it would be inappropriate given the sentence was part of a plea bargain Johnson accepted, and because Johnson committed assault with a semi-automatic weapon on police officers.
Defense attorney Neal Sanders objected, saying any ruling would be irrelevant because the law has not taken effect, and there's no provision allowing an inmate to be re sentenced.
But Feeney did rule, saying he would not have stricken the enhancement.
At his last court hearing, when he entered his plea, Johnson put on a small show. He flipped off the bailiff when his back was turned, and he jokingly asked Feeney whether he had a chance at probation. Today he only asked that he not be transported to state prison until after Nov. 11, when he's scheduled to attend a family law hearing involving his two children. Feeney granted that request.
District Attorney Maggie Fleming was in court today for the prosecution.
It was Johnson's mother who had the last word as a bailiff led him from the courtroom: "I love you, Son."
###
PREVIOUSLY: