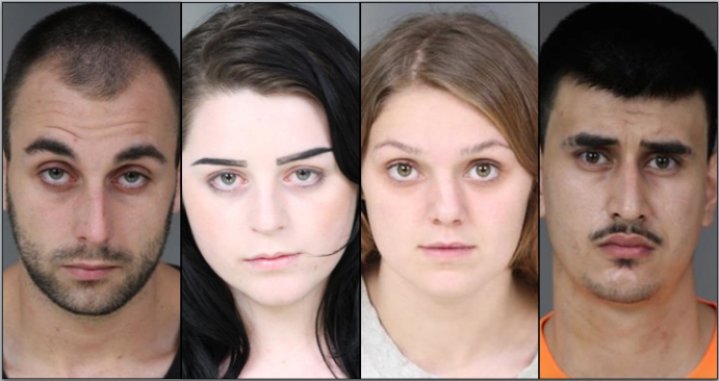 Both trials have been delayed in the cases of four Eureka residents accused of murdering a 20-year-old man who was shot to death during an alleged carjacking near Manila in December 2016.

This morning Judge Christopher Wilson granted defense motions to continue the trial for Catherine Suzanne Lynn Fode and Brandon James Mitchell, and also the separate trial of former co-defendants Tamara Nicole Thomson and Cesar Octavio Valenzuela-Campos.
At issue is new DNA evidence being analyzed by the Department of Justice. That evidence will also require the defense to hire an expert, and all of that is unlikely to happen before Nov. 6, the date both trials were set to begin.
Deputy District Attorney Carolyn Schaffer did not object to the delays, saying evidence is continuing to "trickle in" to her office as well.
All four defendants are accused of killing Tyson Eduardo Claros, with Mitchell named as the shooter and the others as accomplices. Fode was the only one not seen with a gun. The apparent motive was the belief, never proven, that Claros had molested Fode and Mitchell's 3-year-old daughter.
Thomson, 19, and her boyfriend Valenzuela-Campos, 24, were arrested first and made statements implicating themselves and the others. Because of rules about using a co-defendant's statement to prove guilt, Thomson and Valenzuela will be tried separately from Fode, 19, and Mitchell, 23.
Fode's attorney Neal Sanders has also filed a motion to try her separately from Mitchell. That motion is scheduled for argument Nov. 16.
This morning Schaffer told the judge she won't be using Thomson and Valenzuela's statements to investigators in her case against the others, but "I'm not saying I won't use any statements."
Wilson told the prosecutor she needs to clarify exactly what she intends to use, so the defense can respond.
A fifth defendant, Fode's 22-year-old boyfriend Hector Godoy-Standley, was found to be developmentally disabled and therefore incompetent to stand trial. He remains in custody while options are considered for his treatment.
Possible new trial dates will be discussed during the Nov. 16 hearing on Sanders' motion to sever Fode's case from Mitchell's.
Mitchell is represented by Deputy Conflict Counsel Marek Reavis, and Eureka attorney David Nims represents Thomson.
Deputy Public Defender Casey Russo, for Valenzuela-Campos, was the only attorney who said he was ready for trial Nov. 6.
PREVIOUSLY:

PREVIOUS POSTS ON HECTOR GODOY-STANDLEY: