PREVIOUSLY: (VIDEO) Eureka Liquor Store Armed Robbery Thwarted by Cash Register Tray-Wielding Clerk, Citizens
The jury trial has been postponed until December for a McKinleyville man charged with attempting to murder a liquor store clerk in March 2016.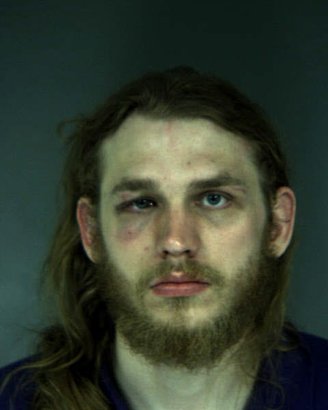 A surveillance camera shows Aaron Christopher King pulling the trigger of a loaded handgun several times, then being attacked by the clerk when the gun didn't fire.
This morning defense attorney Russ Clanton told Judge Christopher Wilson he is scheduled for trial in a homicide (defendant Eric Lively, charged with a murder in Shelter Cove) and won't be available for several weeks. Wilson rescheduled King's trial for Dec. 4.
King, 26, was on supervised probation for felony drug charges when he allegedly tried to hold up a Fifth Street liquor store and shoot the clerk. When the gun didn't go off, the employee picked up the cash register till and hit King. Then store customers tackled him and restrained him until police arrived.
King allegedly stole the handgun from a Eureka residence earlier the same day. According to court records, in February he admitted to his probation officer that he was using heroin. A probation violation hearing was scheduled, but King didn't show up. The thwarted robbery occurred a few days later.
King faces life in prison if convicted of all charges, including attempted murder, attempted robbery, burglary, personal use of a firearm and being a felon in possession of a firearm.
He is being held on $1 million bail.