PREVIOUSLY:

A Humboldt State University student convicted of possessing hundreds of child-pornography images was sentenced today to five years of probation, but he won't be banned from some parts of campus as the prosecutor and HSU police chief requested.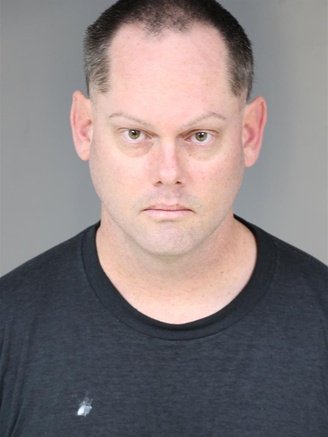 This morning Judge Christopher Wilson placed Matthew Aaron Steele on five years of supervised probation. Steele, 38, also must register for life as a sex offender and undergo sex-offender treatment. But Wilson denied requests by Deputy District Attorney Carolyn Schaffer and HSU Police Chief Donn Peterson that Steele be ordered to stay 100 yards away from campus areas where children congregate. Those would include the Child Development Lab and the university's childcare center.
Prosecutor Schaffer brought an HSU map to court, indicating the areas where Steele is not welcome.
"Parents and students trust HSU with their children," she said, adding that it would be "in the best interest of public safety" for Steele to be kept away from minors. She said Steele has the option of taking classes online.
Wilson said he appreciates the concern for public safety, but that has already been addressed by the probation condition that Steele can't knowingly associate with females under 18.
"If he does that, I would consider it a violation of probation," Wilson said. And he warned Steele that if he violates probation he could go to state prison.
Defense attorney Michael Robinson said banishing Steele from parts of campus is "fundamentally wrong and raises substantial constitutional issues."
"All Mr. Steele wishes to do is move forward with his education and with his life as best he can," Robinson told the judge.
Steele also addressed Wilson, saying "I'm just very remorseful at this time, and I do apologize to everyone involved … I will not reoffend. I feel like I'm a changed person as a result of this."
The judge asked Chief Peterson how many other sex offenders are attending HSU, and he said there are two others, both living off-campus. He said he's not aware that those people are restricted from particular areas at the school.
Schaffer had also asked that Steele be banned from using the Internet, which Wilson said "is unrealistic."
"When you pick up the phone you're on the Internet," he said.
Steele is prohibited, however, from looking at sexual images online. Wilson noted the probation officer will be able to monitor what Steele is viewing, "whether he deletes it or not."
The Humboldt County Sheriff's Department began investigating Steele in June 2016 after the National Center for Missing and Exploited Children reported he had uploaded a possible child-pornography image to his cellphone. A sheriff's detective looked at the photo, which depicted two young girls posed in a sexual manner.
The Sheriff's Department served warrants at Steele's apartment in Arcata and discovered about 500 suspected child-pornography images stored on 16 electronic devices. All those pictured were female and ranged in age from toddlers to teens.
He was arrested in January of this year and posted $250,000 bail.