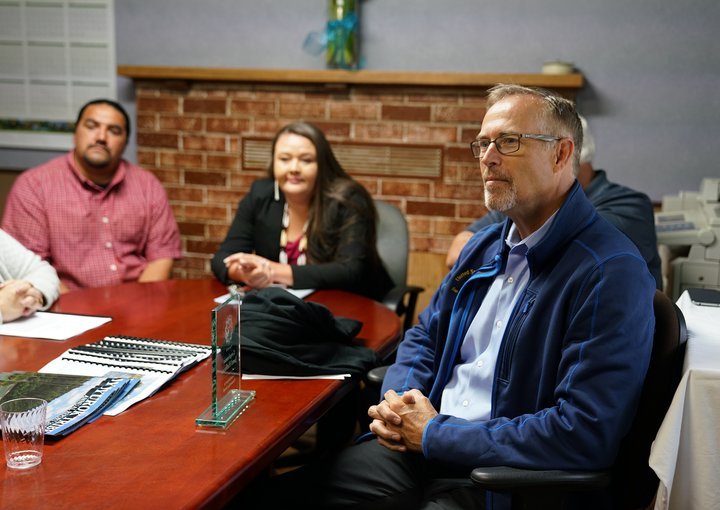 Rep. Jared Huffman has introduced a new version of his "Yurok Lands Act," a bill that would expand the Yurok Reservation and allow the Yurok Tribe greater decision-making power over land use matters within the reservation's territory, and in neighboring territories.
A version of the bill died in a House committee last year. According to Alexa Shaffer, a Huffman spokesperson, the new bill — which is not yet online — proposes different new boundaries for the expanded reservation, includes protections for neighboring tribes and has a Republican cosponsor. "The bill is now bipartisan, which definitely elevates its chance of success and passing out of the House," Shaffer wrote the Outpost this morning.
Press release from the office of Rep. Jared Huffman, yesterday:
Today, Rep. Huffman introduced the Yurok Lands Act to expand the Yurok Reservation, increase the tribe's role in federal decisions affecting the tribe, strengthen tribal governance and sovereignty, and improve infrastructure on the reservation.

"The revised Yurok Lands Act will help to realize past commitments made by Congress to the Yurok Tribe," said Rep. Huffman. "The legislation will provide a reservation that serves the tribe's interests, and give the tribe a role in land management decisions that affect the tribe. The legislation strikes a careful balance to resolve longstanding management challenges: meeting many of the Yurok's objectives, while preserving the rights of neighboring tribes and local interests."
Specifically, the Yurok Lands Act:

Transfers 1,229 acres of U.S. Forest Service land known as the Yurok Experimental Forest into trust for the tribe;
Expands the boundaries of the Yurok Reservation to include the Yurok Experimental Forest as well as tribally-owned fee land and U.S. Forest Service land in and near the Blue Creek watershed, which is an important cultural and religious area for the Yurok;
Provides the Yurok Tribe with a greater role in federal land management decisions within the revised Yurok Reservation.
Requires that federal land management agencies consult the Yurok on major actions on federal land that may affect the revised Yurok Reservation;
Ratifies and confirms the Yurok's governing documents to strengthen tribal governance and sovereignty; and
Preserves the rights of neighboring tribes and local interests by ensuring there is no delegation of federal authority to the Yurok beyond the expanded reservation, and specifying that nothing in the legislation increases, diminishes, or otherwise affects the rights, privileges, or authorities of any other federally recognized tribe.

The Yurok Lands Act is cosponsored by Reps. Norma Torres (D-CA) and Tom Cole (R-OK).