Joe Daniel Olivo III, charged with the gang-related murder of a 14-year-old Eureka boy, will be tried in adult court along with his father and another gang member.

Today Judge John Feeney granted Deputy District Attorney Brent Kling's motion to transfer the 20-year-old Olivo III out of Juvenile Court, where if convicted he could have been out of custody in two years. Now he will be tried with his father, Joe Olivo II, and Mario Nuñez. All three are accused of gang-related first-degree murder and face life in prison without possibility of parole.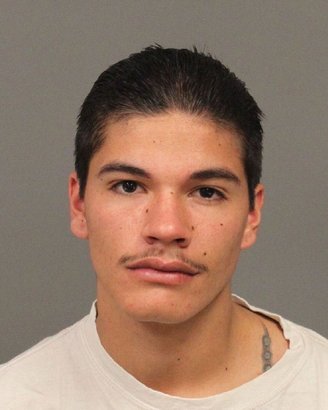 "It must be emphasized," Feeney said in making his ruling, "that a 14-year-old boy was stabbed and killed, and it's alleged that Mr. Olivo personally inflicted the fatal wounds."
Olivo III had just turned 17 when he allegedly knifed Garcia in an act of gang revenge. Garcia reportedly had told people Olivo III requested protective custody while in Juvenile Hall.
Olivo III had been living in San Luis Obispo, but his father allegedly picked him up and brought him to Eureka. According to previous court testimony, the Olivos and Nuñez came to the P Street apartment where Garcia was hiding in fear. He died hours after being stabbed three times.
During a two-day hearing last week, defense attorney Andrea Sullivan argued Olivo III was under orders from his father, and if he wouldn't have killed the boy he would have been killed himself.
Feeney said the father "played a significant role," but he pointed out Olivo III continued to commit crimes on his own while his father was locked in state prison. Olivo II, a member of the Mexican Mafia prison gang, has been in Pelican Bay State Prison a number of times.
It was more than a year after Garcia's death that the Olivos and Nuñez were arrested and charged. During that time Olivo III lived in San Luis Obispo, where he admitted four times to probation violation. Once, he acknowledged he tried to buy a gun from a fellow Sureño gang member.
In Humboldt County, where Olivo III was first placed on probation at age 14, he violated probation three times. He once escaped from Juvenile Hall by climbing a fence and running.
Feeney said Olivo III is apparently a "capable and intelligent individual." Unfortunately, the judge said, he "has demonstrated a knowledge of gang politics, gang hierarchy and gang power structures."
One of the issues Feeney had to consider was whether there is enough time for Olivo III to be rehabilitated if he stayed in the juvenile system. Considering he would be released six months before he turns 23, the time is too short, the judge said.
Olivo III did not seem surprised by the ruling and showed no reaction.
The Olivos and Nuñez are scheduled to be in court May 11 for a trial confirmation hearing. The jury trial is scheduled to begin May 21.
Today defense attorney Sullivan said she may file a motion to the continue the trial, and also may request that Olivo III's bail amount be reviewed. He is being held on bail of $1 million.
###
PREVIOUSLY: