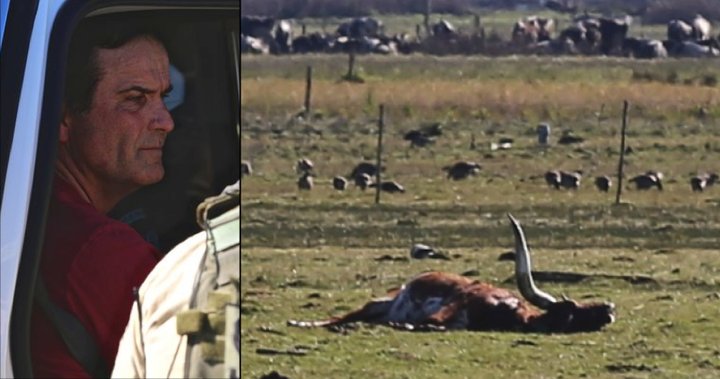 In June, the Humboldt County District Attorney's Office filed 35 charges against local rancher Ray Christie, including seven felony counts of animal cruelty and 28 misdemeanors related to piling dead cows too close to state waters. Since then, I haven't stopped asking myself: Why was a serial animal abuser like Christie legally permitted to "care" for animals in the first place?
Back in 2009, Christie was charged with six cockfighting-related misdemeanors after law enforcement raided his property in McKinleyville and seized 1,400 roosters, 72 knives, and 13 pairs of gaffs (or spurs). Only one of the charges stuck, unfortunately — Christie was convicted of possessing cockfighting instruments and sentenced to a measly two years' probation and a $530 fine.
Six years later, the Lost Coast Outpost released drone footage of one of Christie's ranches showing piles of dead cows. The piles were massive enough to be visible via satellite images from Google Maps and Google Earth, and a pile of dead cows can be seen in the same spot in an image from May 2014.
Christie's blatant disregard for the animals in his "care" is so reprehensible that the Humboldt-Del Norte County Cattlemen's Association sent out a press release last March asserting that anyone convicted of animal abuse "should be punished to the greatest extent possible." But as horrific and upsetting as Christie's case is, his actions should come as a surprise to no one. Christie's behavior demonstrates what we already know to be true: When it comes to animal cruelty, recidivism rates are ridiculously high.
Take the case of Kandi Crow in Josephine County, Oregon. In 2012, The Oregonian reported that 257 animals — including many ill, neglected, or starving miniature horses, dogs, and llamas — were seized from Crow's property. She was convicted on 44 counts of second-degree animal abuse and ordered to avoid any contact with animals. But Crow violated her probation one year later, and then again in 2015.
It's also true that people who abuse animals are more likely to become violent toward humans. A landmark 1997 study by the Massachusetts Society for the Prevention of Cruelty to Animals and Northeastern University found that animal abusers are five times as likely to also hurt people. More recently, a survey of women in domestic violence shelters found that 71 percent had partners who had abused or threatened to abuse their companion animals. And a 2010 study by the Chicago Police Department "revealed a startling propensity for offenders charged with crimes against animals to commit other violent offenses toward human victims." The link between animal cruelty and violence against humans has become undeniable. In fact, the FBI officially began collecting data on animal abuse back in 2016.
Despite all this, most states do not mandate that convicted animal abusers stay away from animals. Fortunately, however, bans can be requested by a prosecutor at sentencing in all 50 states.
Christie has quite literally shown us — for nearly a decade — that he does not deserve to share his life with animals. If authorities issue Christie anything less than a lifetime ban on adopting, buying, selling, "caring" for, or "owning" animals, then he will likely neglect, abuse, and ultimately kill even more innocent creatures.
Of course, I realize that a lifetime ban might not keep Christie from trying to hurt animals again — but it's one hell of a start.
###
Elizabeth Enochs is a freelance author and a staff writer for Mercy for Animals, an animal advocacy nonprofit. A preliminary hearing in the Ray Christie case is scheduled to begin Aug. 14.